ACTUALLY
LE TEMPS S'ENFUIT SANS DISPARAÎTRE
Exhibition at La Filature, Scène nationale – Mulhouse from 26.05 to 09.07 as part of the Biennale de la Jeune Création Contemporaine MULHOUSE 23
Curated by Emmanuelle Walter
Opening 09.06.2023 at 19:00
With Chloé Charrois, Cassandre Fournet, Rémy Hans, Emmanuel Henninger, Jo Kolb, Capucine Merkenbrack, Iva Sintić, Chloé Tercé, Gaëtane Verbruggen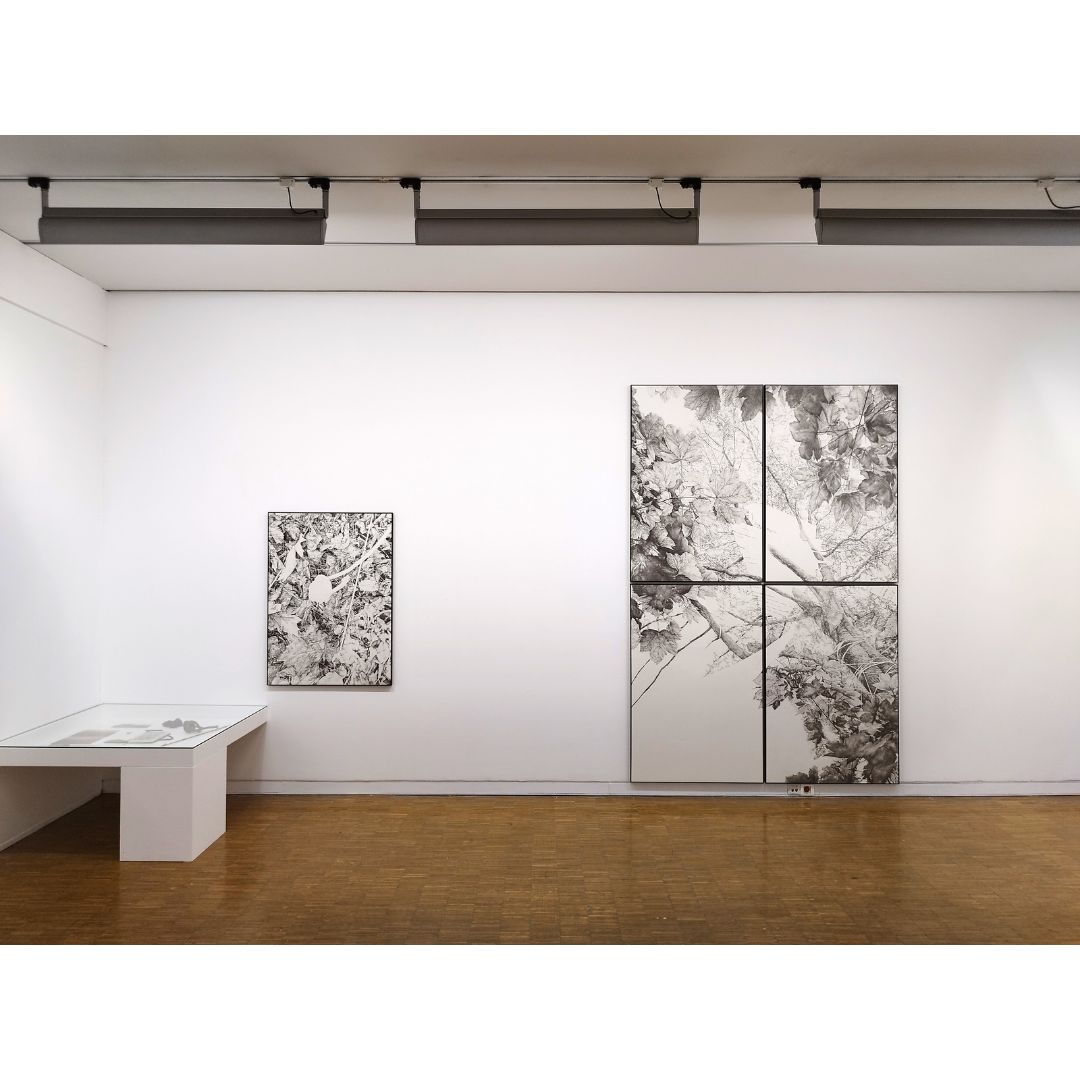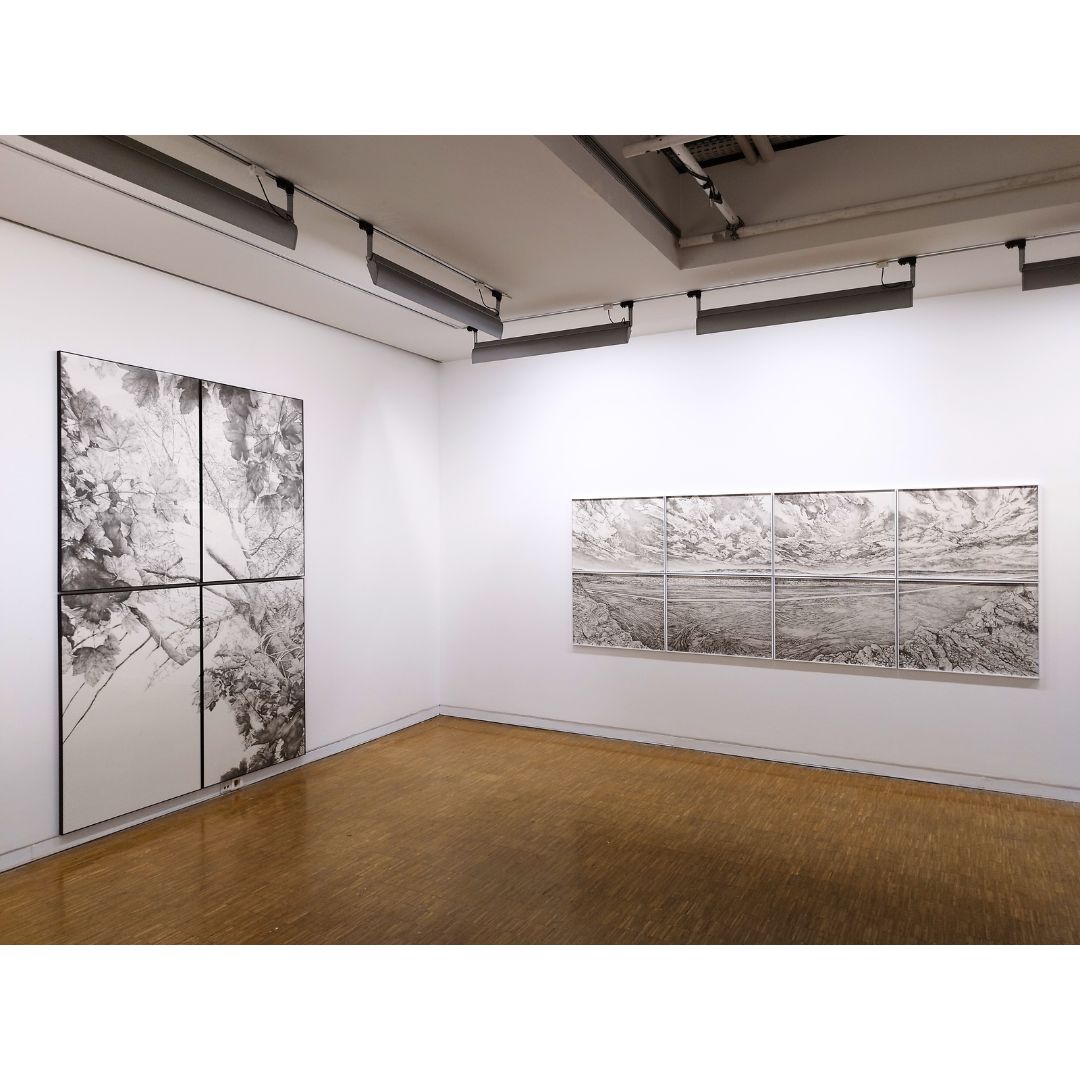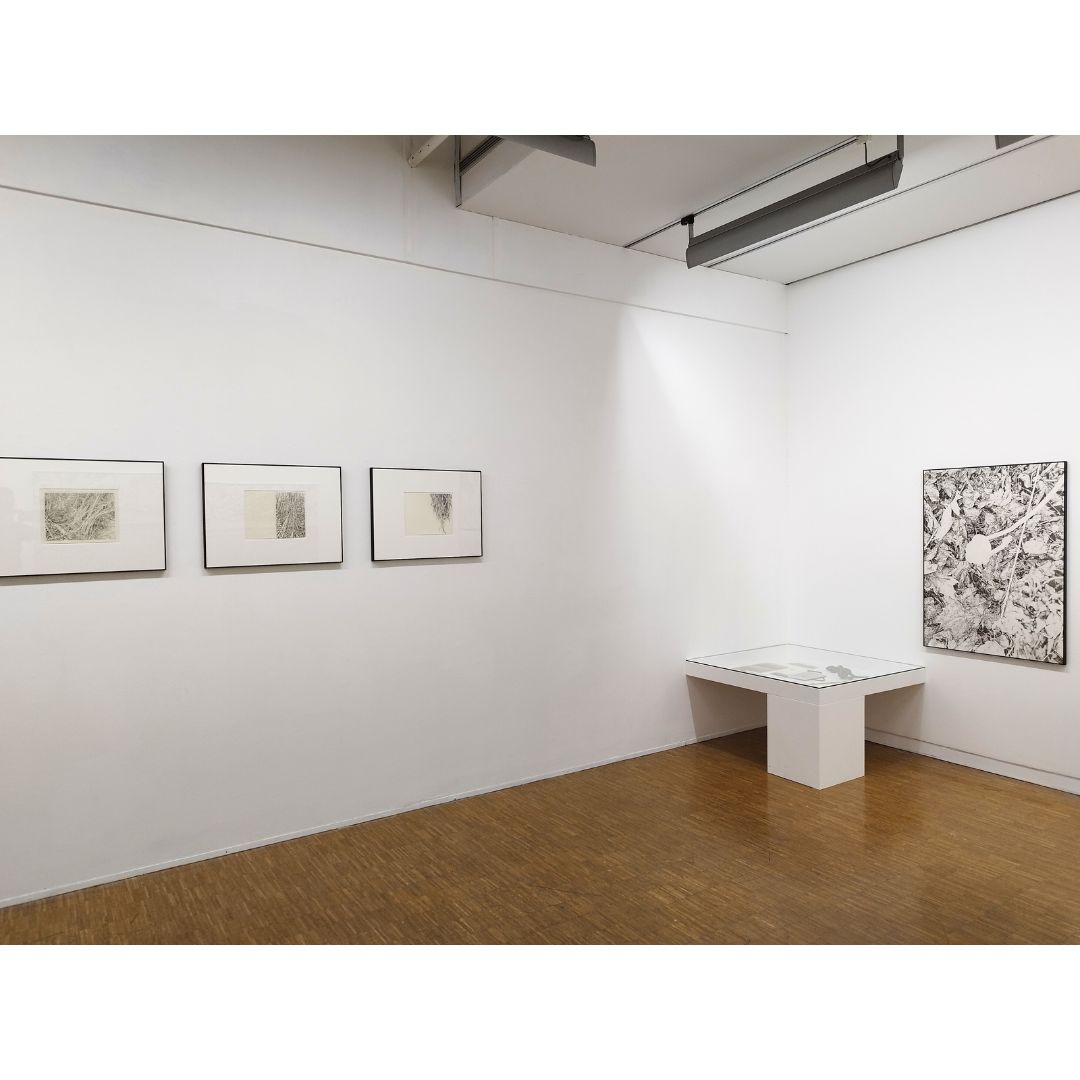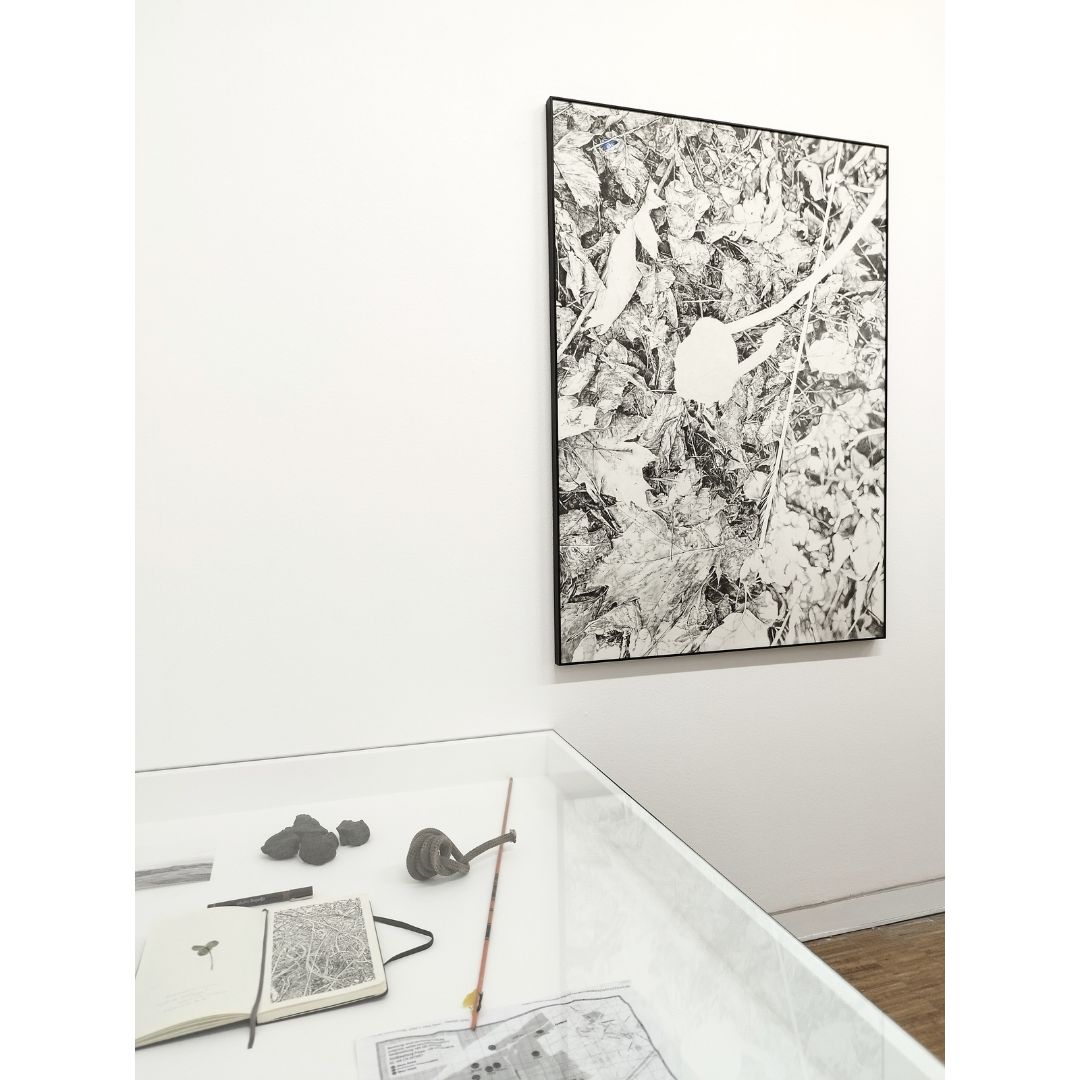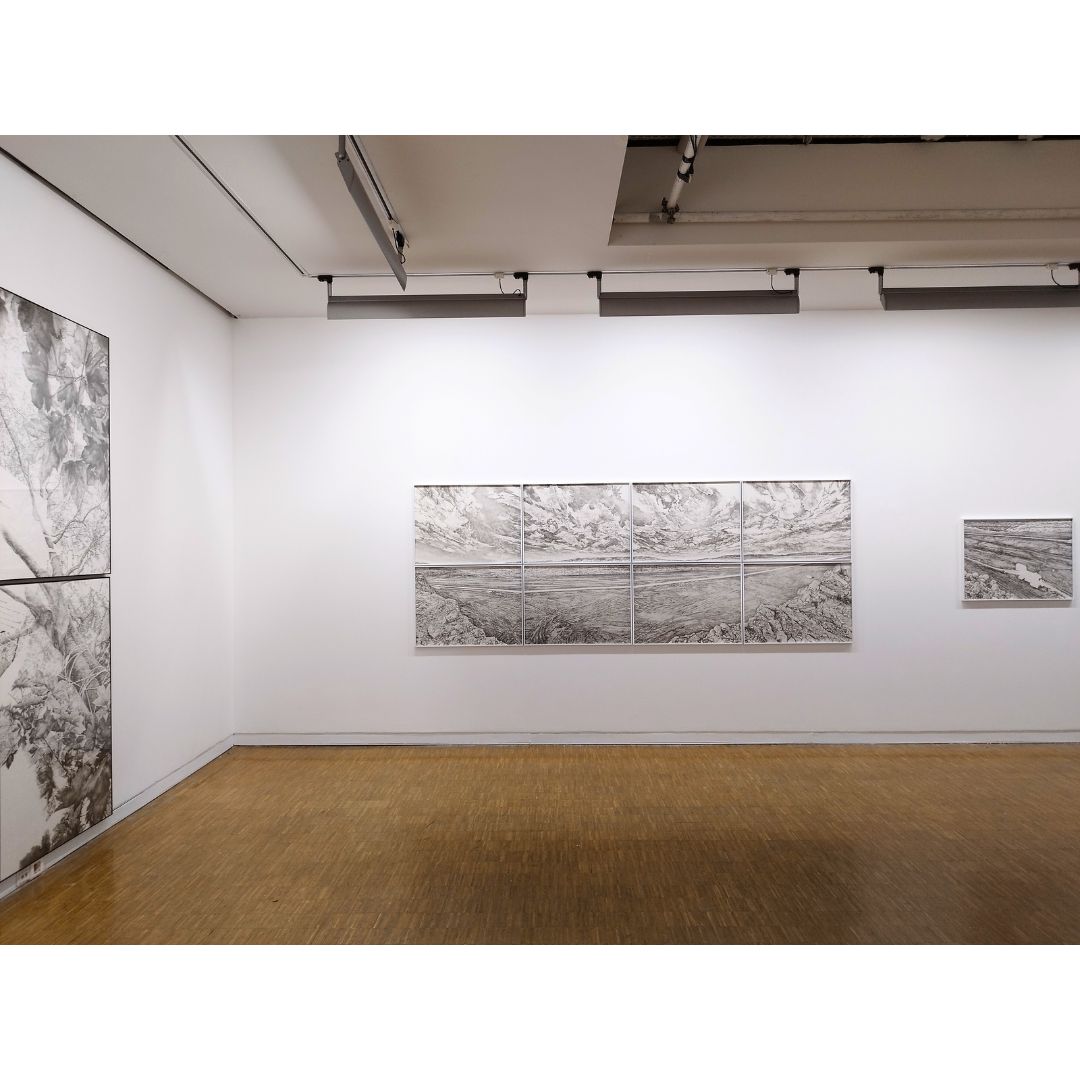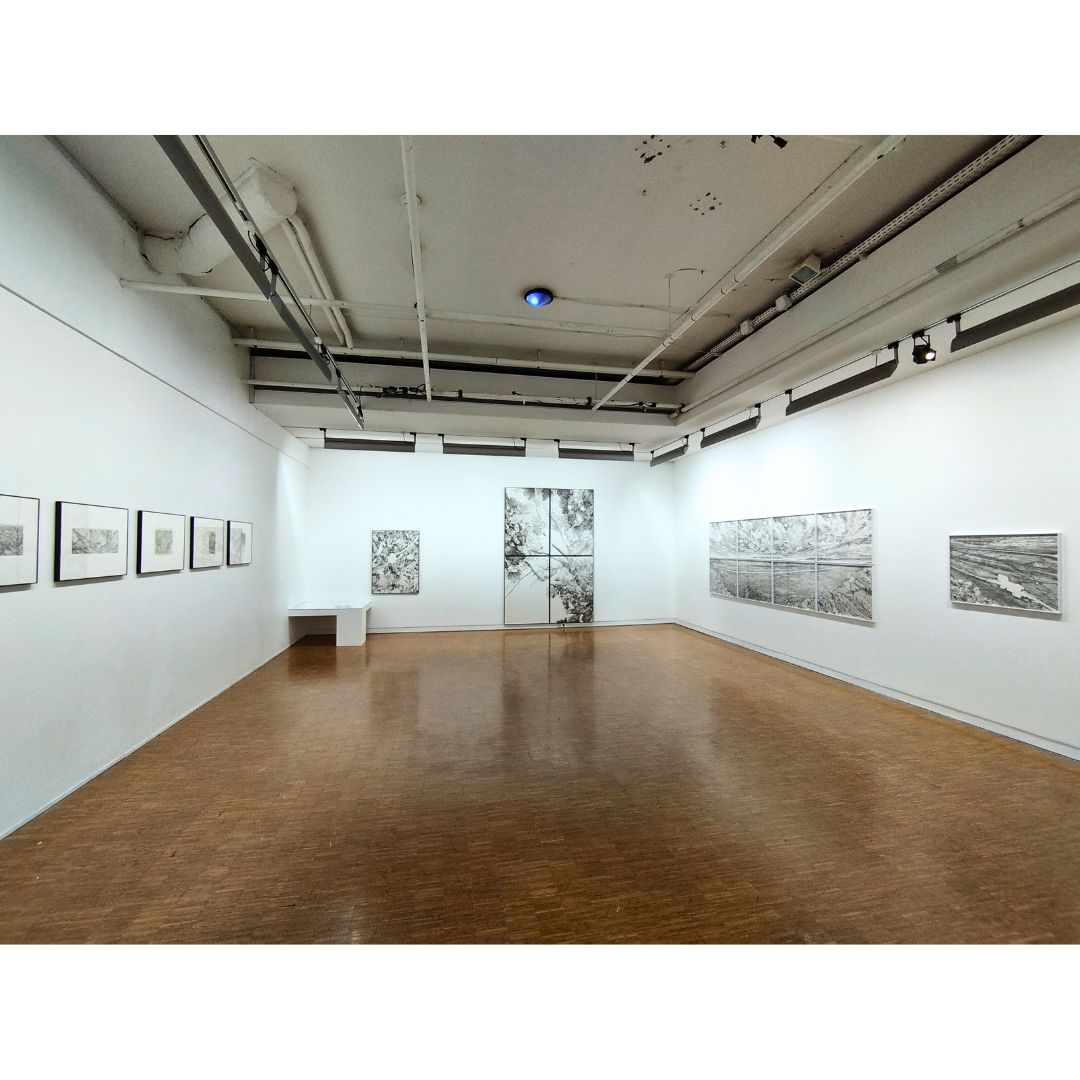 ---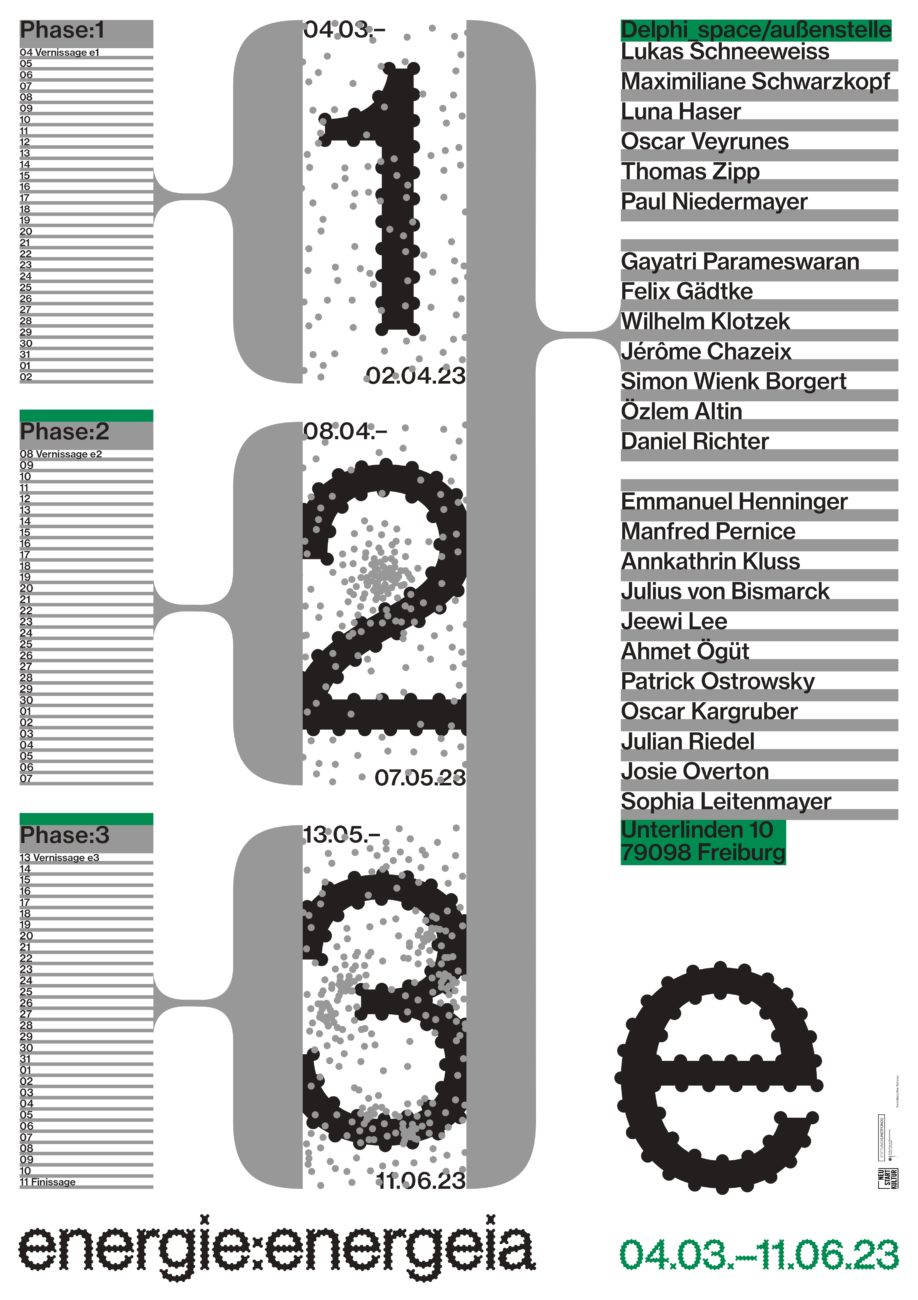 I am very pleased to share with you my selection for the exhibition Energie | Energeia which will take place from May 13 to June 11, 2023.
DELPHI_space, Unterlinden 10, 79098 Freiburg im Breisgau (DE)
I am pleased to present my drawing and graphic research work resulting from my exploration of the Hambach and Lützerath Z.A.D. in Germany, which I was able to visit between 2019 and 2023. From this proximity to this militant community, and within the framework of an observant approach, I was able to develop a protocol of photographic collection of the link that unites man to his environment, whether inherited, transformed or neo-formed, and which serves as the basis for the composition of my drawings. In this exhibition I will present my series of Indian ink around the lignite mine of Garzweiler in Germany.
---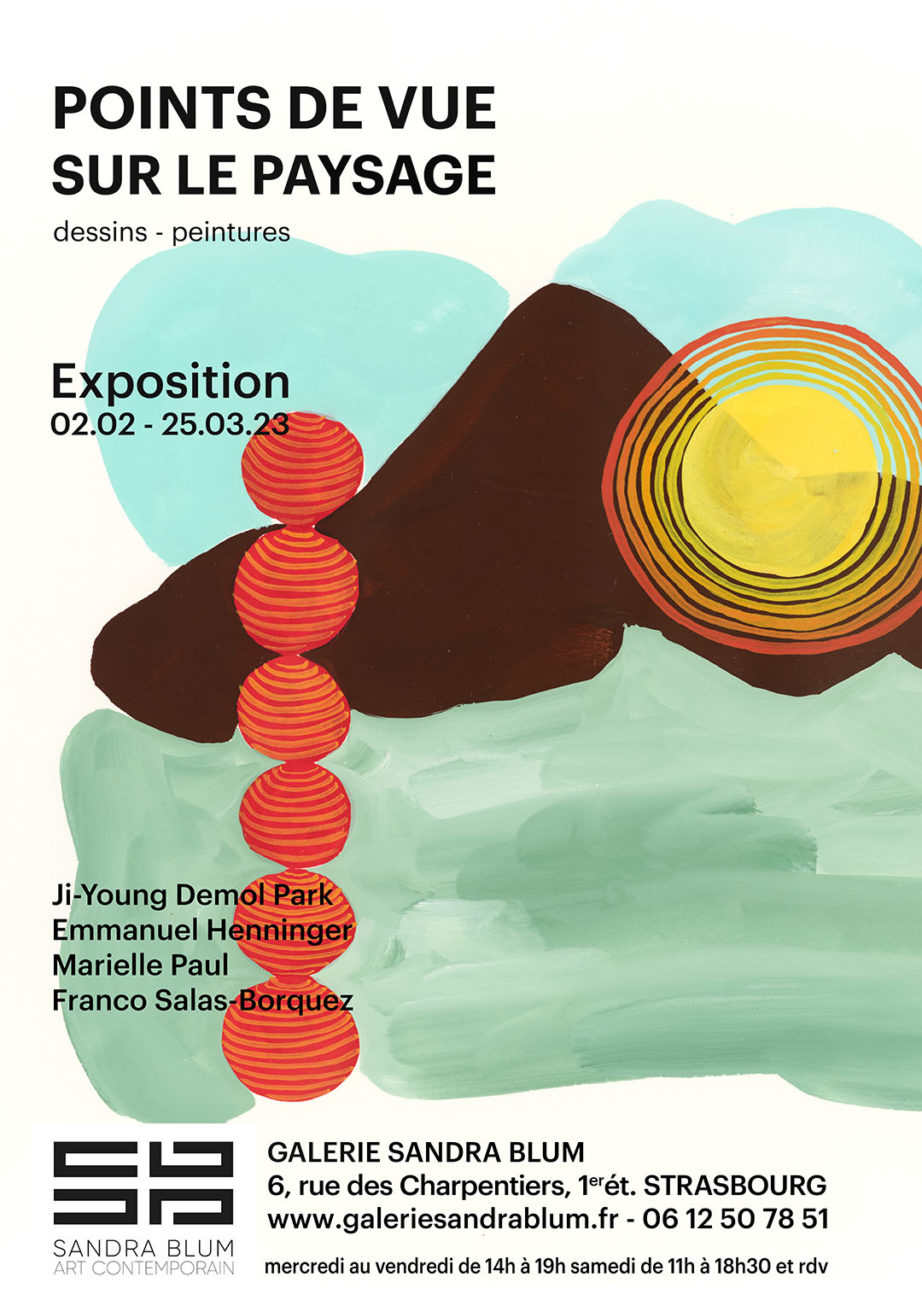 I am very happy and honored to be part of the selection for the exhibition POINTS OF VIEW ON THE LANDSCAPE at the Galerie Sandra Blum in Strasbourg.
EXHIBITION FROM 02.02 to 25.03. 2023
Wednesday to Friday from 2pm to 7pm
Saturday from 11am to 6:30pm
and by appointment.
With JI-YOUNG DEMOL PARK, MARIELLE PAUL, FRANCO SALAS-BORQUEZ
4 points of view, 4 artists who express their emotions or their feelings about the theme of landscape: Expressive, contemplative, militant, abstract
Ji-Young Demol Park was born in South Korea in 1970. She has lived in France since 1996 and has chosen to live close to the Alps. A tireless walker, Ji-Young Demol Park travels the mountains with her notebooks, pencils and brushes to translate as spontaneously as possible the state of wonder and contemplation that inhabits her. His washes and inks on paper speak to us of his visual emotions.
Emmanuel Henninger was born in France in 1980. He has developed an extremely meticulous drawing practice inscribed in a deep relationship with nature, which he regularly visits in France and Germany. His double approach oscillates between the romantic vision of the preserved landscape and the critical vision of the landscape practiced or transformed by human activity.
Marielle Paul was born in Lyon in 1960, she lives and works in Paris. For her astonishing creations the artist has chosen gouache and paper since 1990. Between figuration and abstraction and without imposing on her forms the illusion of the third dimension, she methodically and regularly draws lines of color with precise and rigorous treatment. Her subjects and landscapes, taken from her memory and her environment, appear reversible and stunning.
Franco Salas Borquez was born in 1979 on the island of Chiloé, in the southernmost part of Chile. By creating maritime scenes of dizzying beauty, the artist seeks to bear witness to the immense force of nature and the fragility of the human being. Franco Salas Borquez compares the work of painting to the chess game he plays: the same elements are always present, but they are played with an infinite number of possibilities.
Sandra BLUM Gallery
+33 (0) 6 12 50 78 51
6 rue des charpentiers 67000 Strasbourg, France
---
Exhibition and drawings visible in Paris from January 19 to March 24, 2023
Horae Gallery
80 rue du Chemin Vert
75011
Paris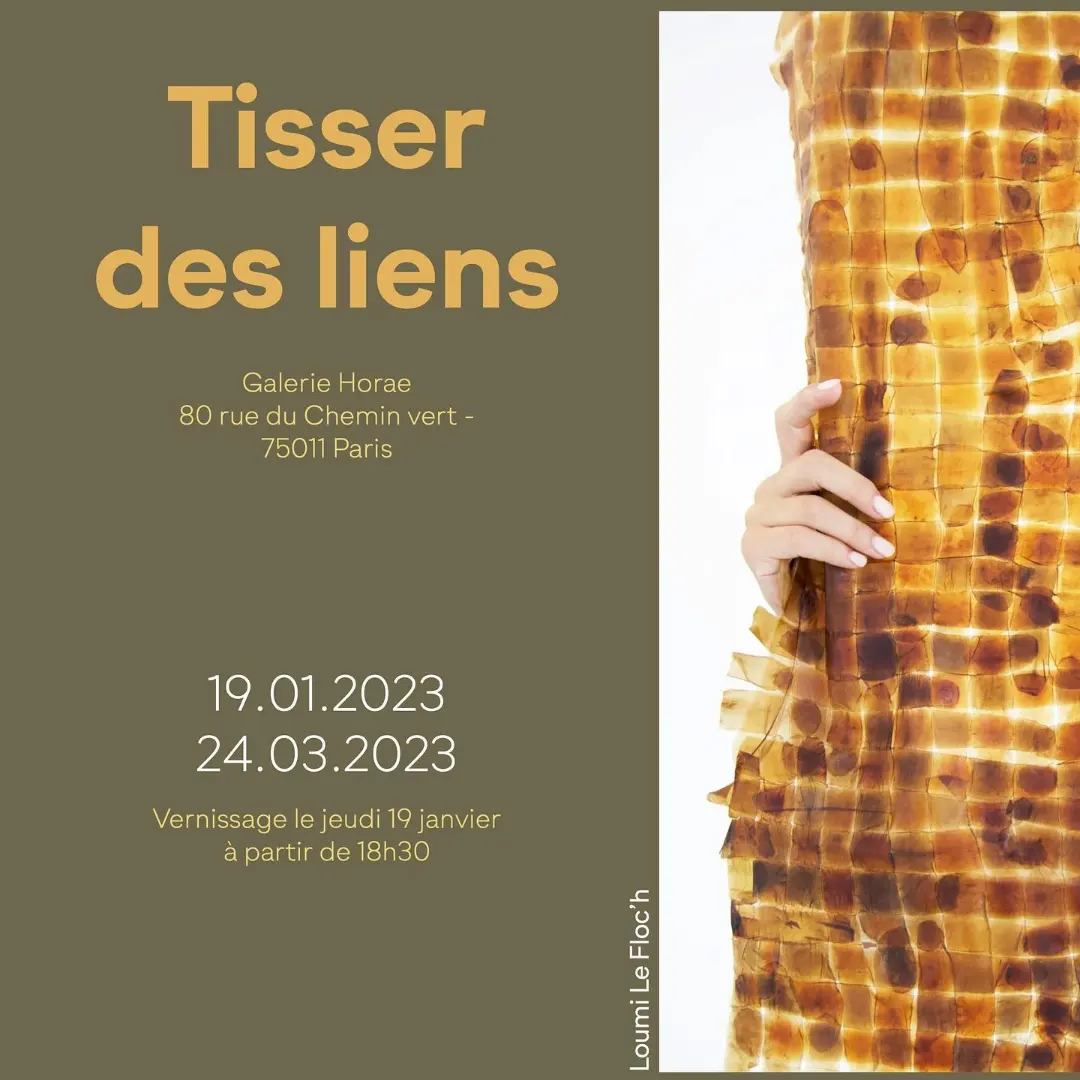 ---
Happy to discover my series of drawings OPEN PIT MINE in Valérie Belmokhtar's magnificent book, "L'ARTISTE ET LE VIVANT, Pour un art écologique, inclusif et engagé", published by Éditions PYRAMYD.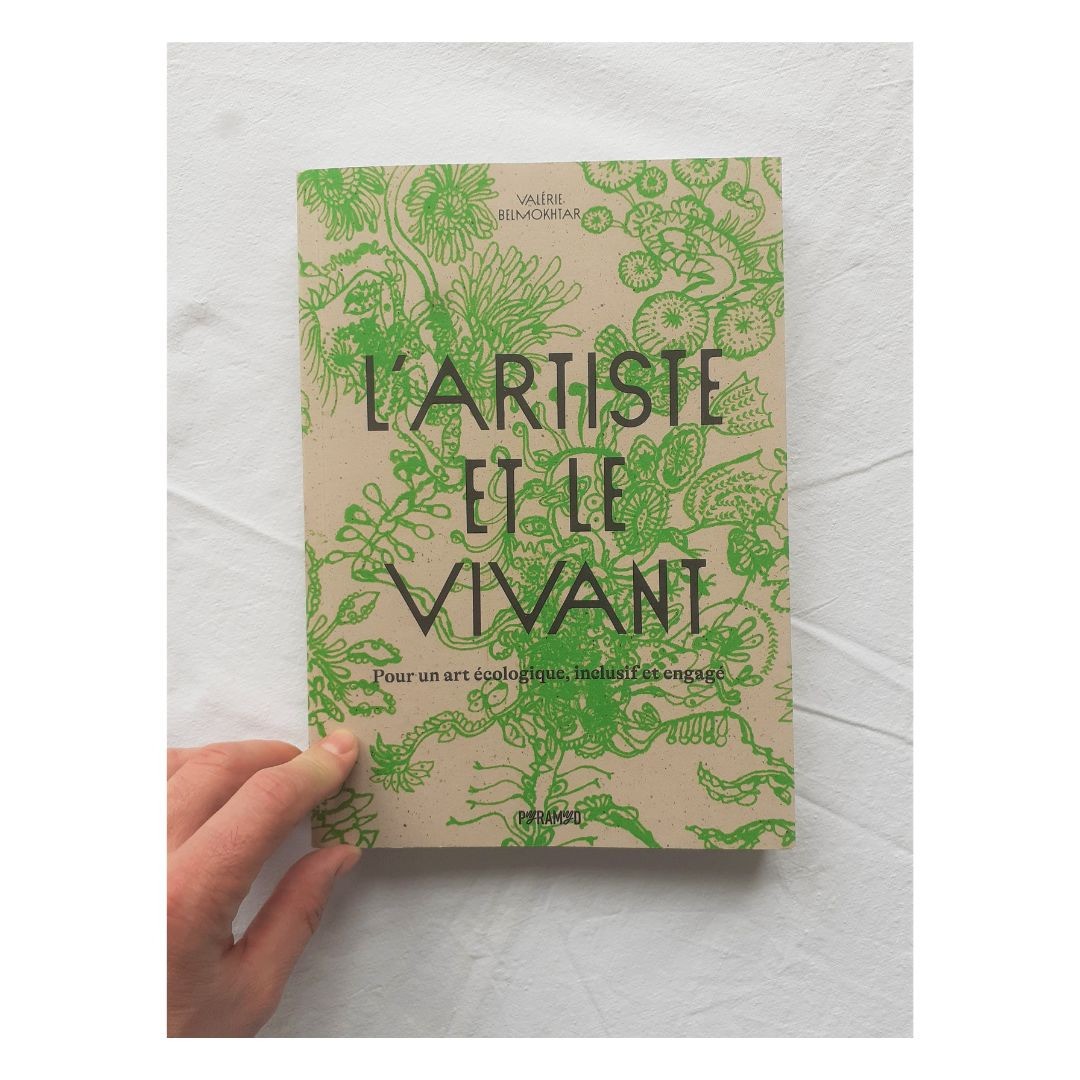 "His work shows a commitment to the service of the living, as if he was giving it a voice. His drawings bear witness to the destruction of nature caused by humans. The artist practices a lot of pattern drawing in his notebooks, he draws fragile wooded areas. He immerses himself in the landscape he represents and goes to meet activists, artists and ecological associations in France and Germany. His drawings entitled Open-Pit Mine (2020) show, for example, the monstrous excavations carried out in the Hambach open-pit mine in North Rhine-Westphalia. The place the artist draws contains no vegetation, and white, empty lines are left in the work to show the disastrous intervention of humans on the environment. This overexploited area, at the expense of one of the last primary forests in Germany, is responsible for a large part of the CO2 emissions in this country. Here, the artist becomes a witness of the disaster and informs us of the destruction in progress by means of drawing: Indian ink and paper as the only weapons to alert us and defend the territory, the living. He puts his art at the service of ecology, he makes it a megaphone with very modest means."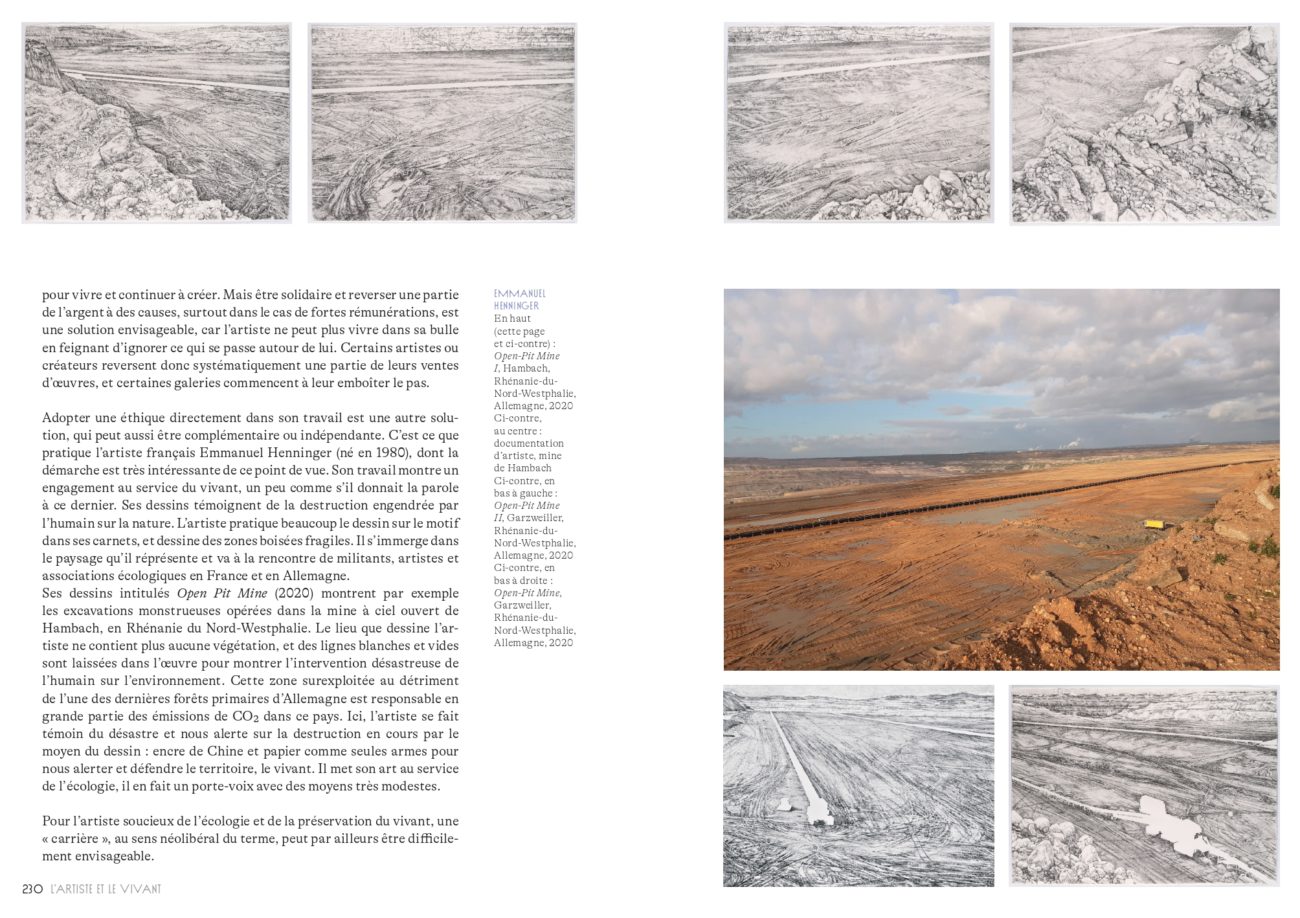 ---
INDIVIDUAL AID TO CREATION – MINISTRY OF CULTURE – FRANCE
Within the framework of the Individual Aid for Creation of the Ministry of Culture (DRAC Grand Est) for the year 2021, I was able to go to Germany from April 30 to May 8, 2022 within the ZAD of Lützerath in Rhineland-Palatinate.
Living in this ZAD for a few days and vibrating with the natural phenomena present, I was able to try to question and document the representations of the landscape, the geological imprint of humans and the multiple territorial transformations underway, impacting the evolutionary trajectories of the living.
From this immersion, I was able to bring back the visual material necessary for the composition of my next drawings (fall 2022).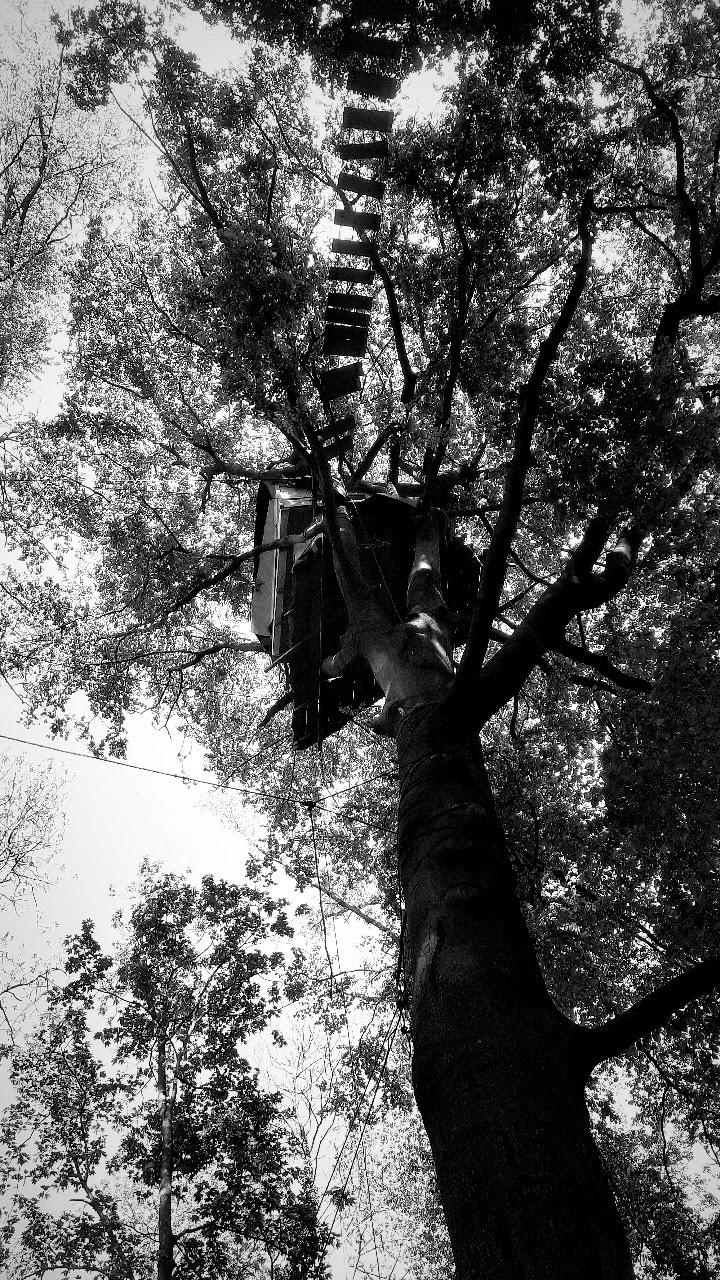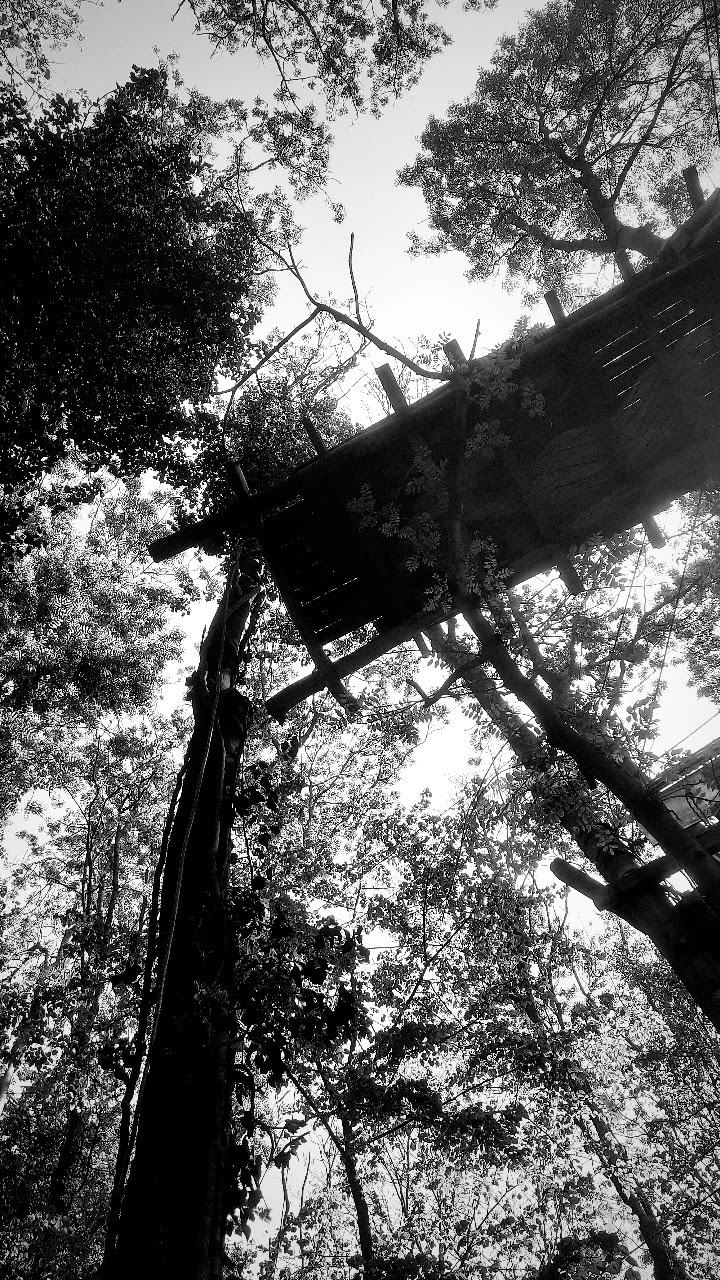 ---
GROUP SHOW – Kunst an der Kante, Positionen zum Rheinischen Braunkohlerevier – AACHEN, GERMANY
The exhibition focuses on the destruction of the environment by the exploitation of brown coal and its consequence on the climate change in the Rhine basin.
Exhibited work: Open-Pit Mine I" (Hambach – North Rhine-Westphalia – Germany)
India ink on Arches paper 185 gr
112 x 308 cm
March – August 2020
Artists of the exhibition :
Thomas Baumgärtel (Bananensprayer), urban art,
Emmanuel Henninger, drawings,
Jakob Kruse, computer art,
Nadine Liesse, painting,
Thomas Mayer, photography,
Clemens Pasch Jun, painting,
Clemens Pasch senior, sculpture.
Duration of the exhibition: until May 21, 2022.
Location: Tuchwerk Soers / Aachen, Atelier Pasch
Strüverweg 116, D-52070 Aachen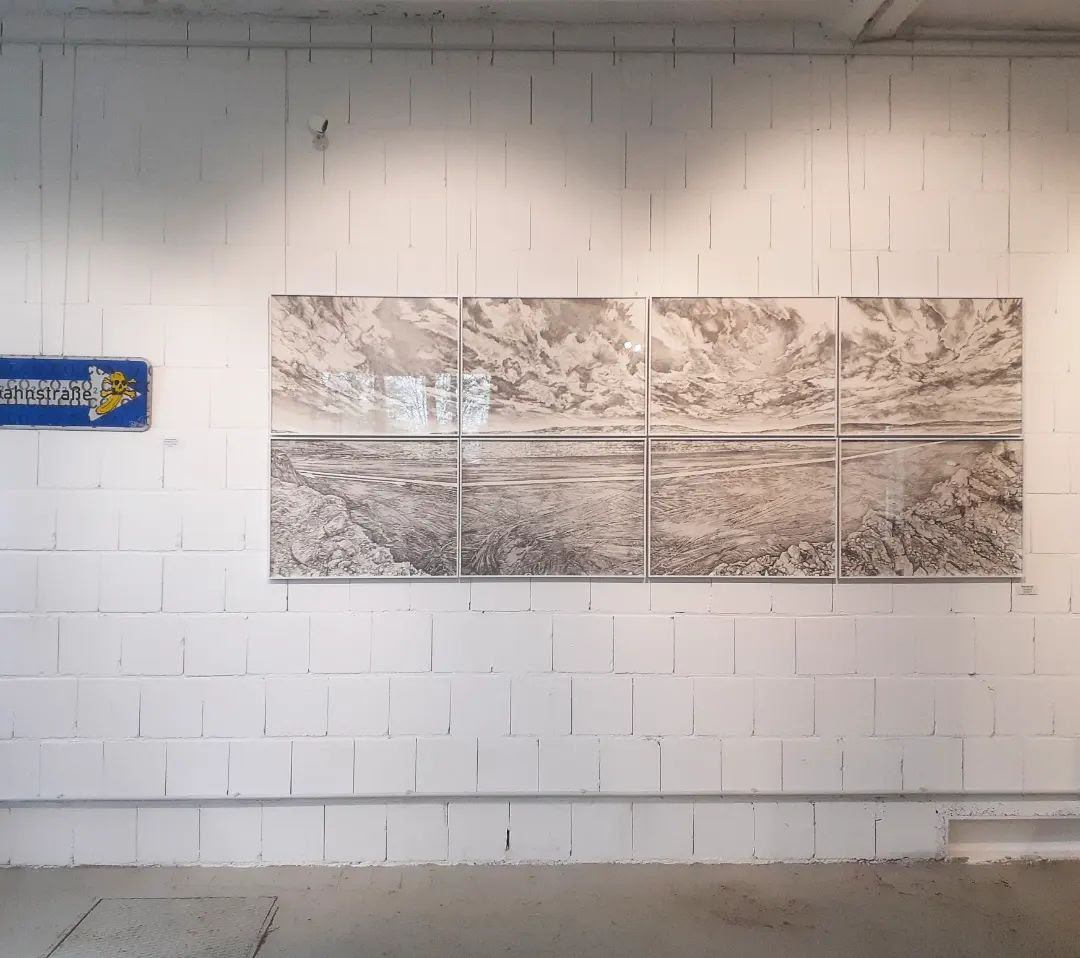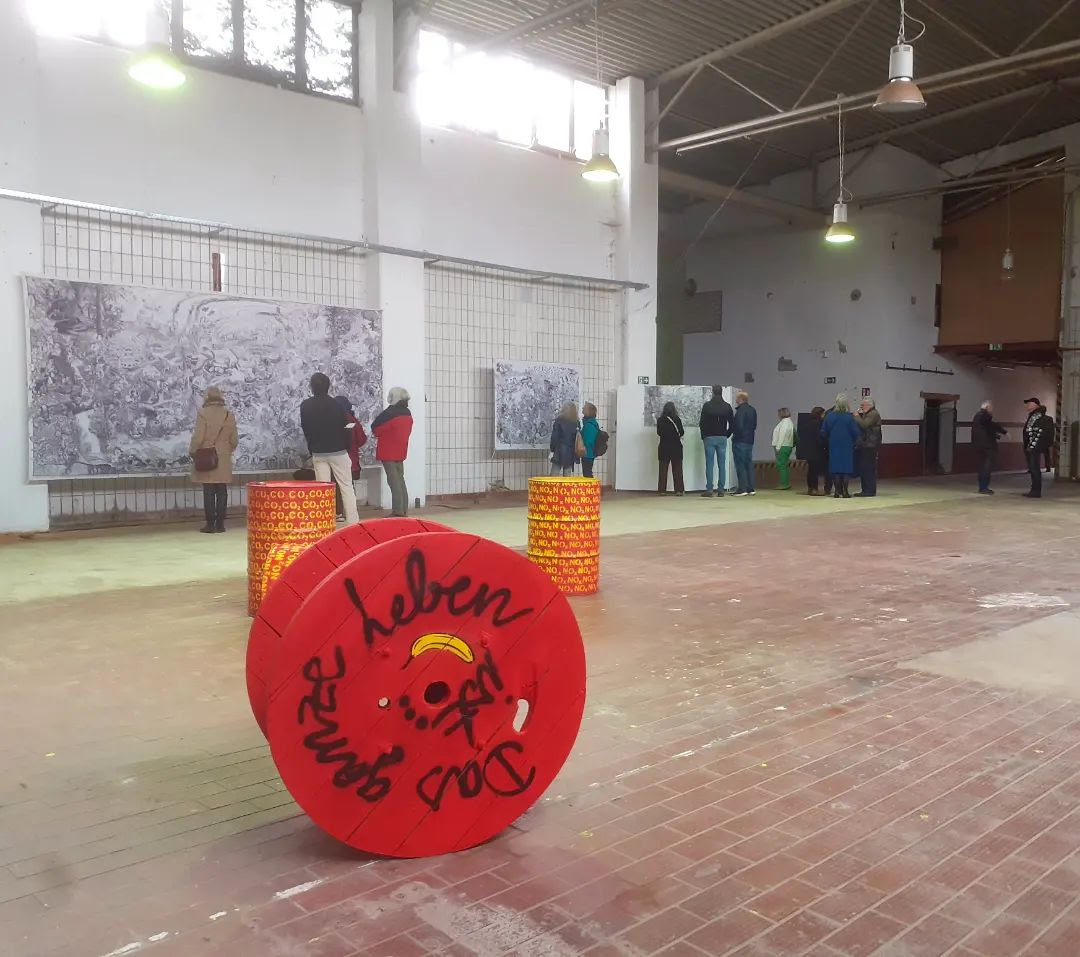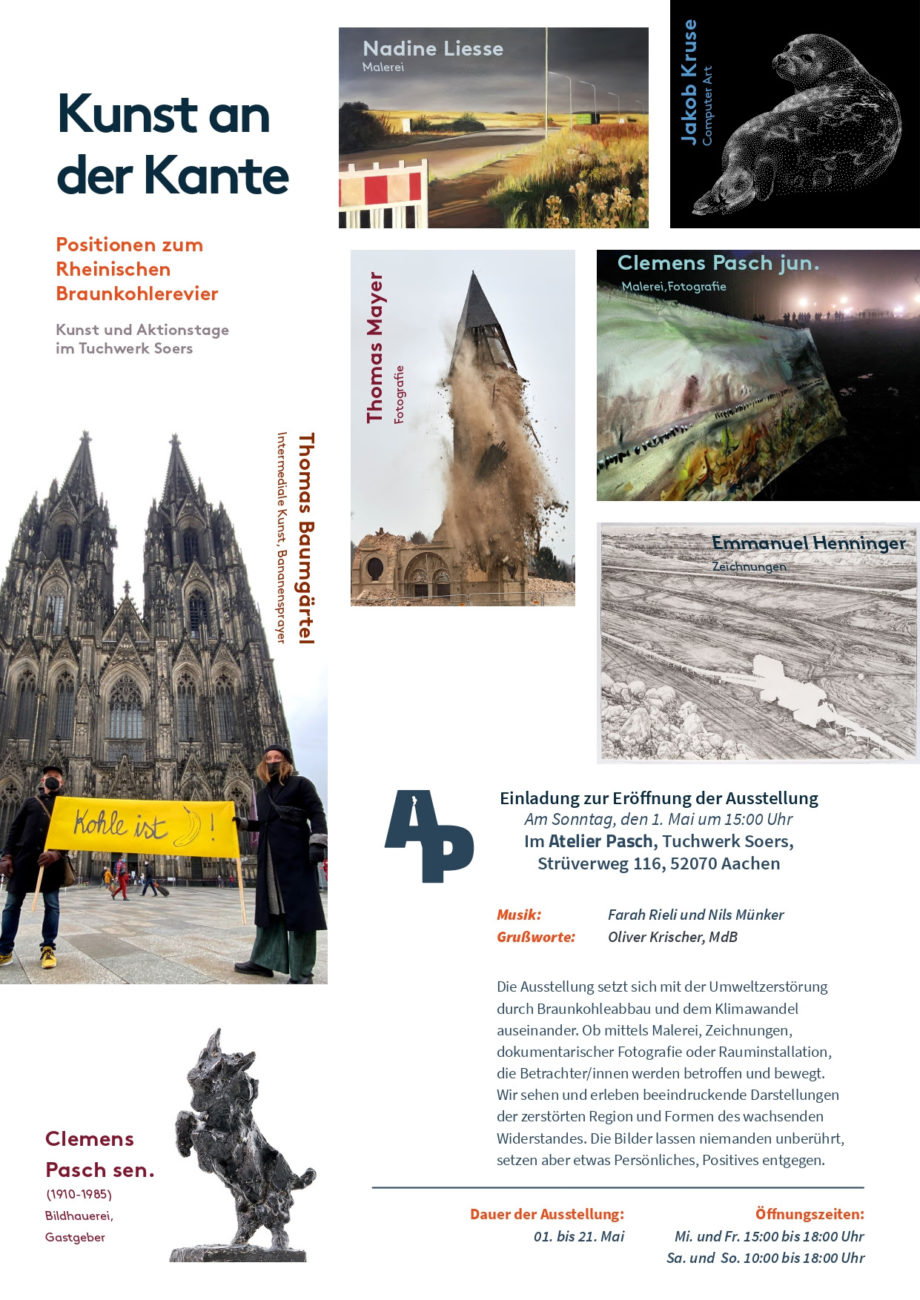 ---
GROUP SHOW – 1,1°C – MULHOUSE, FRANCE
I'm eager to present my travel diary and some views of the Garzweiler open pit mine in the group show "1,1° C" organized at the Séchoir in Mulhouse.
Opening on 15.04.2022 at 18:30.
Curators : Jonathan Nass and Paul Béranger.
This is an exhibition that focuses on global warming and the links and/or consequences it can have on artistic creation. A few months ago, a milestone was crossed in the almost collective indifference: for the first time, the average temperatures over the last twenty years have exceeded those of the pre-industrial era by 1.1° Celsius. This figure, however small, should sound like a death knell, a warning of the danger that is approaching faster than expected. This warning is barely audible amidst the din of a pandemic that is choking under the din of an approaching economic recession. The climate issue, the collapse of biodiversity, the degradation of the soil remain marginalized in the media, forgotten in the presidential debates because they are considered inaudible by the citizens. However, all this noise is nothing compared to climate change, and even worse, to the deafening silence of the collapse of life. In this almost "apocalyptic" context, how does contemporary plastic creation position itself, this creation, which has always drawn absolute inspiration and resources from Nature? How does creation take the form of an "ecological art" to respond to the progressive disappearance of biodiversity and climate change? The abundance of current creation reveals various trends, from militant art in reaction to the immobility of society, to art as a teaching tool on the fragility of our world, whatever the attitude of the artists, future art will have to remind us, in contrast to the endless development of our liberal model, that we have a limit: the earth, that its resources are limited, and that man will have to learn sobriety.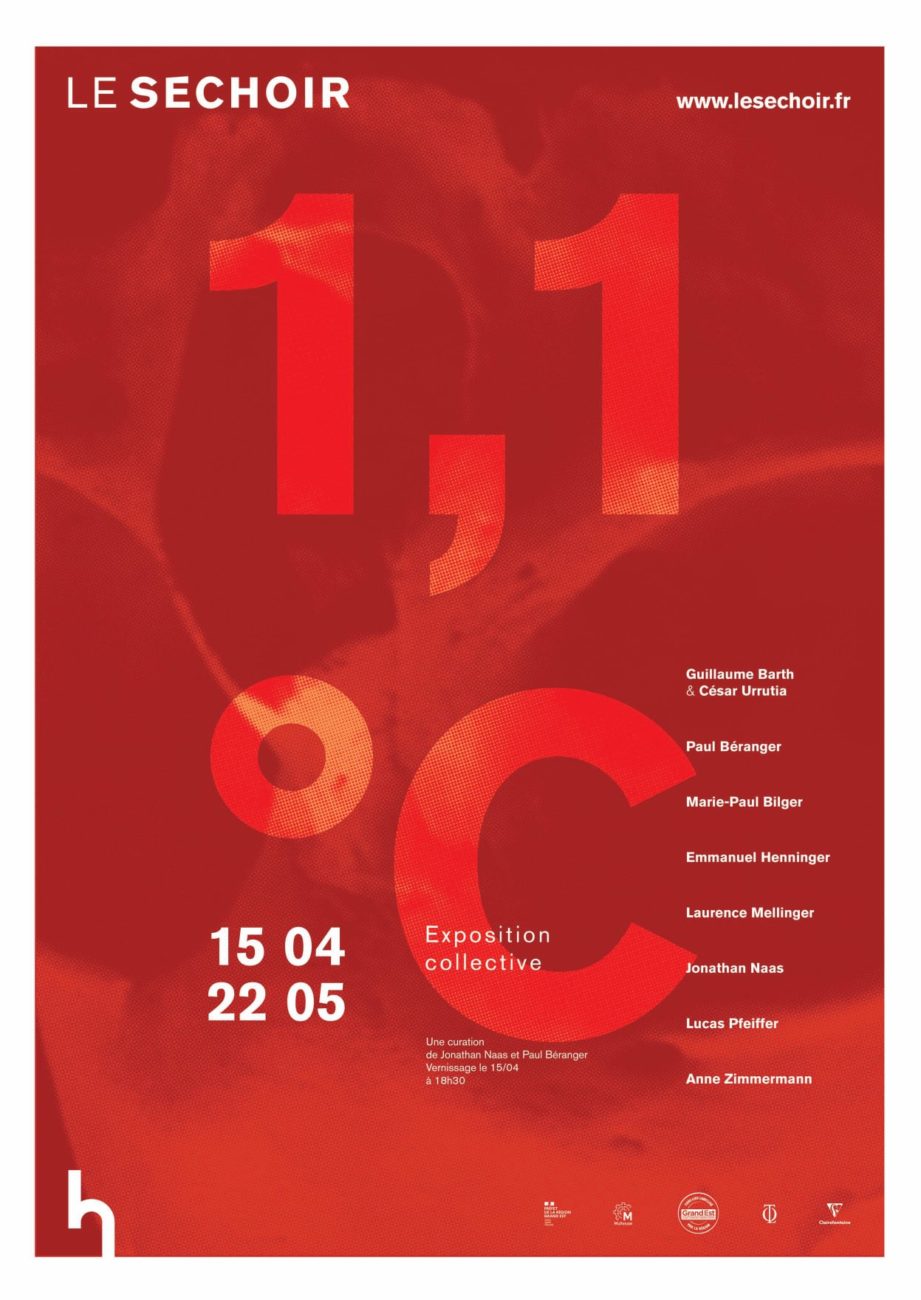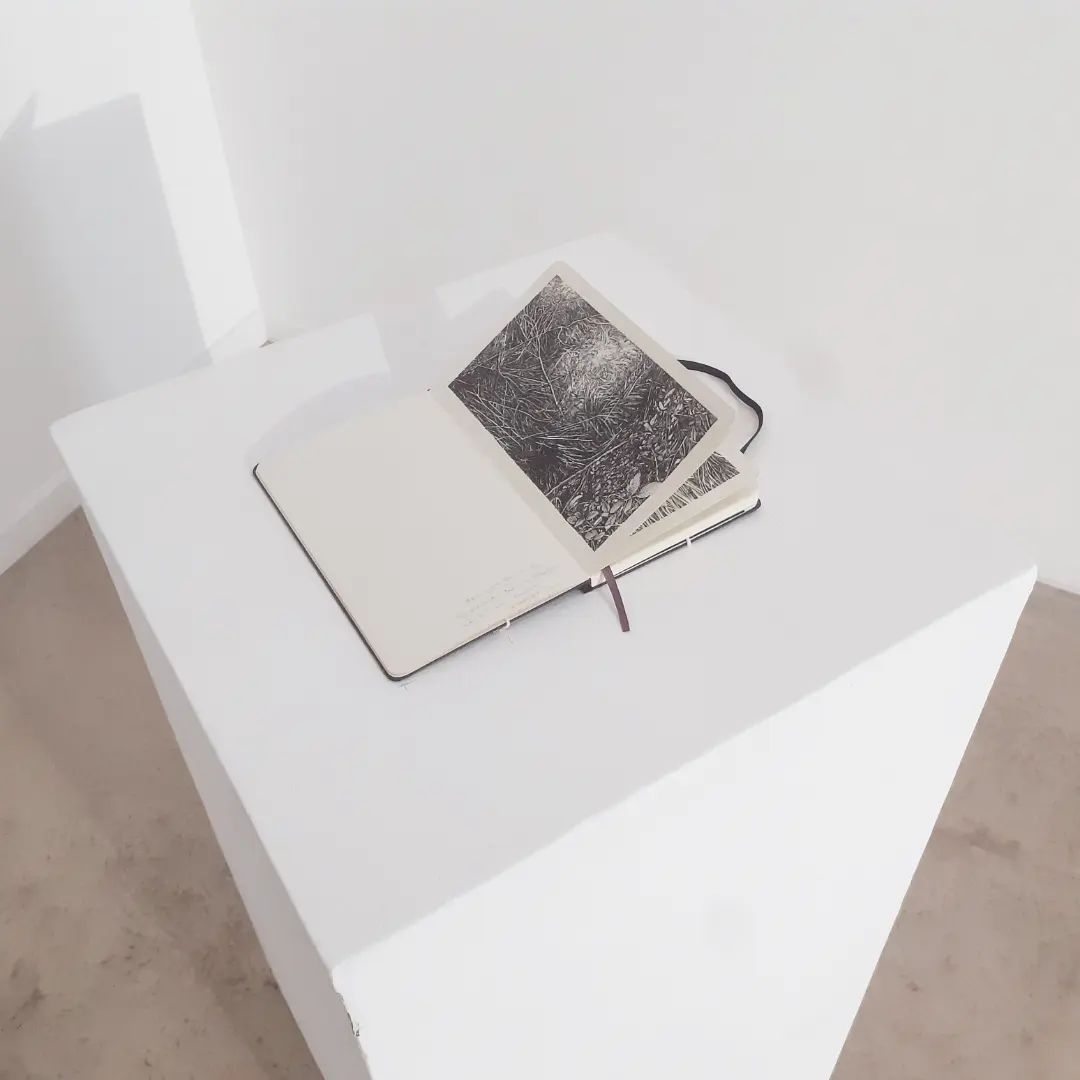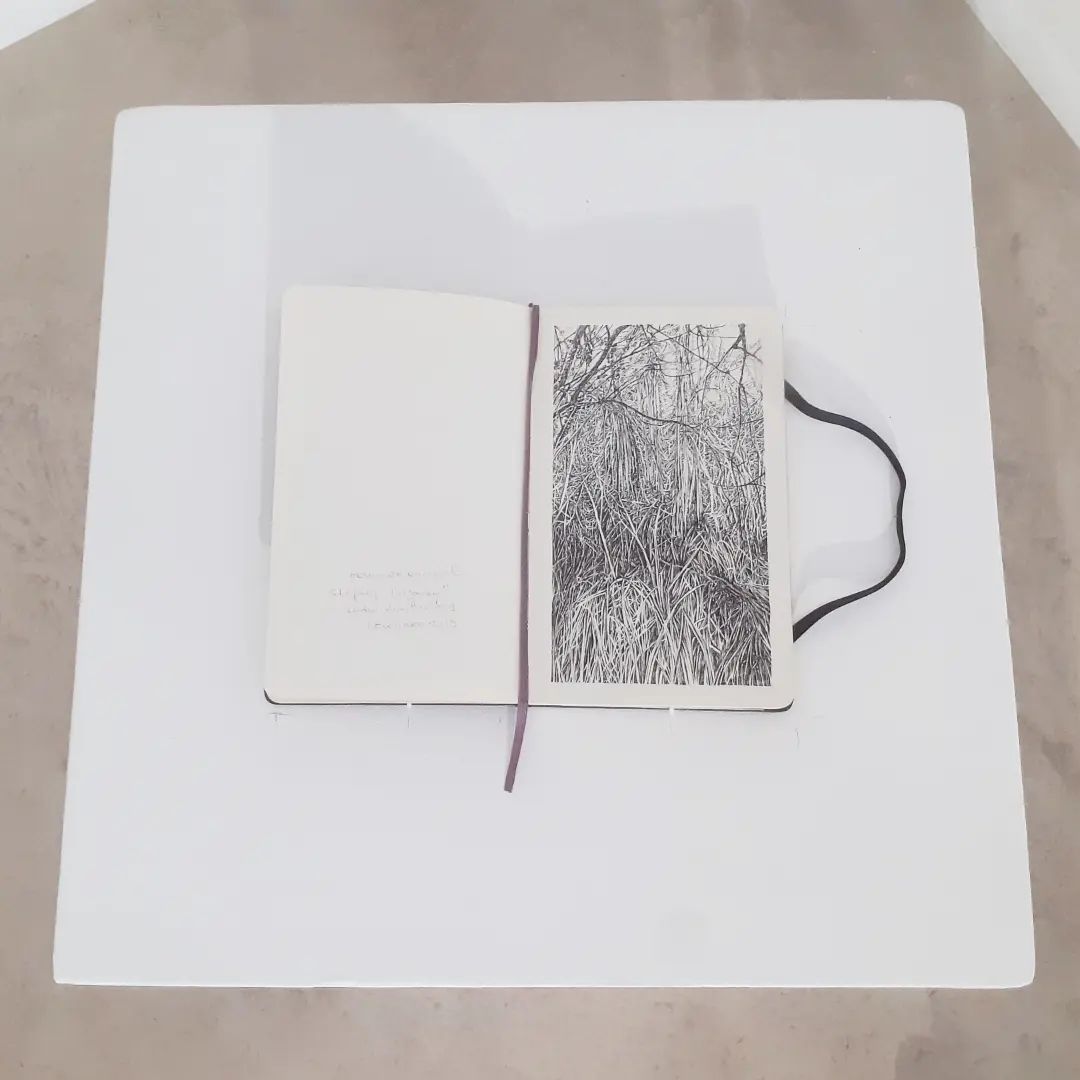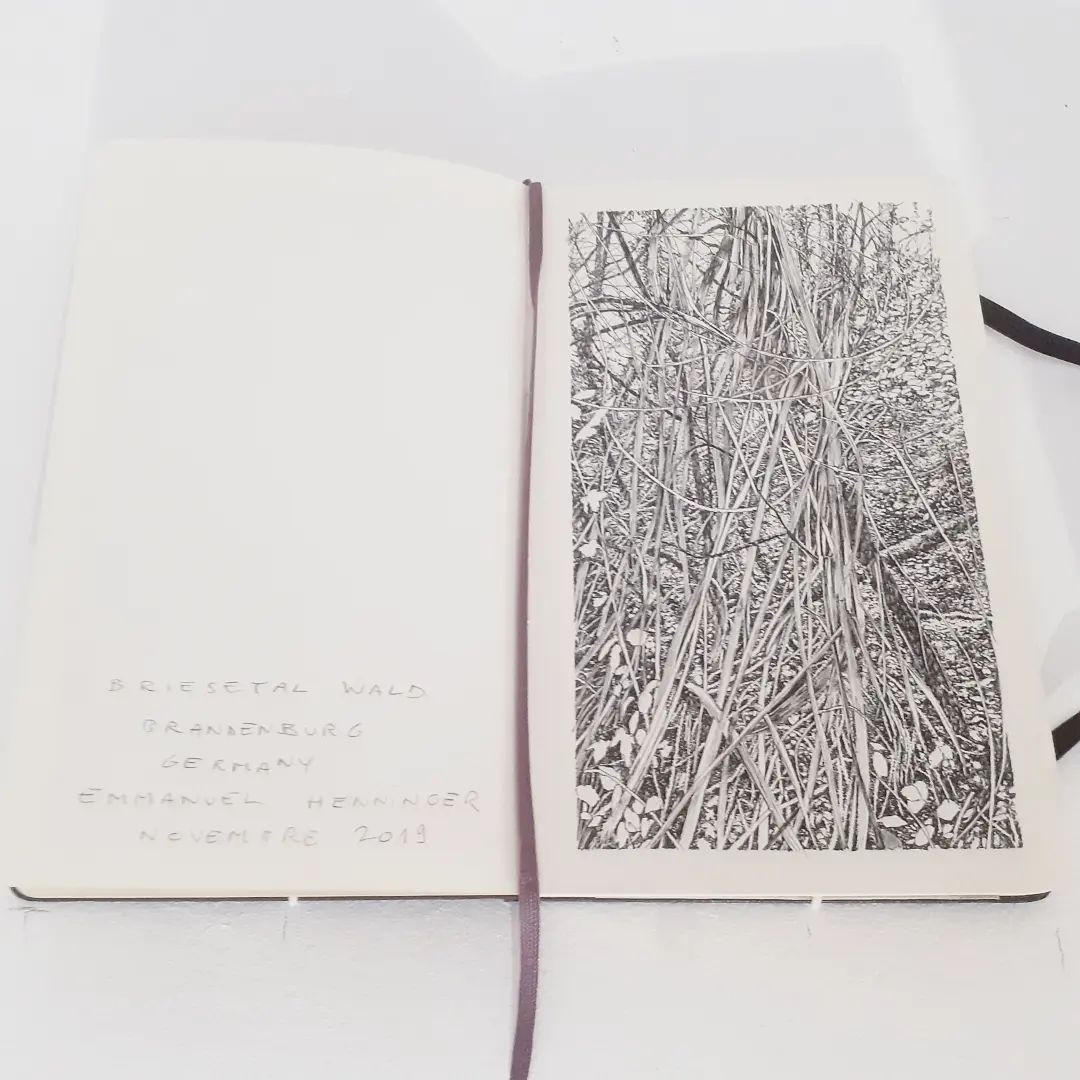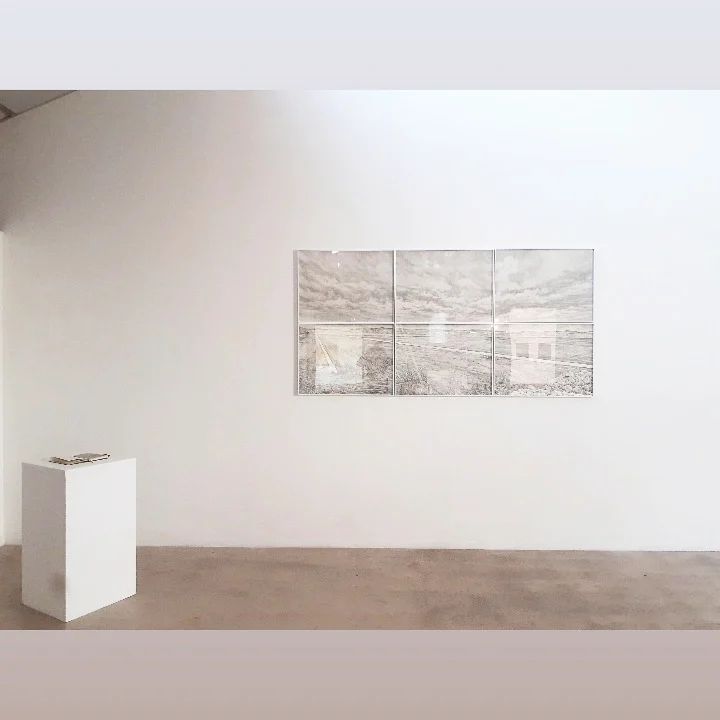 ---
Less polluting buses with a great look
First public order. Thanks to Solea Mulhouse who has just put into service the new biogas buses! Reduction of 75% of greenhouse gases compared to diesel. This is the forest of Simonswald, the wild jungle of tomorrow…
More info here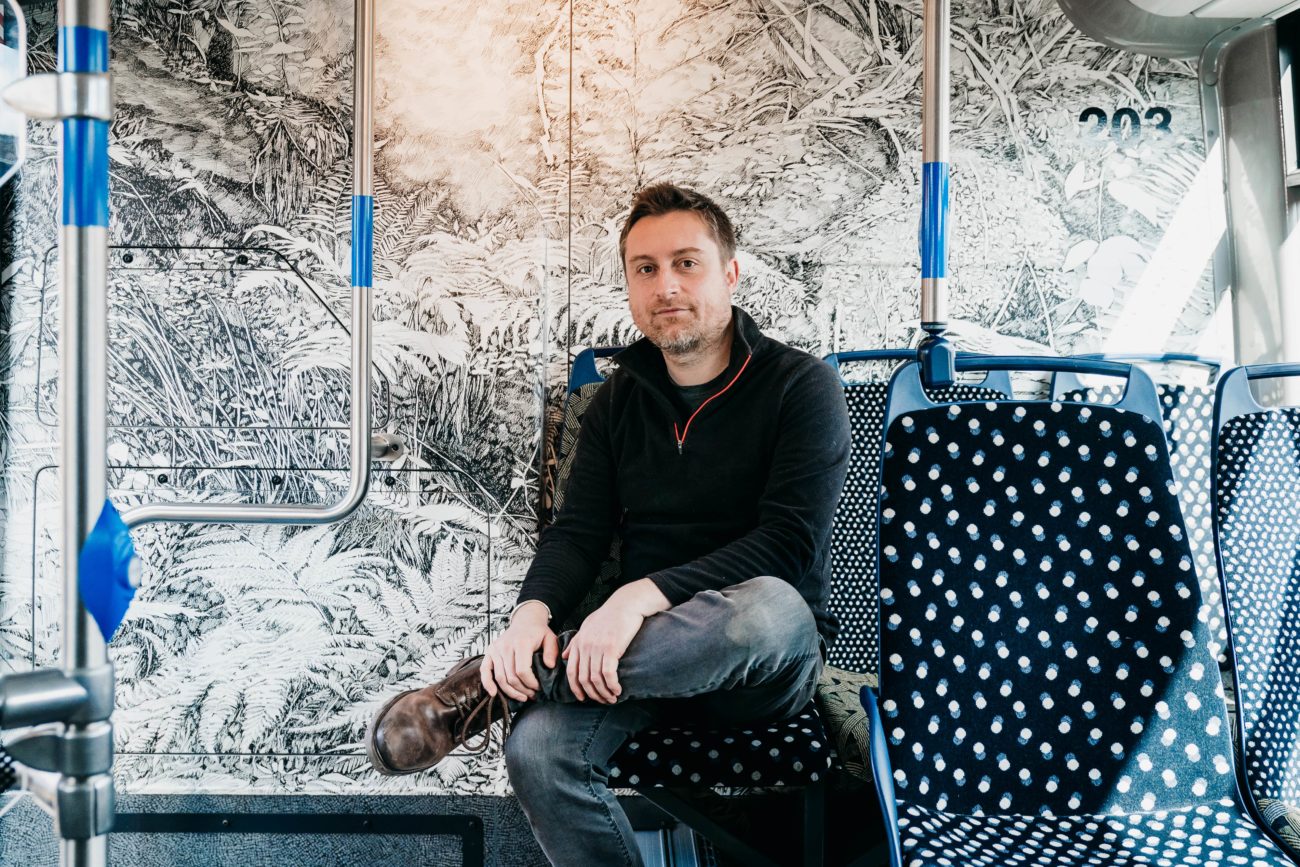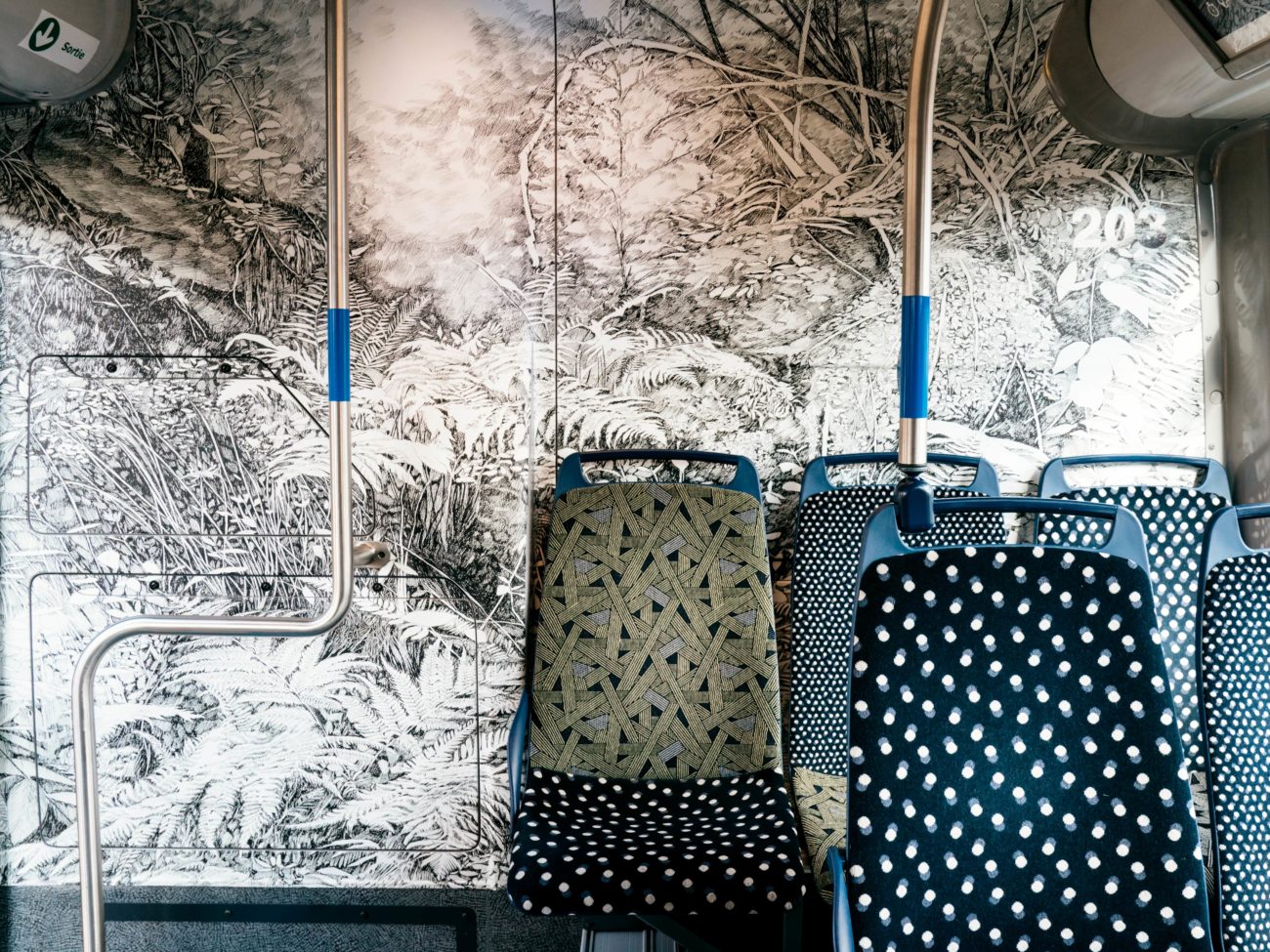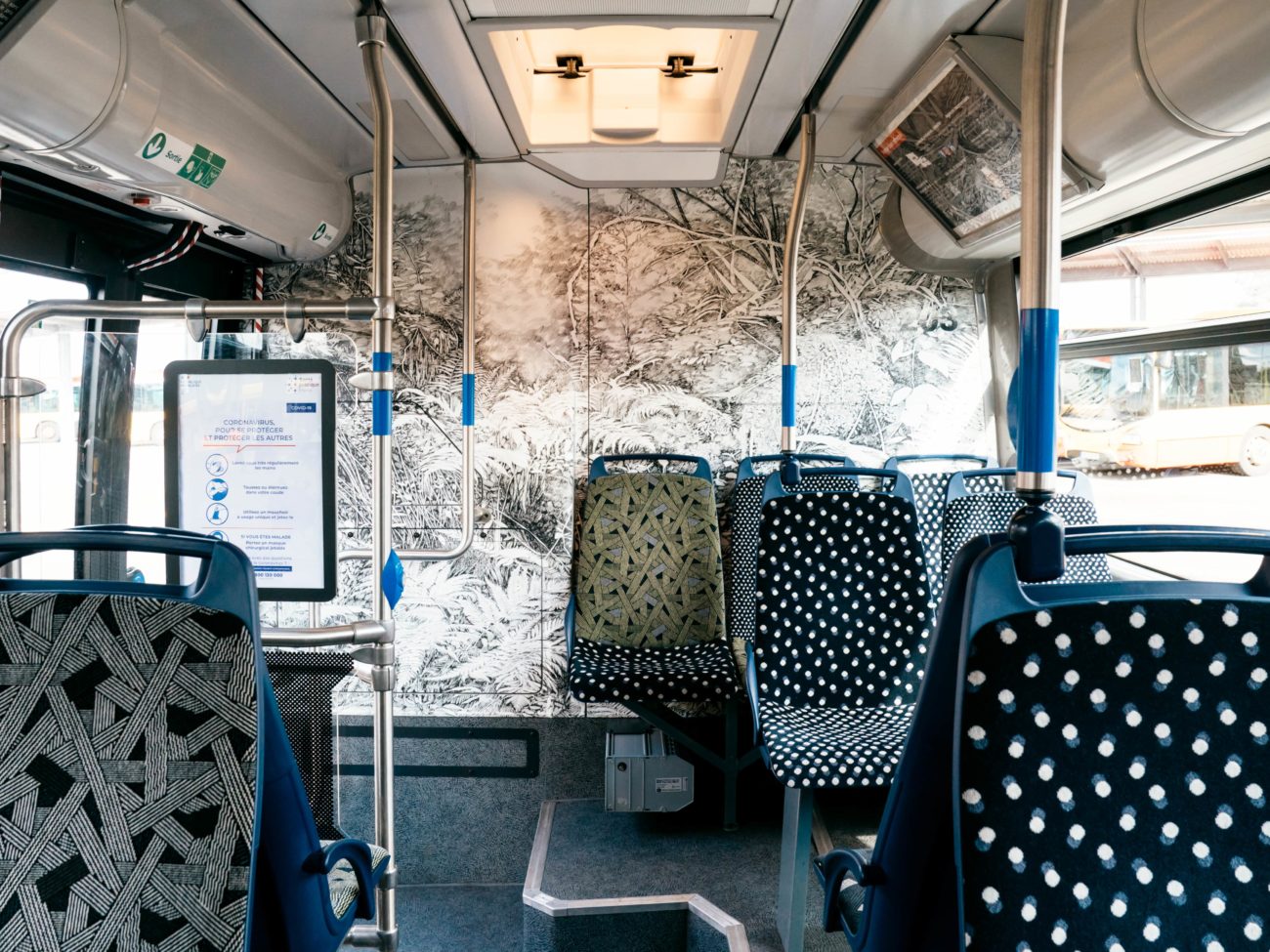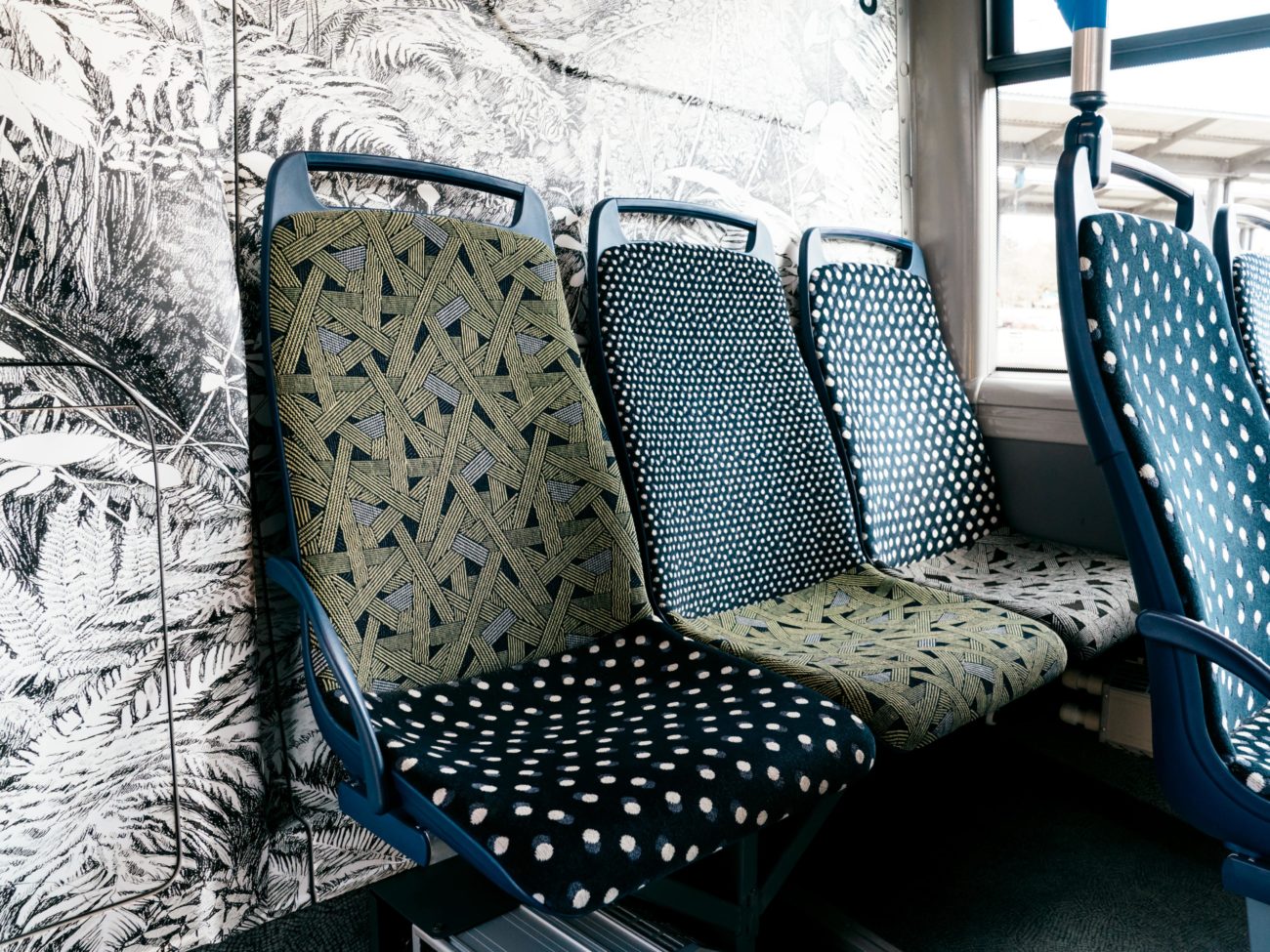 ---
GROUP SHOW – POINTS DE VUE – BELFORT, FRANCE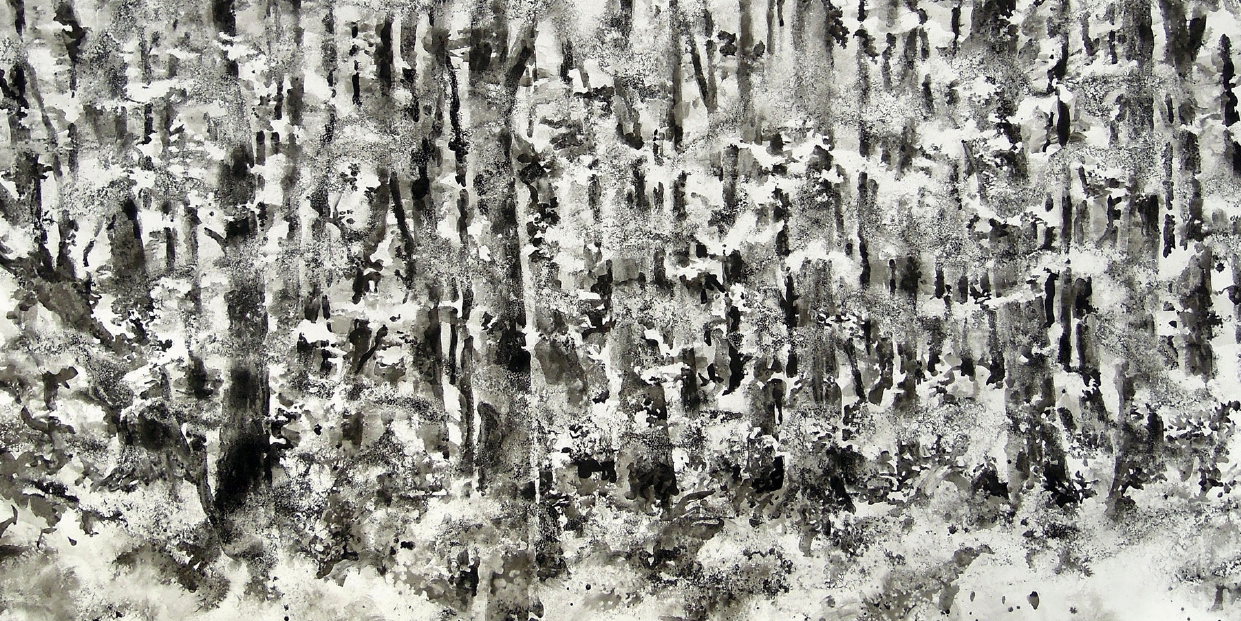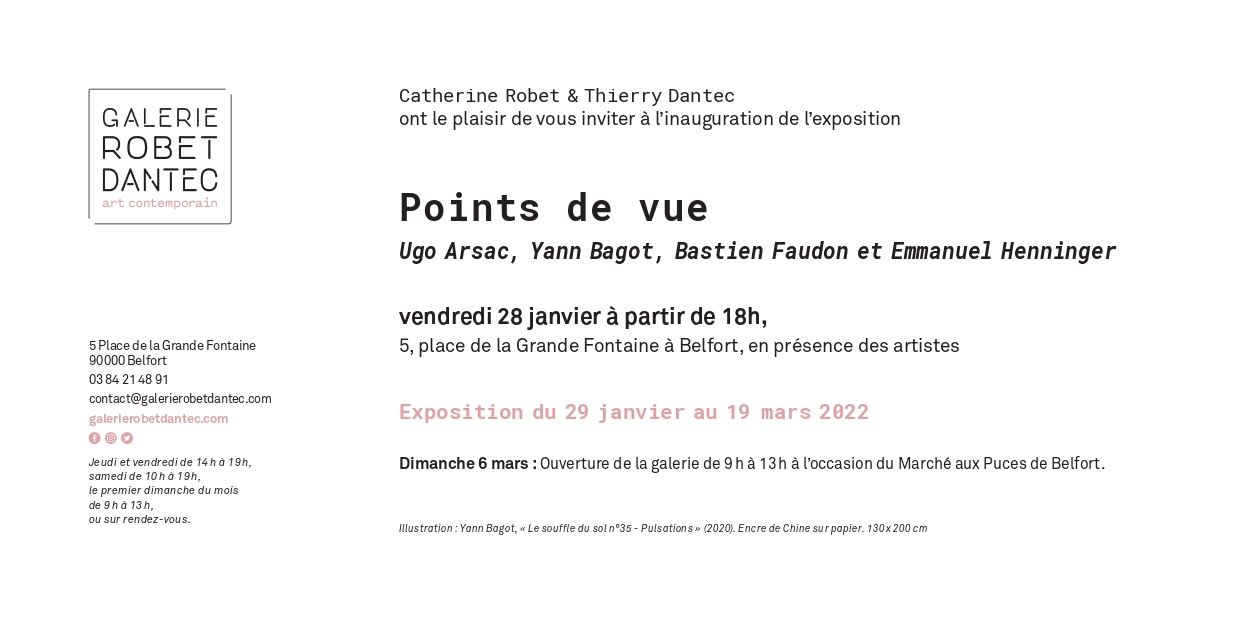 POINTS DE VUE
Exhibition presented at Galerie Robet Dantec until March 22, 2022, in Belfort.
Very honored to exhibit alongside the remarkable works of Ugo Arsac, Bastien Faudon and Yann Bagot.
"How would we look at Mount Sainte-Victoire today if Cézanne had not painted it? Or rather if he had not invented the landscape? For centuries, artists have been forging our gaze and still testify today to the importance of this genre in the perception of our environment. The four artists gathered at the Robet Dantec Gallery in the exhibition "Points of View" come to confirm this idea. "
---
GROUP SHOW – BOTANICA – WATTWILLER, FRANCE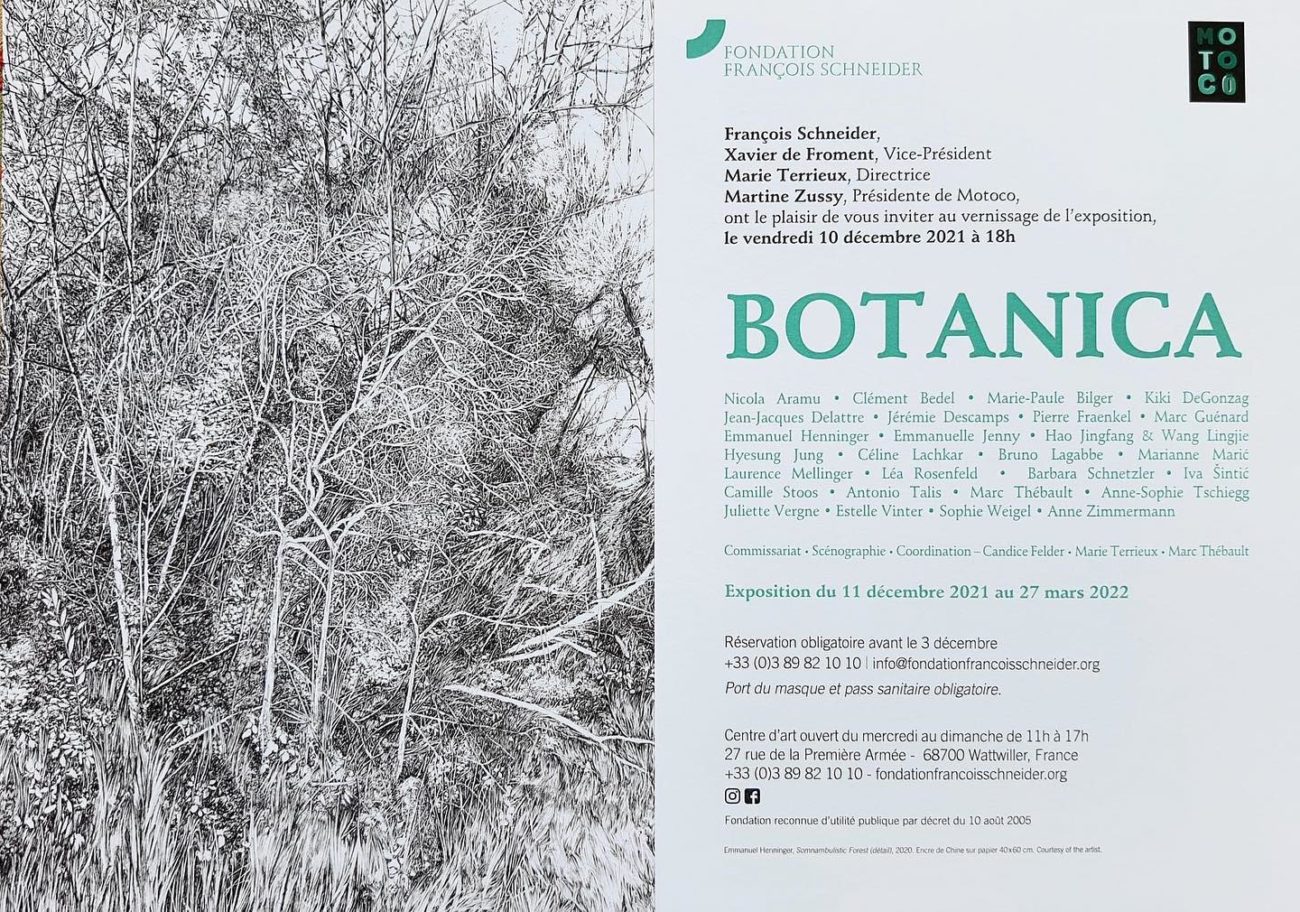 BOTANICA

Exhibition until March 27, 2022
François Schneider Foundation – Art Center
WATTWILLER – FR

Happy to present some drawings in the exhibition "BOTANICA" where I present 4 forests, 4 fragments of landscape in this beautiful space.
Somnambulistic Forest, 2020
Europa Arbaro, 2020
Mantenach Nature Reserve, 2020
Urwald von morgen, 2019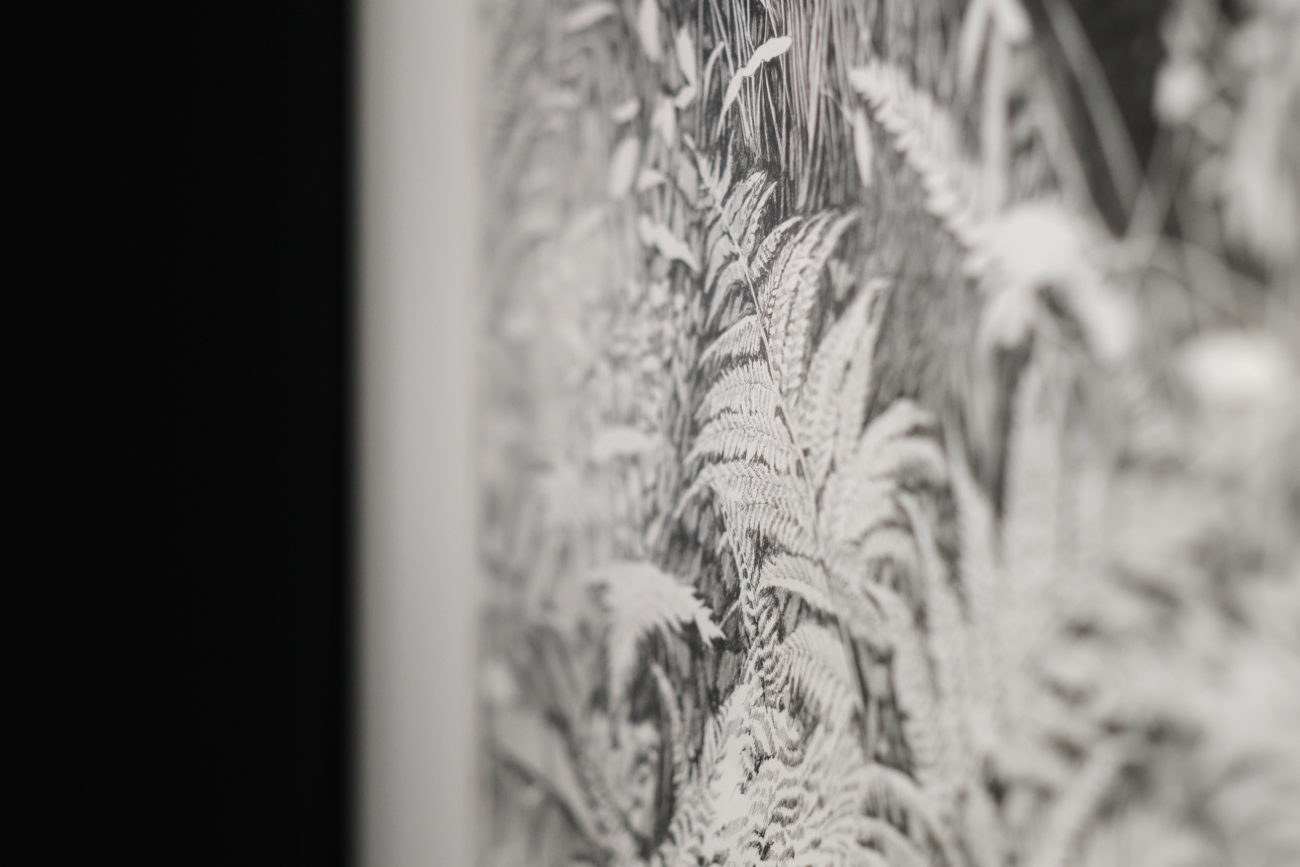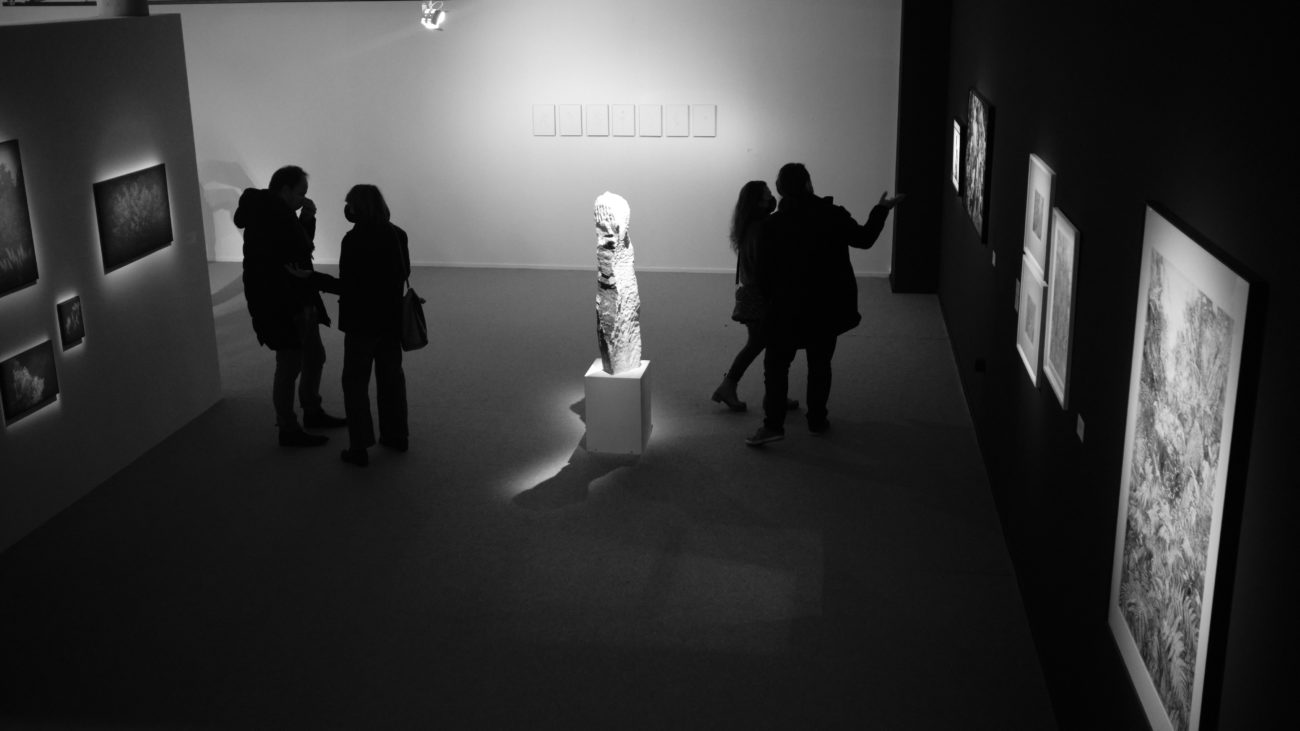 ---
GROUP SHOW – LA PETITE COLLECTION – PARIS, FRANCE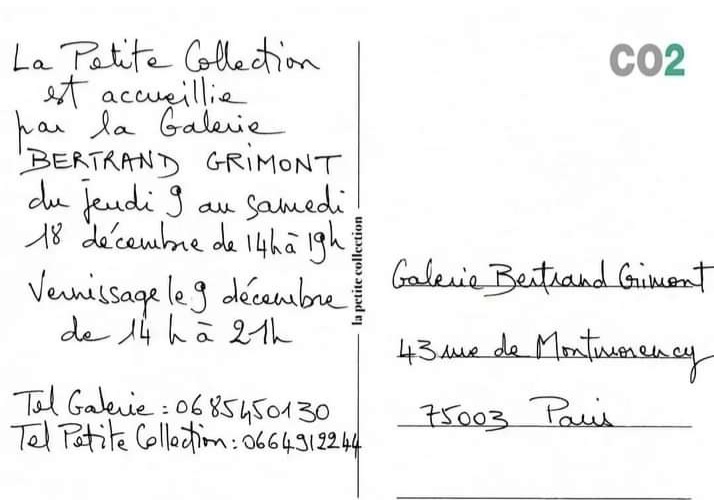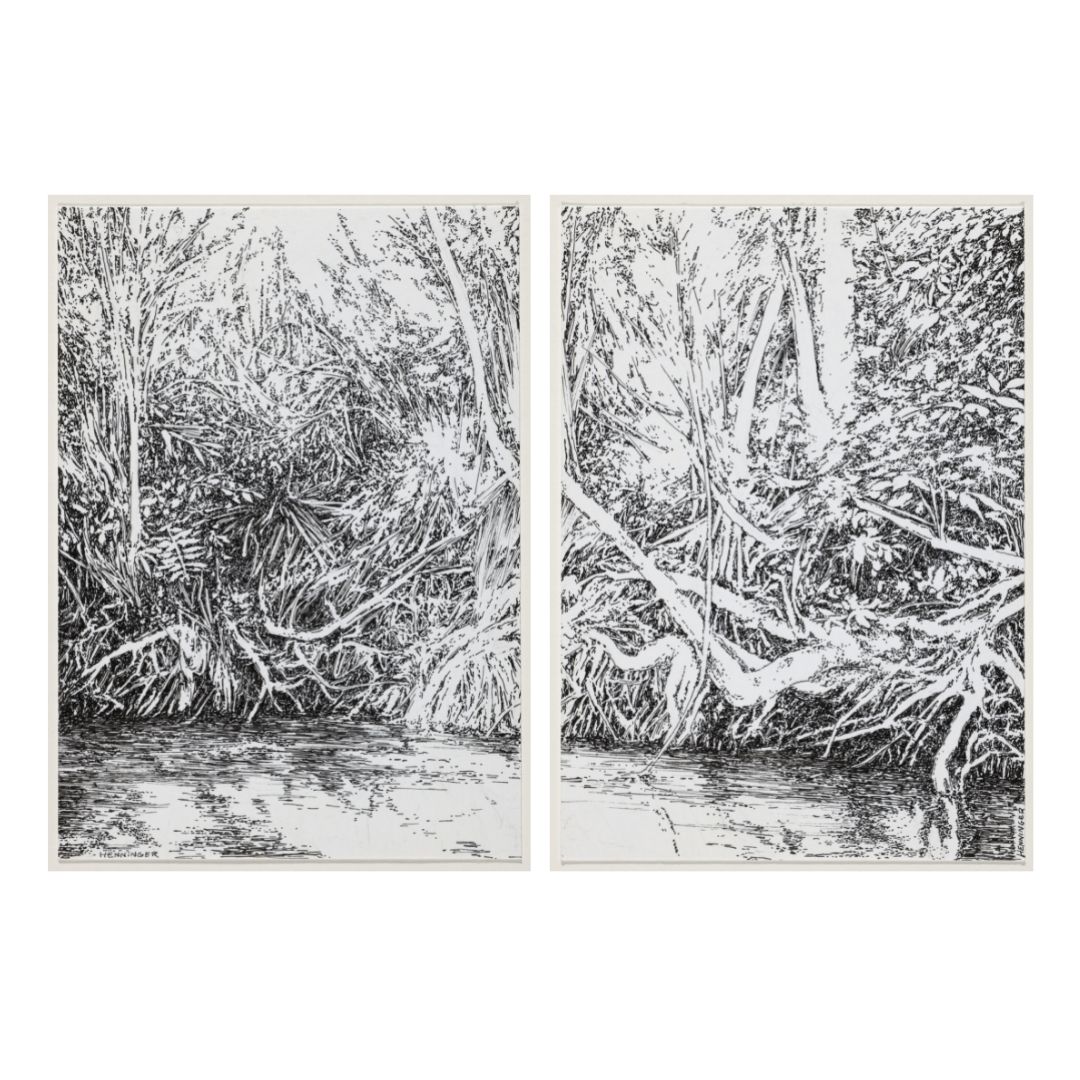 Thursday 9 December 2021, 2pm at the Galerie Bertrand Grimont, opening of La Petite Collection. Organized by Florence Lucas and Pauline Lisowski. Very happy to present two drawings alongside talented artists.
Exhibition open from Thursday 9 to Saturday 18 December |14h to 19h|
Opening on Thursday 9 December from 2pm to 9pm
Bertrand Grimont Gallery
43, rue de Montmorency 75003 PARIS
---
GROUP SHOW – VIVANTS! – PARIS, FRANCE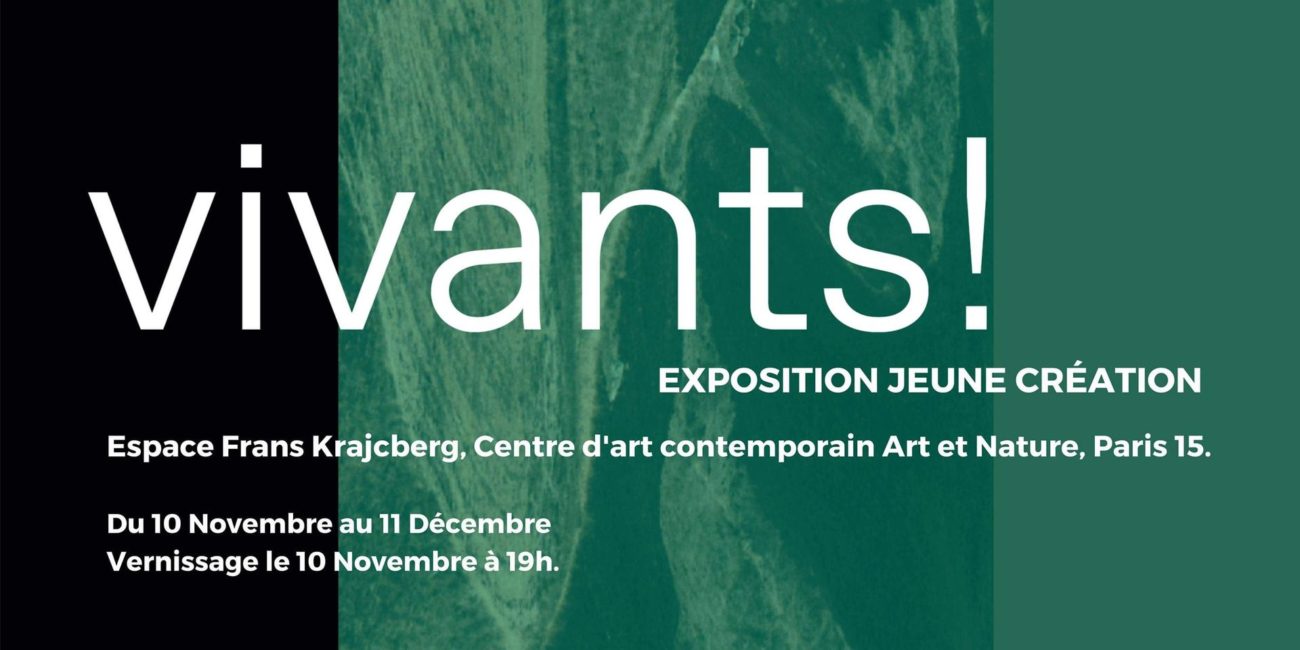 I am very pleased to present my set "Open Pit Mine" in the exhibition VIVANTS! in Paris.
Exhibition from Friday November 12 to Saturday December 11, 2021.
Espace Frans Krajcberg 26, Avenue du Maine PARIS 15
Crossed exhibition Art-Exprim and Espace Frans Krajcberg
With Jeanne Andrieu, Bianca Dacosta, Emmanuel Henninger, Philip Peryn, Claudia Rudge, Ana Katharina Scheidegger, Javabe, Yue Yuan.
---
SOLO SHOW – POINT DE CONTACT – YEREVAN, ARMENIA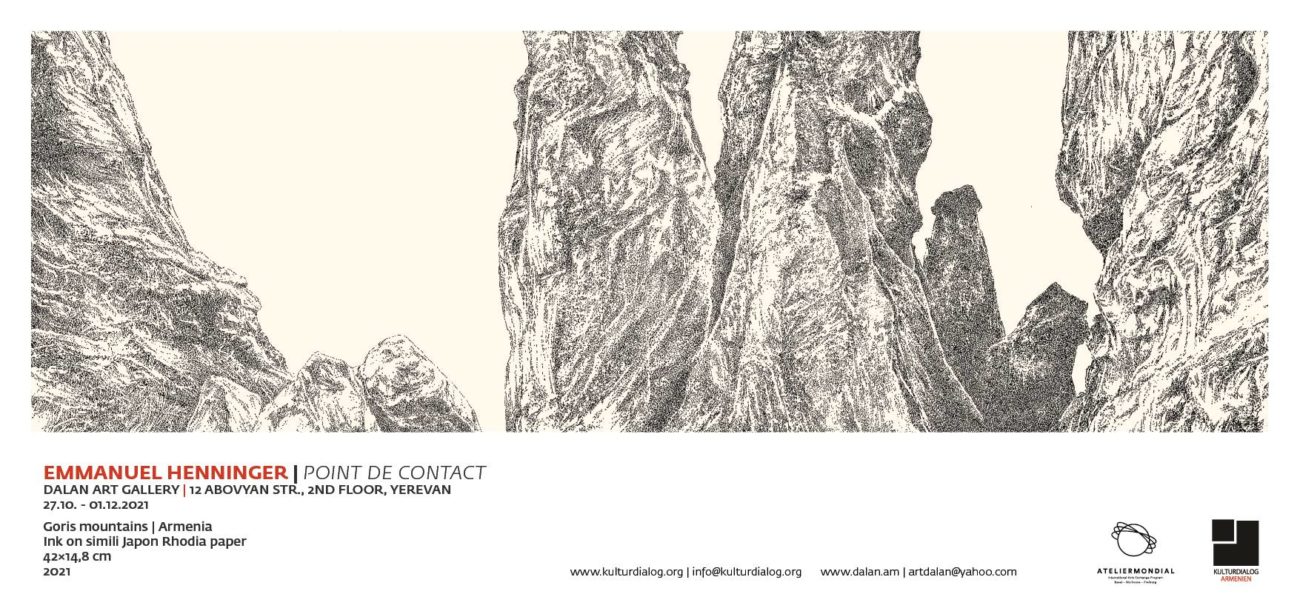 Very pleased to present my first solo exhibition in Yerevan, Armenia.
Exhibition visible from October 27 to December 1, 2021 at the Dalan Art Gallery (12, Abovyan Street, Yerevan).
This exhibition is the result of my 6-month artistic residency supported by the international artist exchange program, initiated by the KulturDialog Armenien Foundation and organized in cooperation with Atelier Mondial/Christoph Merian Stiftung, Basel, Switzerland, and the city of Freiburg im Breisgau, Germany, from 06.07.2021 to 05.01.2022.
The drawings created during the six-month artistic residency in Armenia will be presented in a solo exhibition at the Dalan Art Gallery (12, Abovyan Street, Yerevan).
---
Publication of the book "Projekt Klima schutz, was jetzt geschehen muss, um noch die Kurve zu kriegen" by Anja PAUMEN, published by OEKOM, dedicated to the climate emergency.
On this occasion, I am happy to have been invited to contribute to this beautiful book where I present my crossing of Germany in 2020 between primary forests and open-pit mines.

Anja PAUMEN, journalist and biologist, summarizes the current state of science and climate policy. She spoke to people who are taking different paths in research, on the street and in art to fight the climate crisis, presenting their solutions and motivations. It gives climate protection a multifaceted face.

This book is available (in German) in all bookstores in Germany since October 5, 2021
Further information:
https://www.oekom.de/buch/projekt-klimaschutz-9783962382957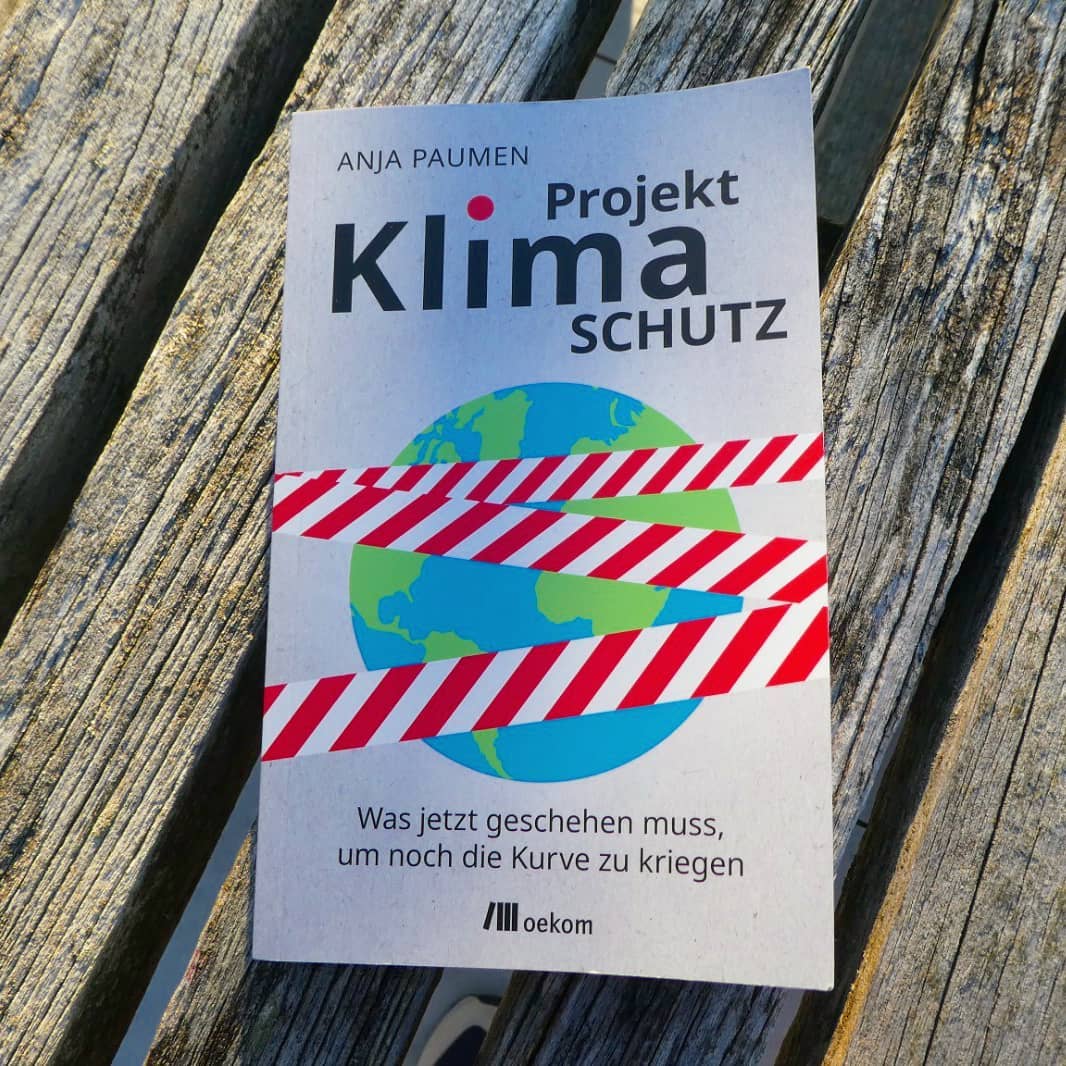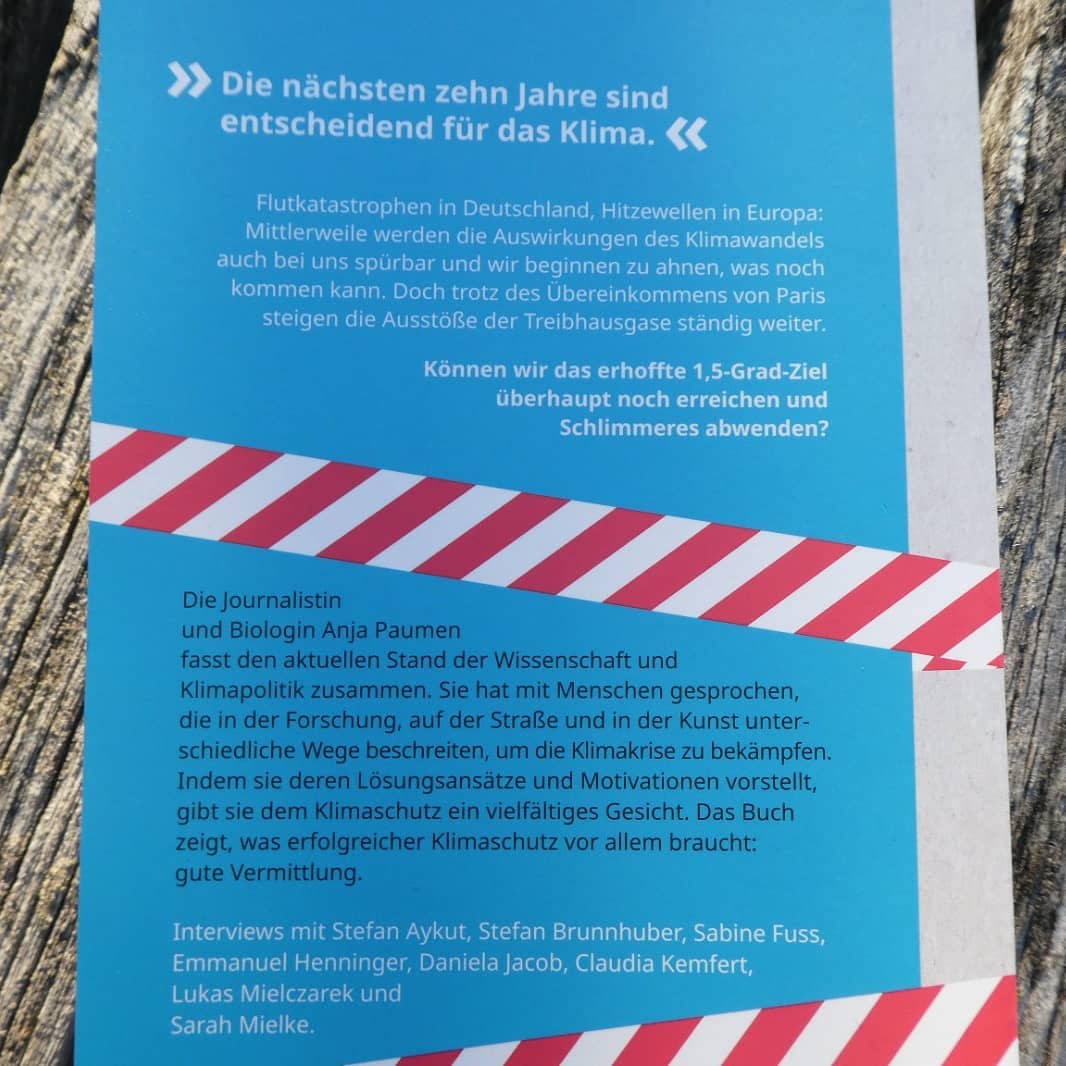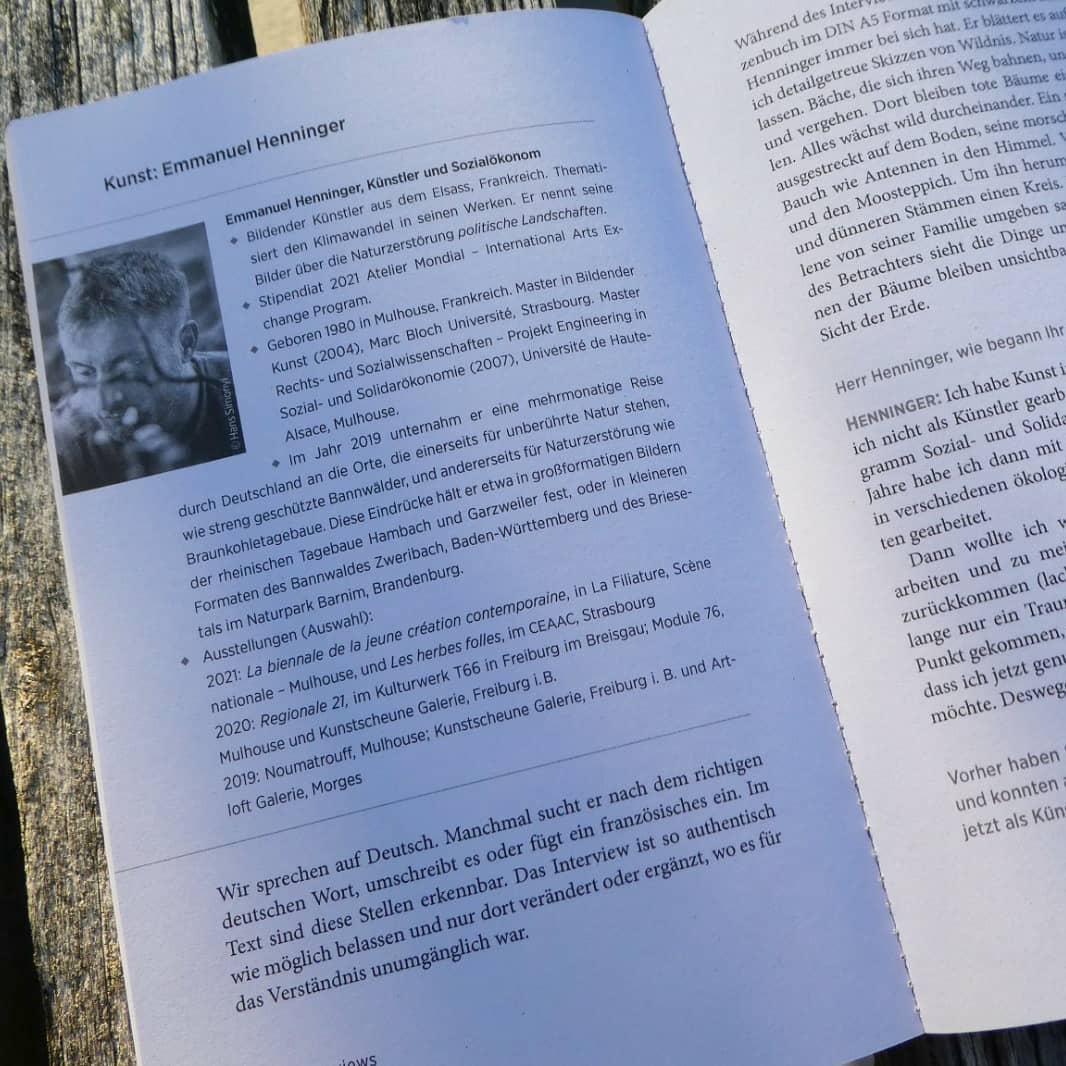 ---
FIRST DAYS IN YEREVAN, ARMENIA
Welcome to Yerevan, Armenia where I will start a 6 months artistic residency from July 2021 to January 2022!
Thanks to Atelier Mondial, International Arts Exchange Program & KulturDialog Armenien for the selection and hosting.
Atelier Mondial is an international scholarship programme that offers artists in the fields of visual arts, literature, fashion & textiles as well as dance & performing arts the opportunity to spend several months working in one of ten partner countries. Once a year, these 13 scholarships are announced for application in the Tri-Regio, plus a travel scholarship for a free project. The studio scholarships consist of a contribution to the cost of living as well as free use of a studio with a flat or a studio on site.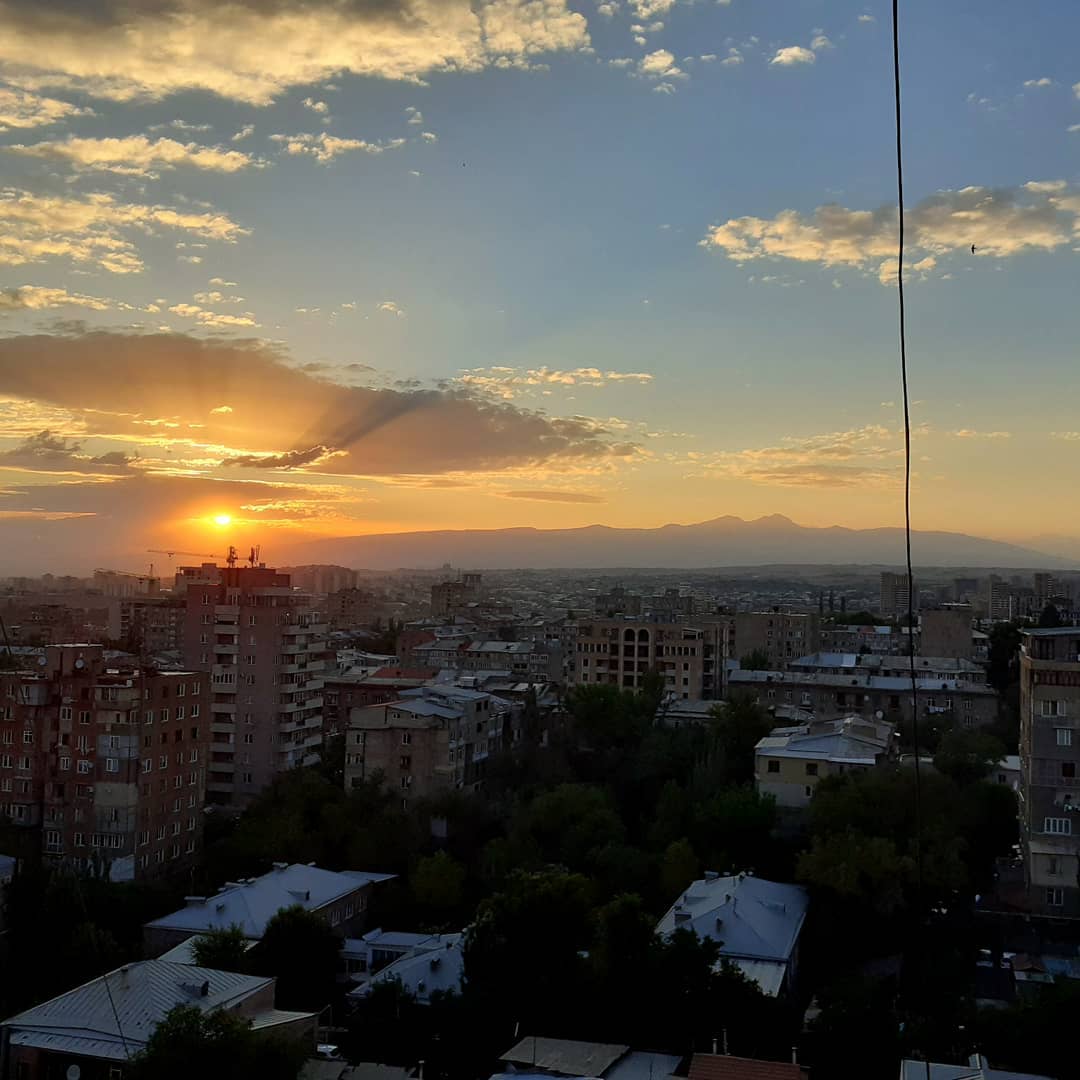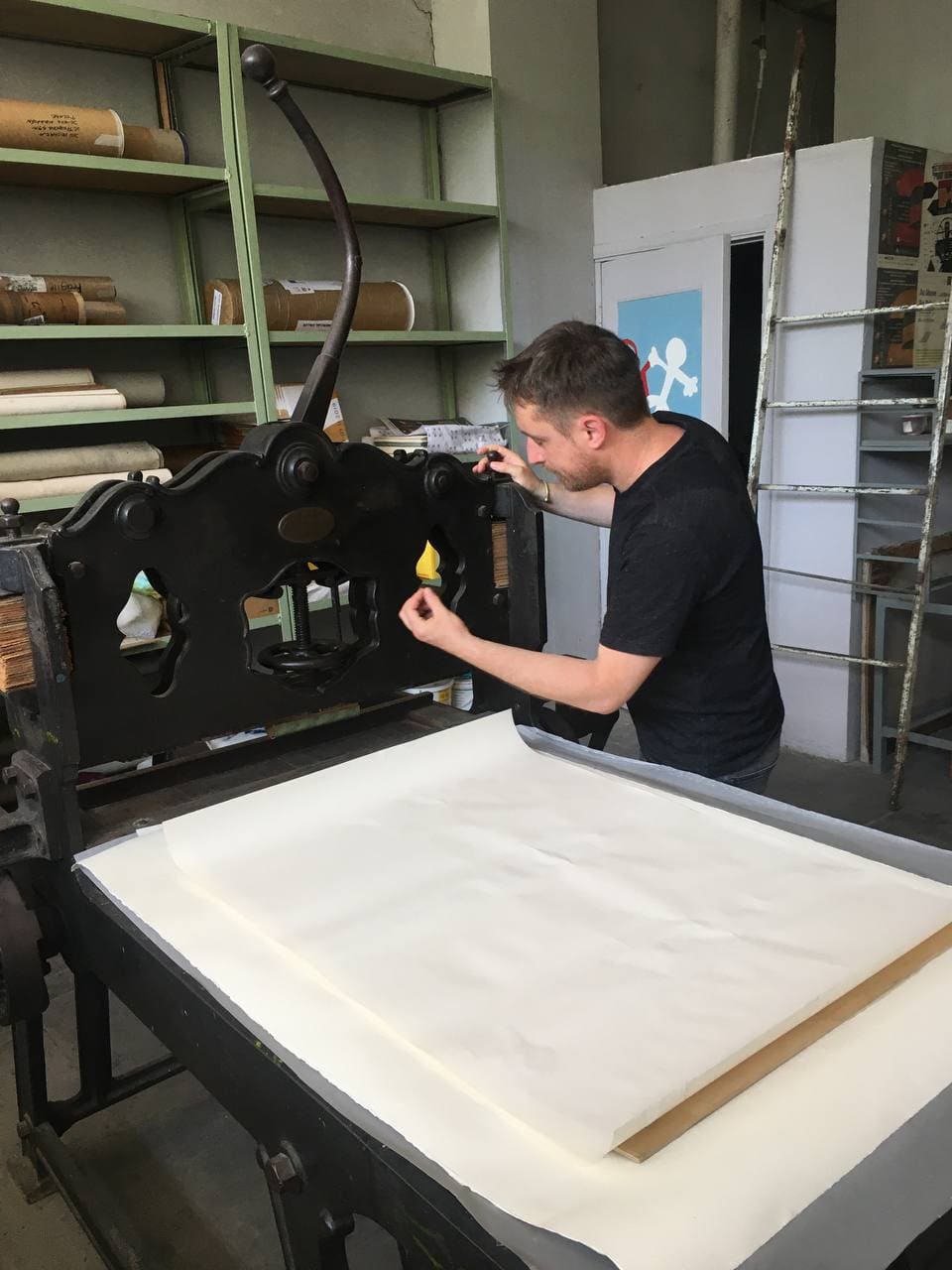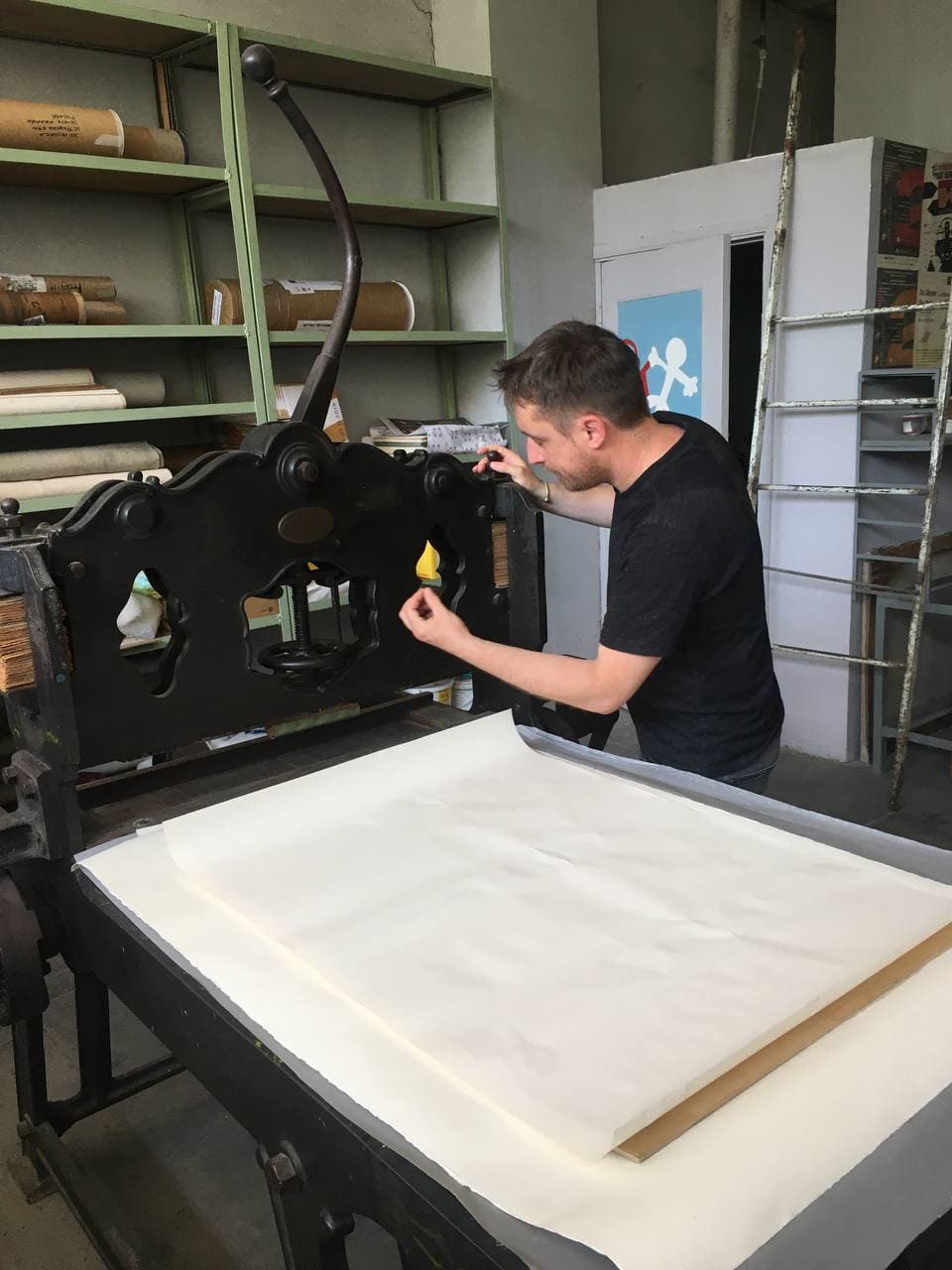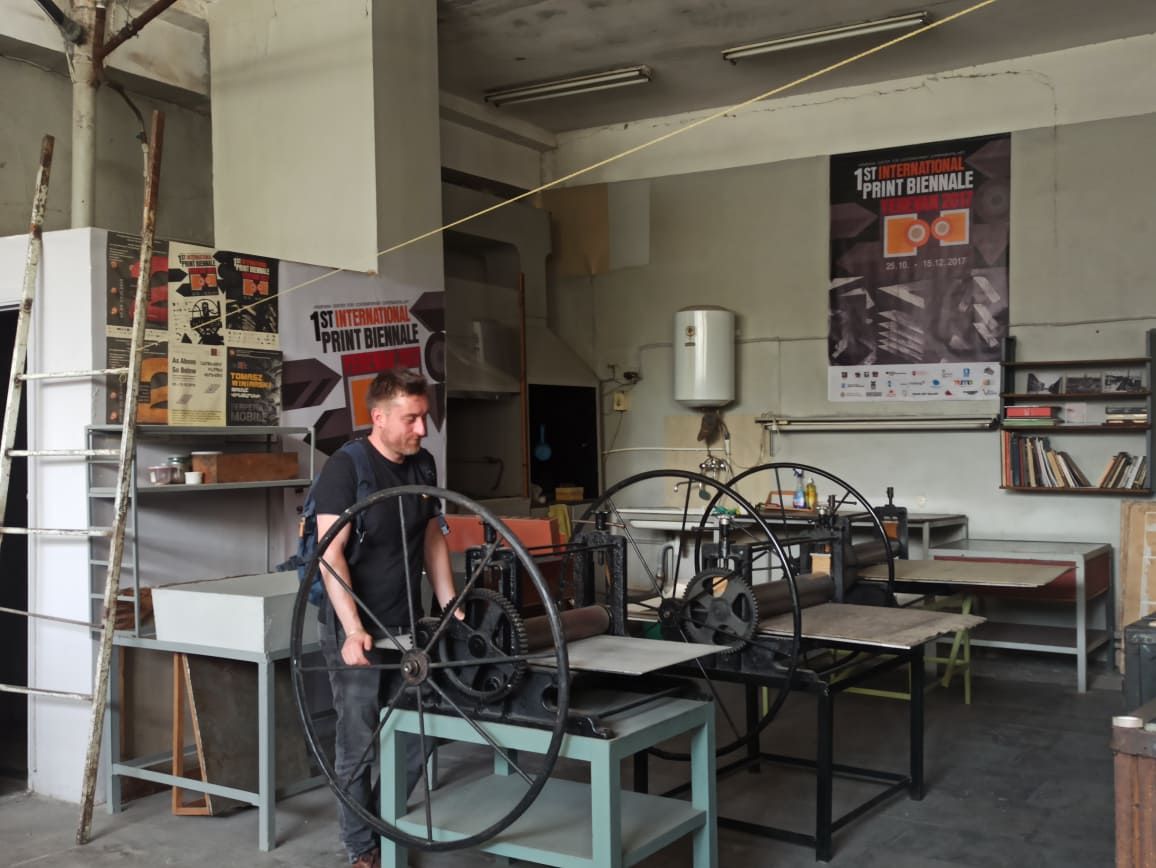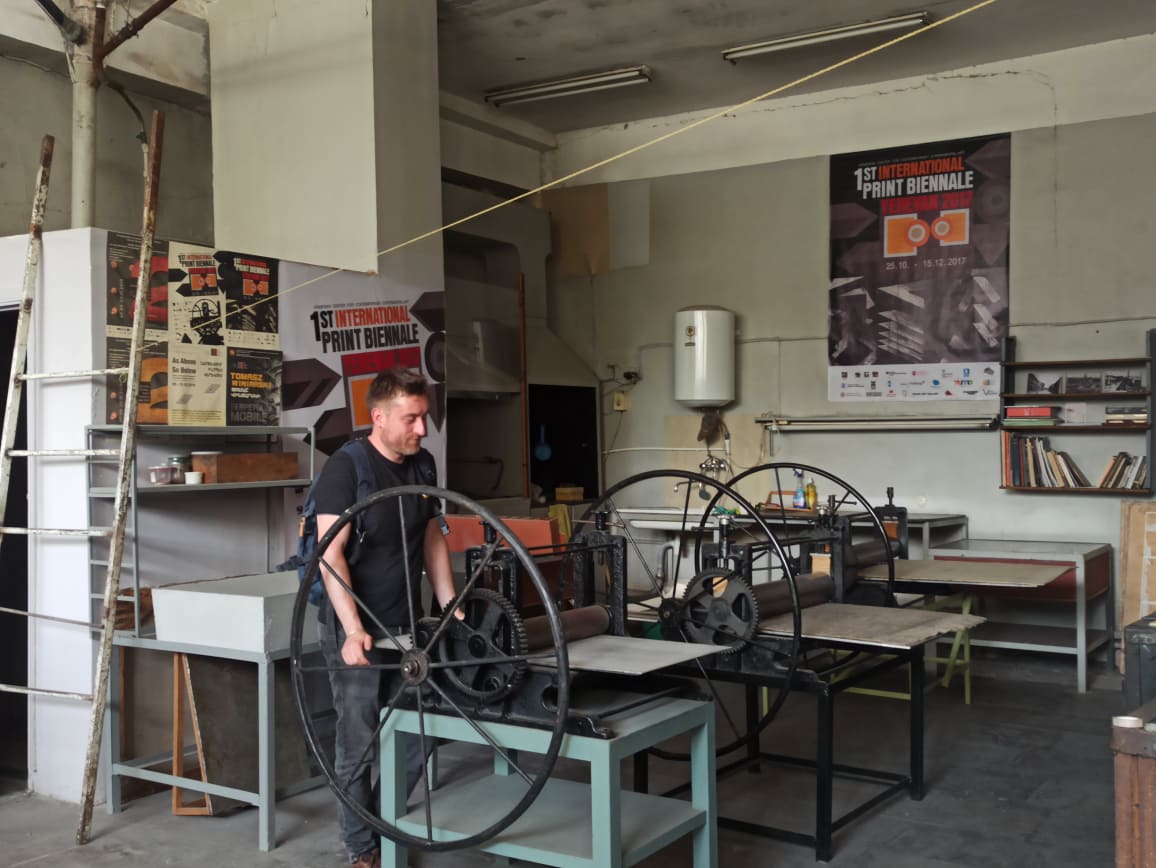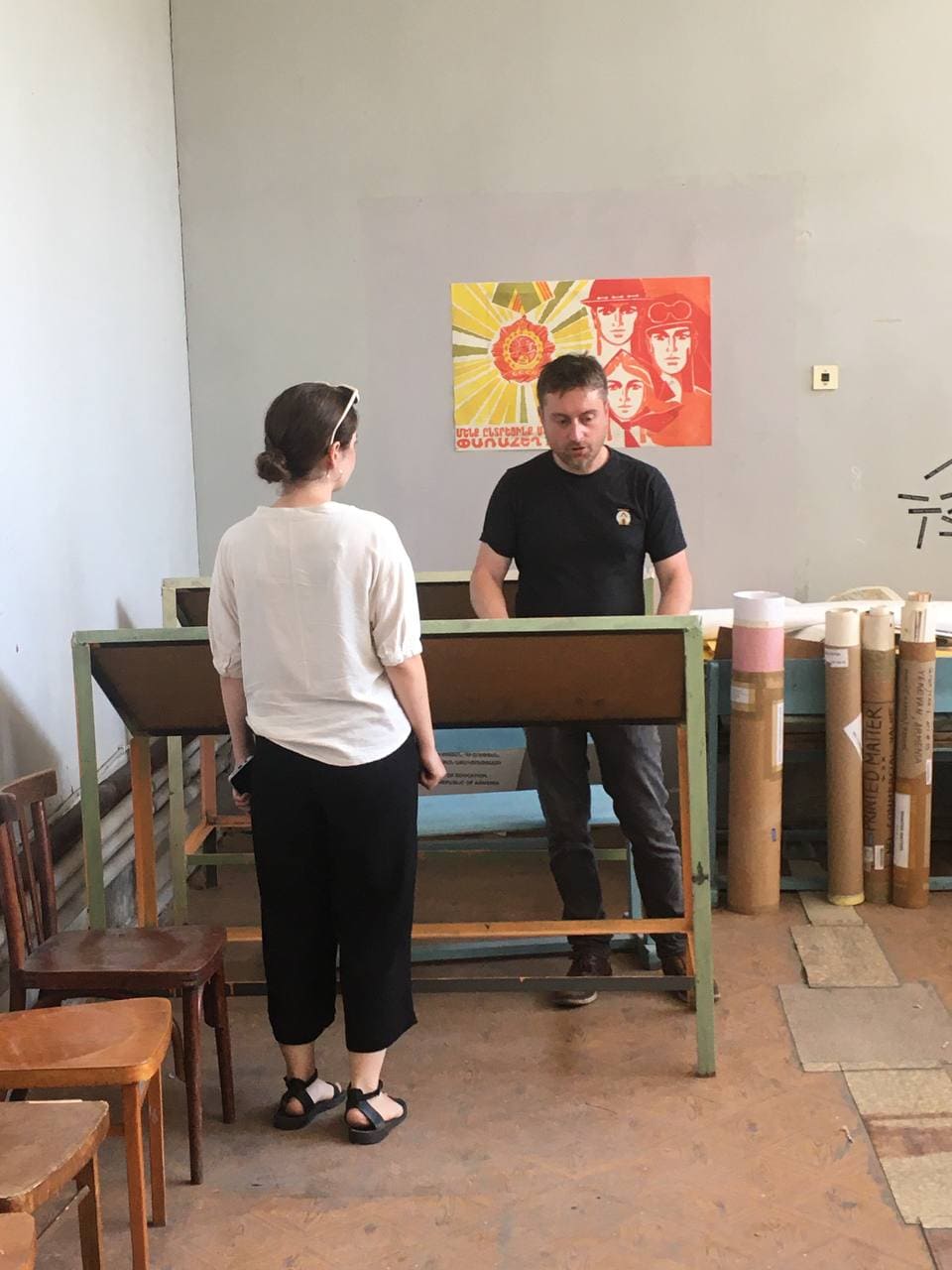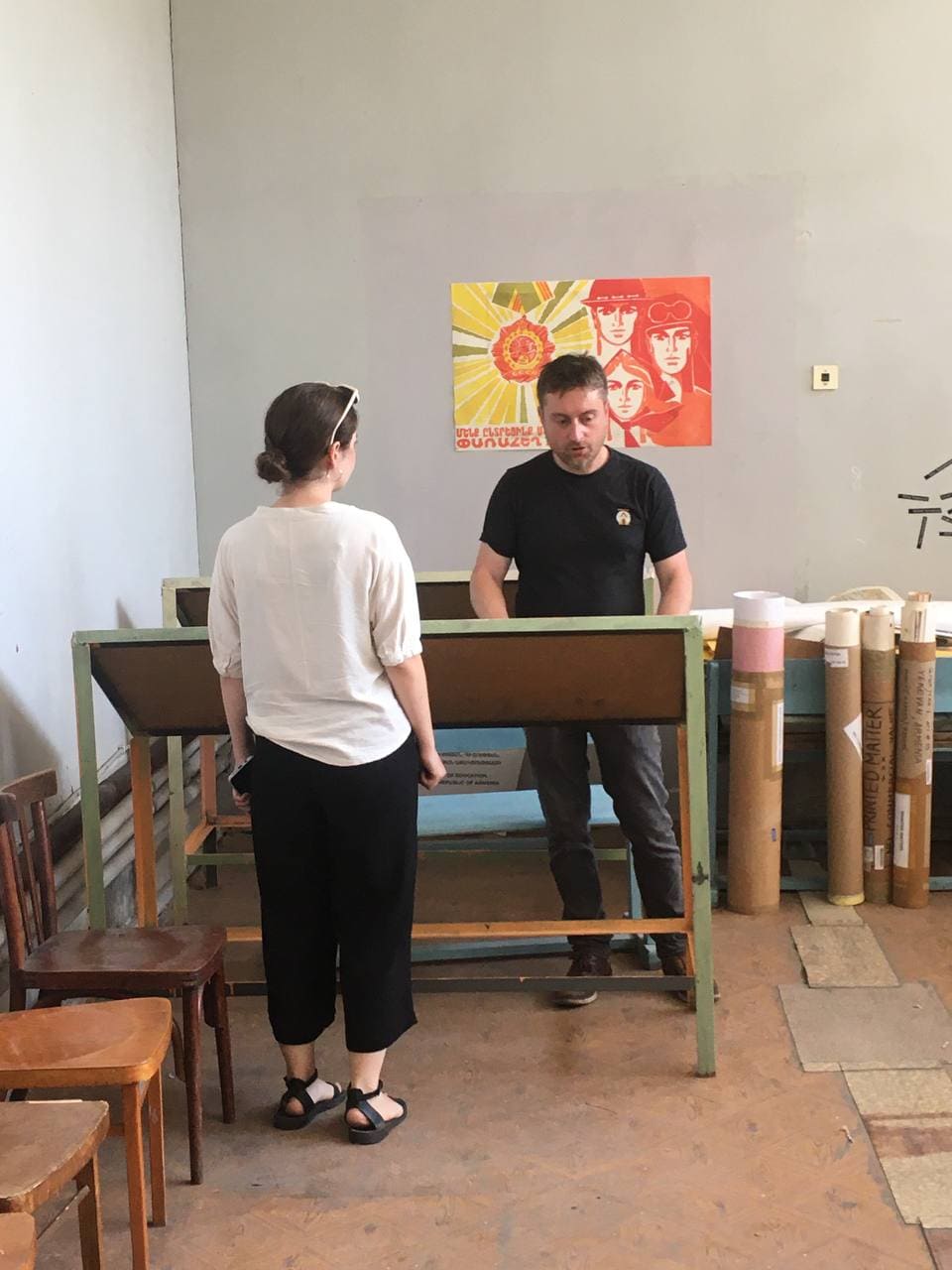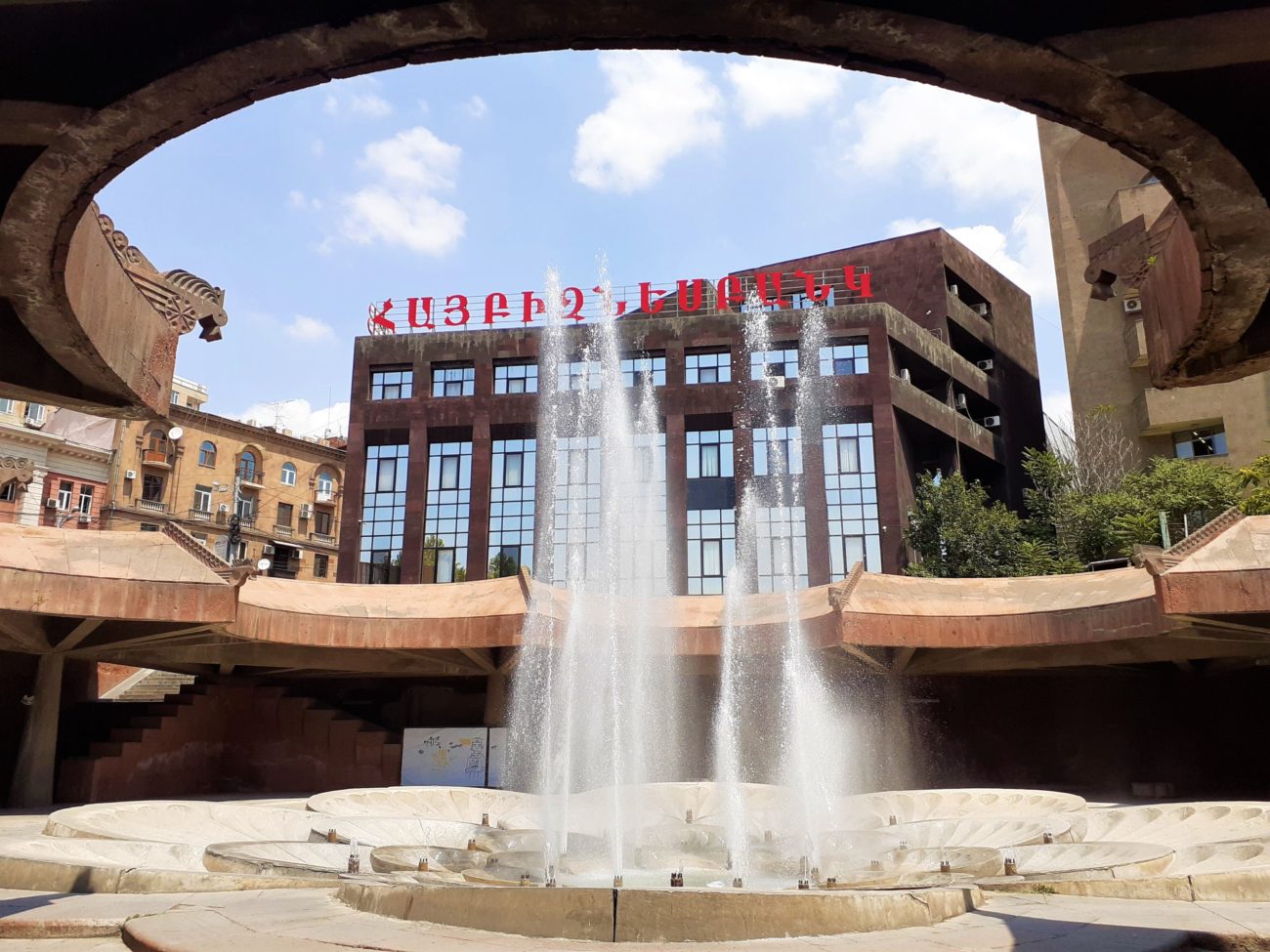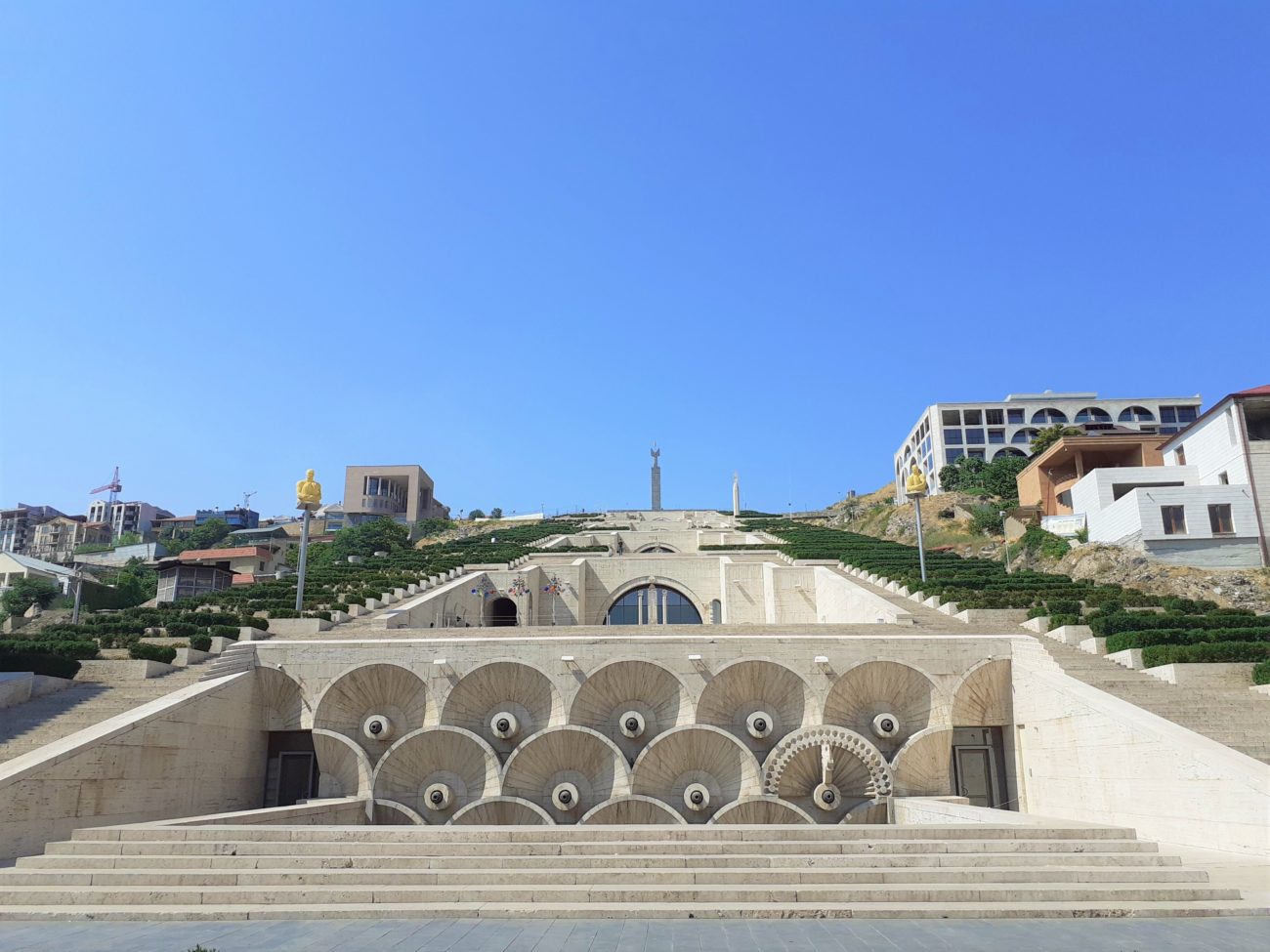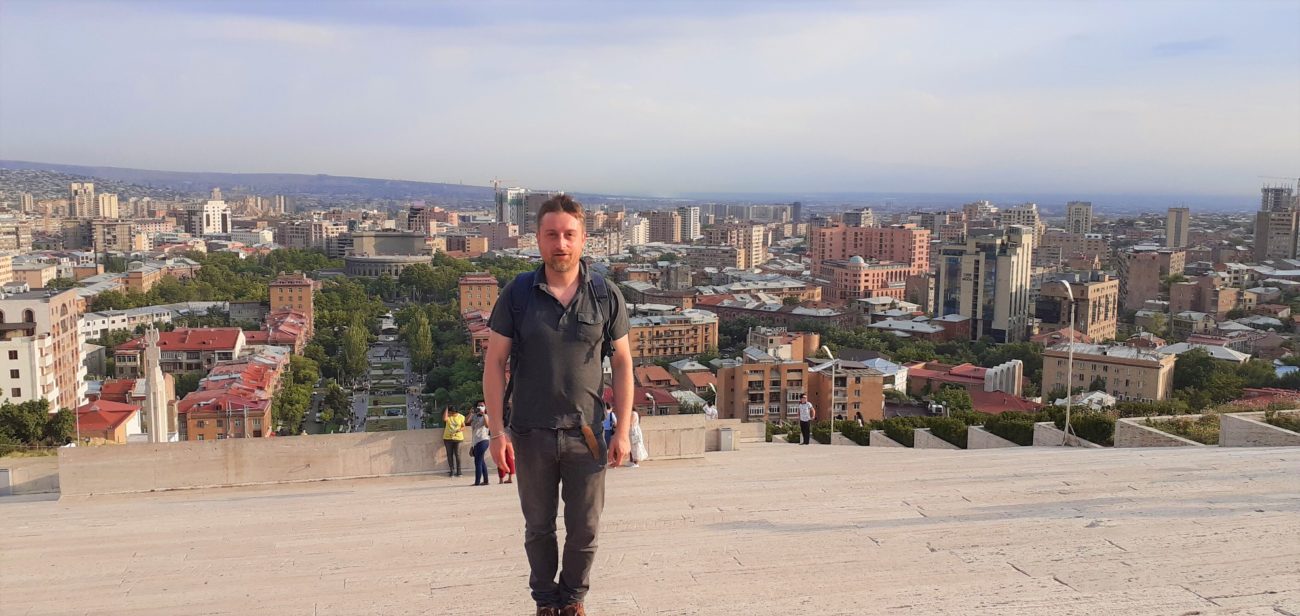 ---
EXTENSION OF THE EXHIBITIONS
The current exhibition Des herbes folles at the CEAAC in Strasbourg is extended until May 16, 2021.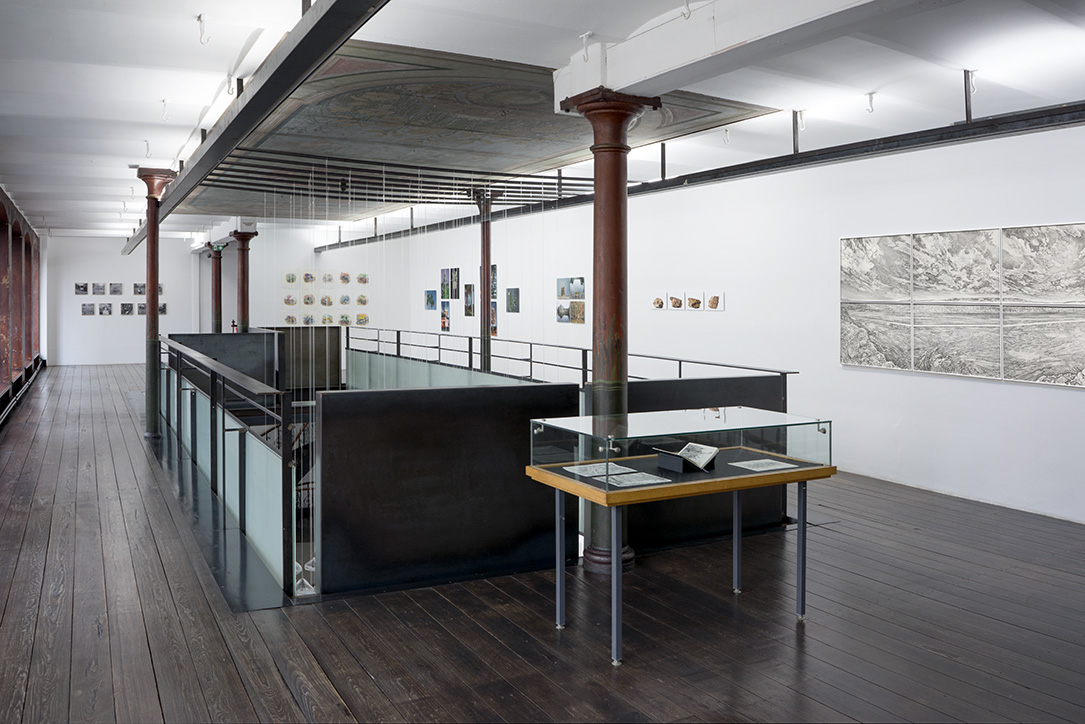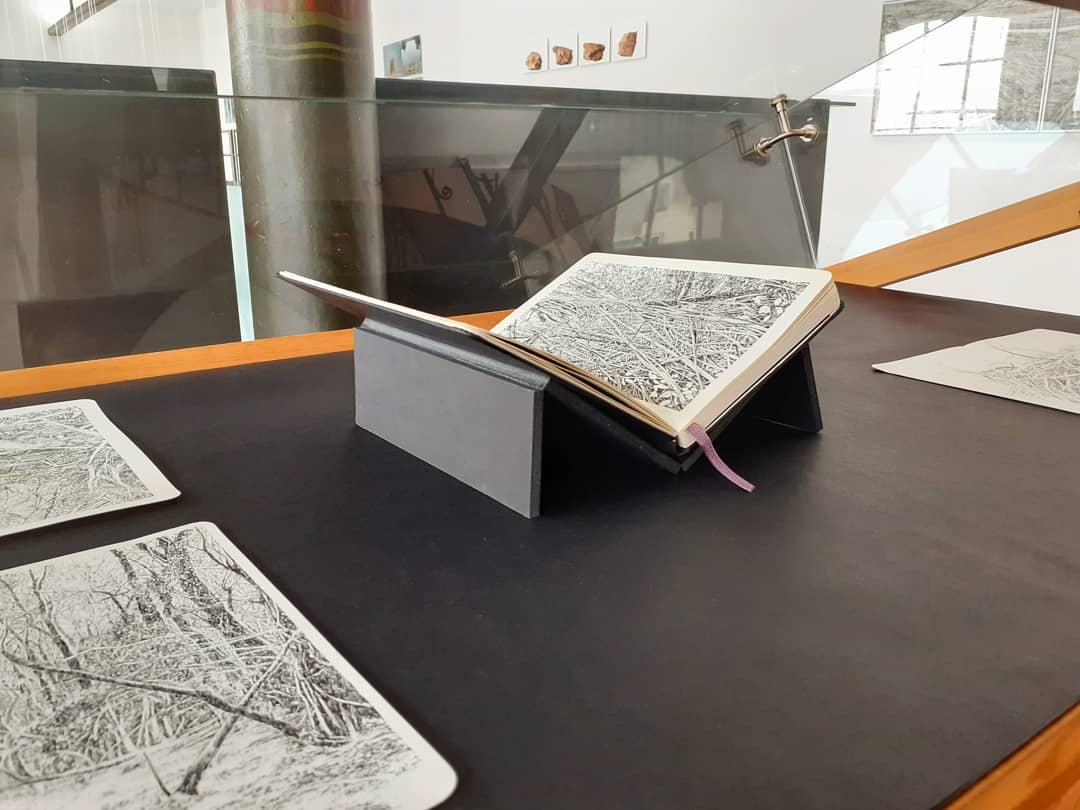 And the current exhibition at the T66 Kulturwerk in Freiburg im Breisgau as part of Regionale21 is extended until June 2021.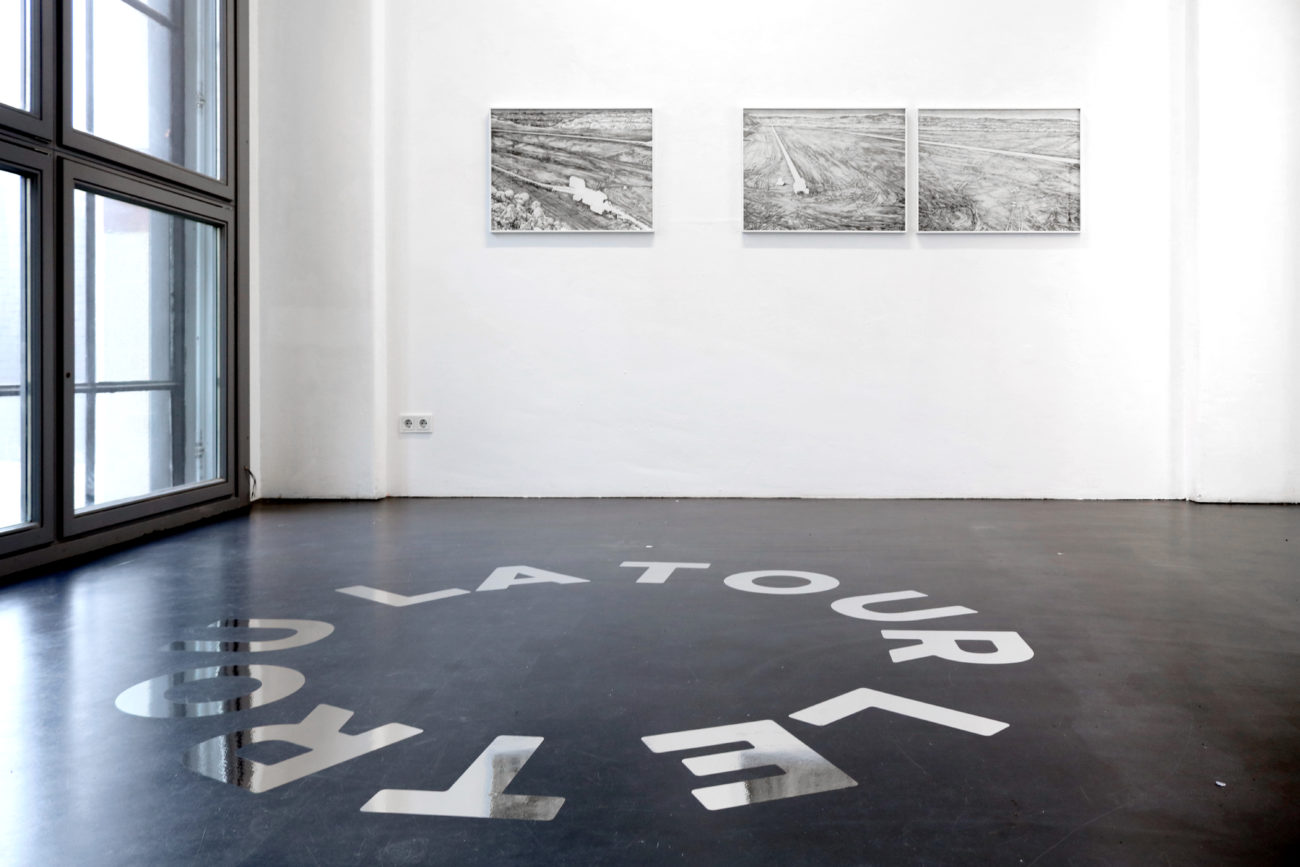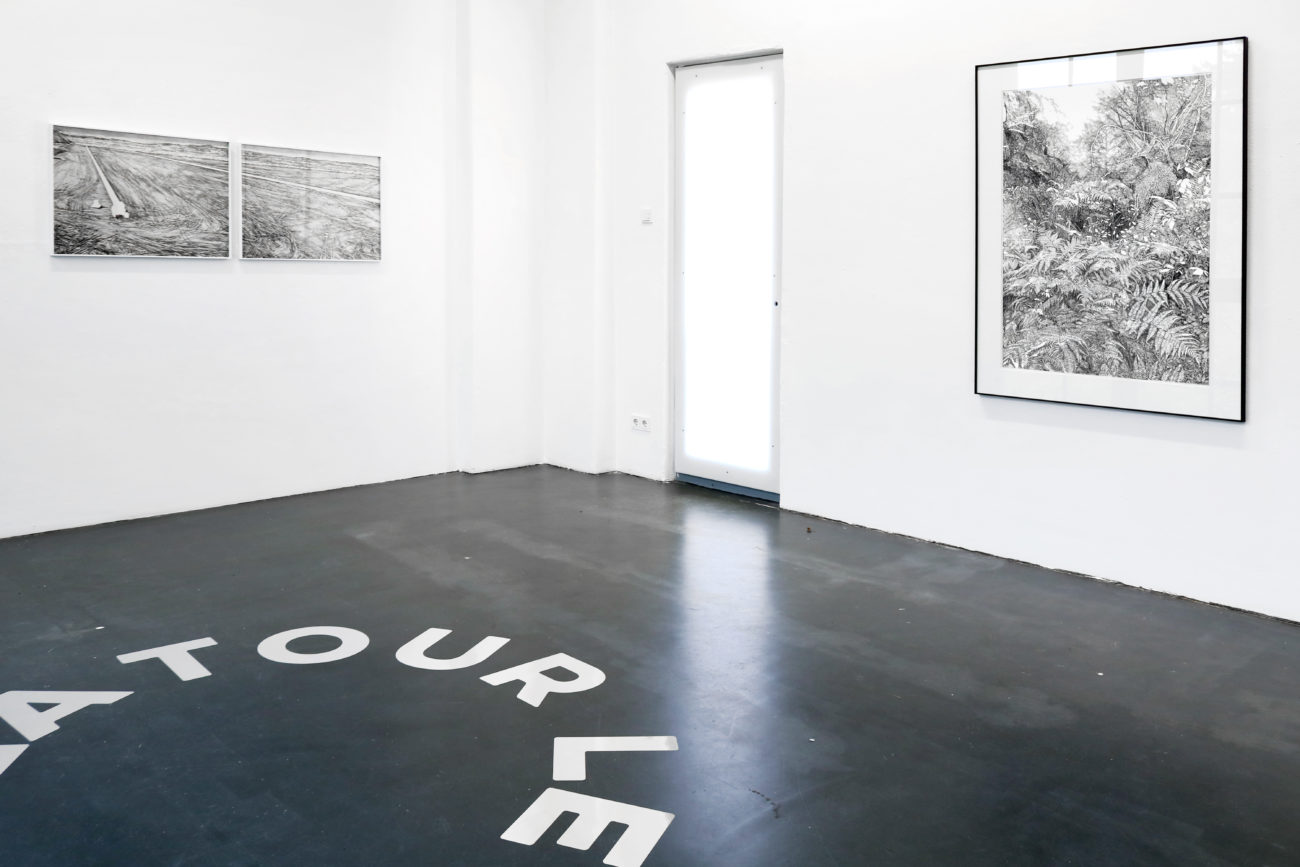 ---
Very happy and proud to be part of this beautiful adventure of Arterritoires alongside magnificent artists.
Arterritoires is exhibitions proposed in the form of a poster campaign for your town or your institution, your association or your company.
And it is also limited edition prints for individuals. And I am also particularly happy to be able to propose and diffuse in this form my open-cast lignite mines which strongly impact the world climate and destabilize (or even destroy) ancient ecosystems.
Infos : https://www.arterritoires.com/
---
My forests are finally available for sale. There are 40 numbered and signed copies of each version.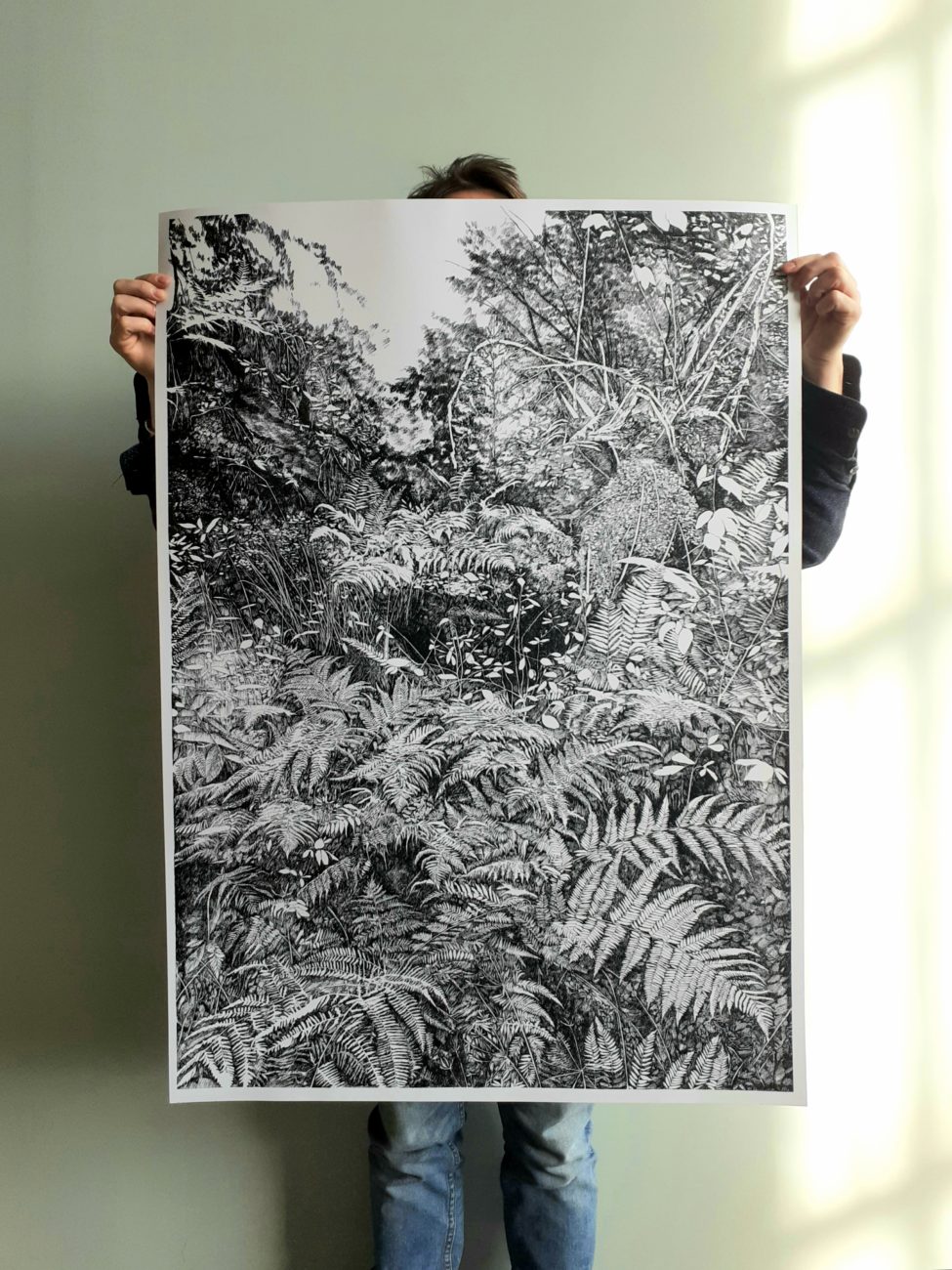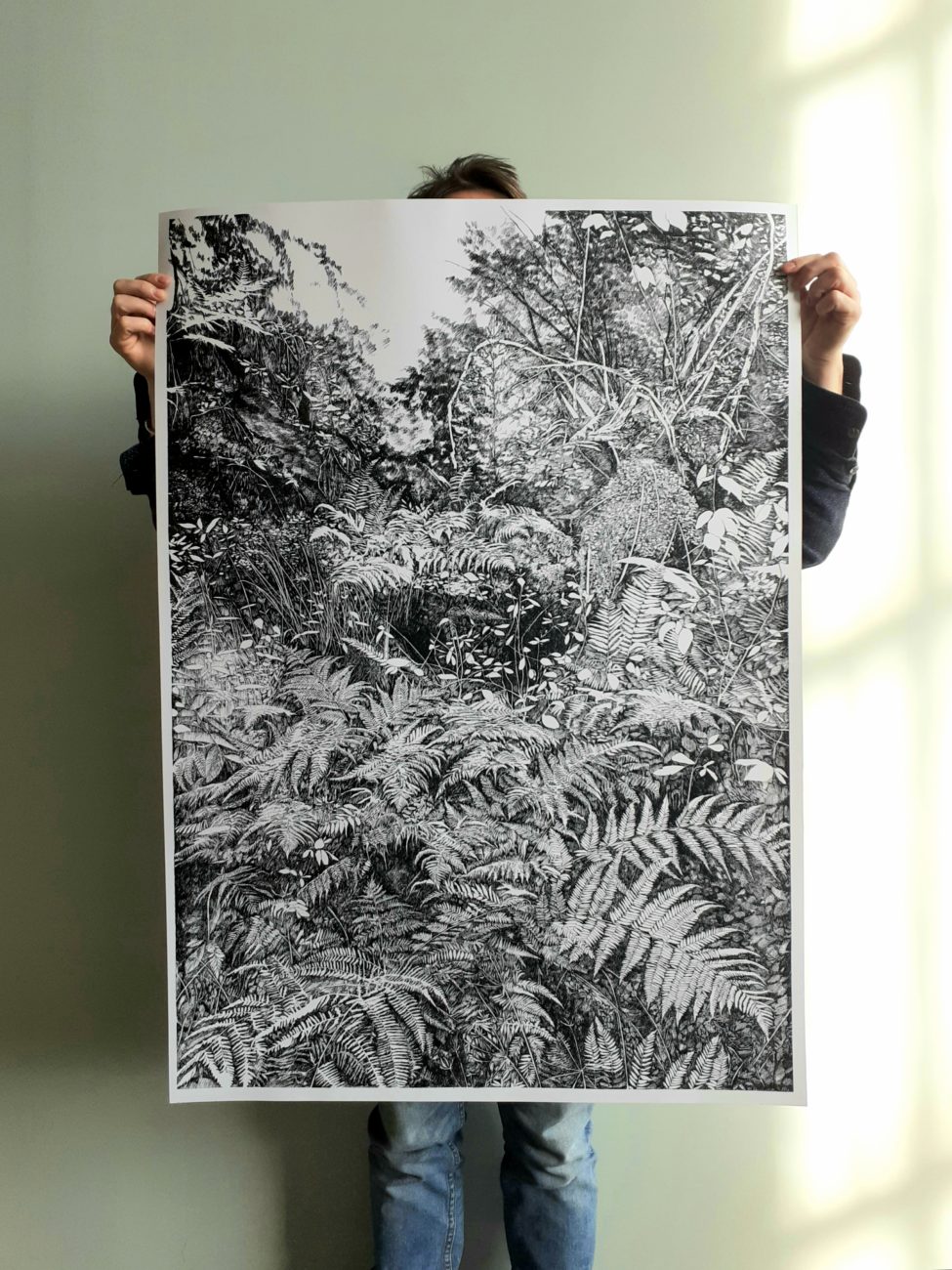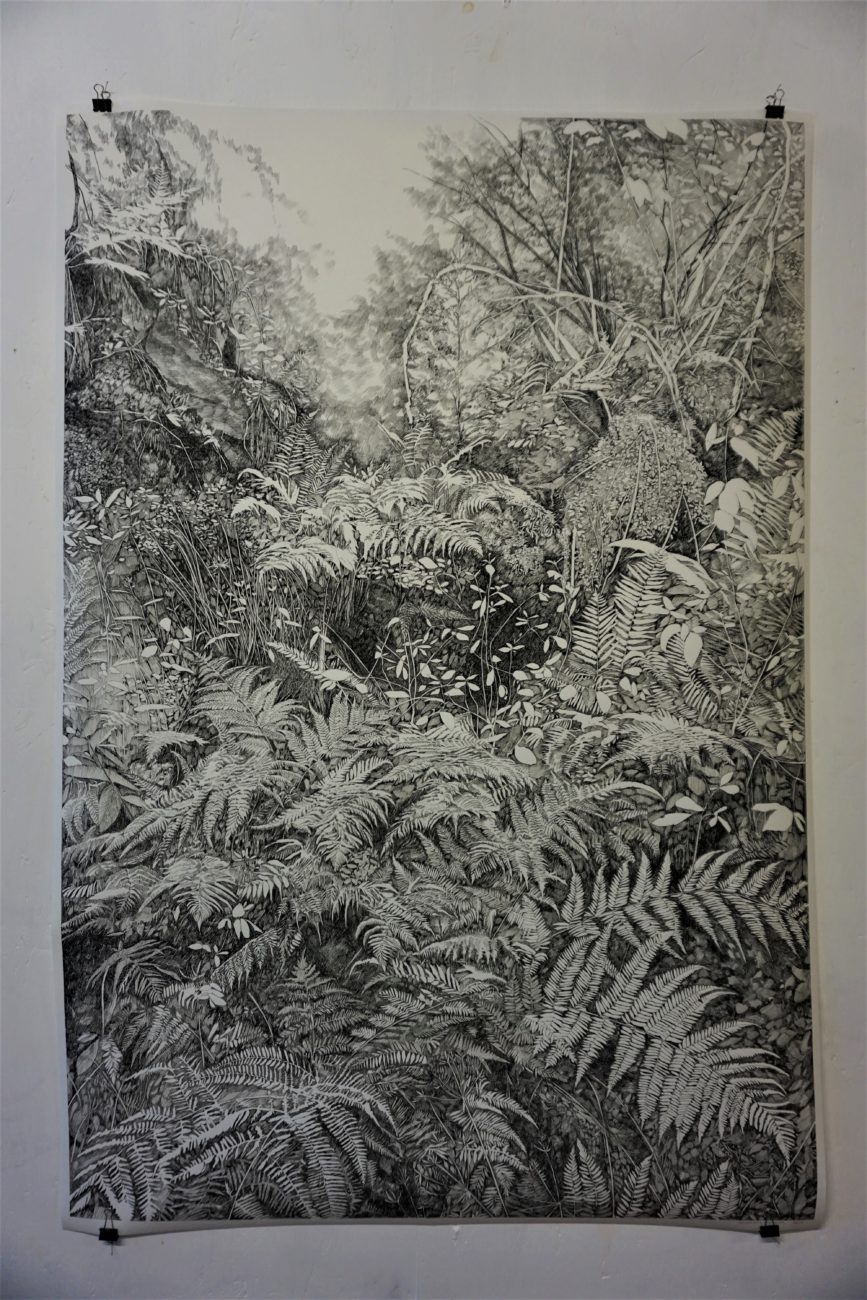 If you want to offer or treat yourself to a piece of forest next to your tree, now is the time, they will soon be online on the Motoco&co platform or directly at my workshop by appointment or at henningeremmanuel@gmail.com
Lock Down #2
The next few weeks will be under containment because of Covid. The enthusiasm to create in this constraint also leaves a lot of doubts and worries. But we never give up and we continue! In any case, I will try to continue to draw my drawings in my Moleskine notebooks ! Courage to all !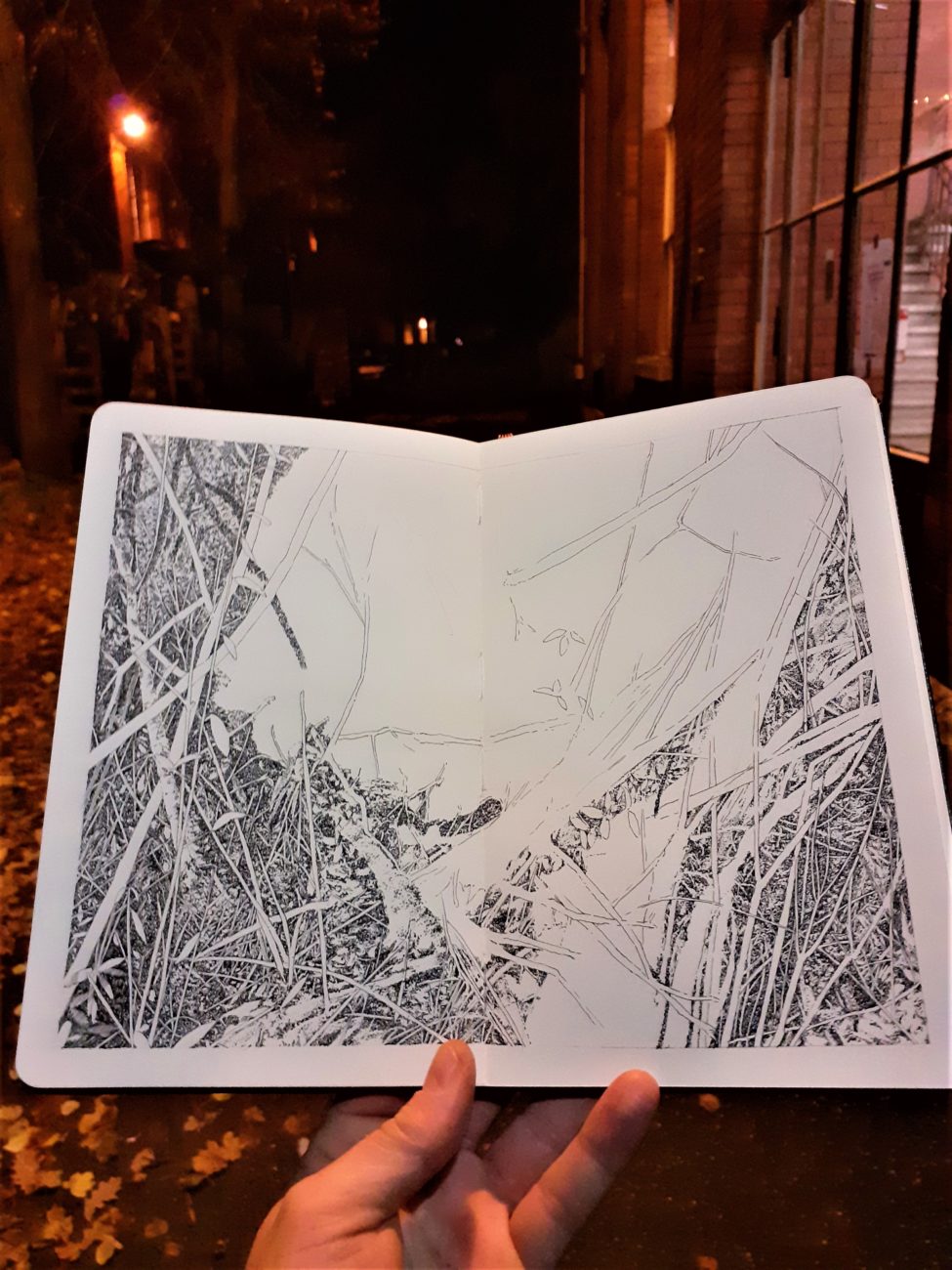 ---

On October 3/4 and also on October 10/11, we are waiting for you at Module76 in Mulhouse: sculptures, ceramics, paintings, illustrations, drawings, objects with Sebastien Haller, Stéphanie Convercy, Dominique Schoenig, Emmanuel Henninger – Black Ink, Jean Wollenschneider, Sandrine Bringard et Frédéric Henninger

---
"LOVE YOU GERMANY", this Thursday, September 24th, an evening meeting with Emmanuel Henninger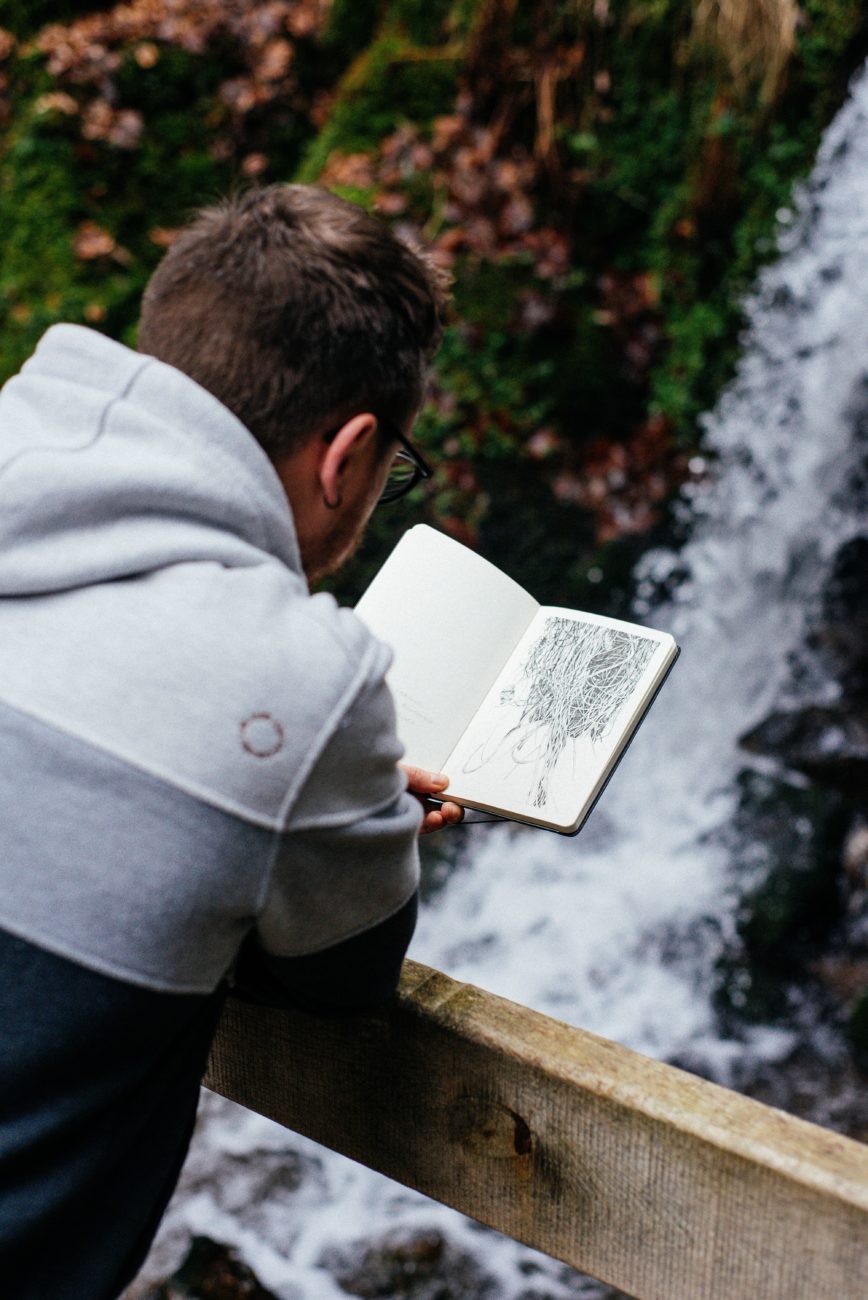 From Mulhouse to Leipzig, via Hambach, the travel diary of a young artist and draftsman from Mulhouse.
For a long time, Emmanuel had been longing to change his life, to see the country, to mature his artistic talents. One day in October 2019, he simply left Mulhouse, with his bundle, leads and pencils in his hand. Direction: Germany.
Come and meet him on Thursday, September 24 at 6:30 pm at the Carré des associations (100 avenue de Colmar in Mulhouse).
He brought back from his six-month journey dozens of drawings on themes dear to him, the unspoiled and mysterious nature (the Urwälders), the destructive action of man on it and the titanic forms which result from it. From the salt mountain of Kali to the open-cast mines of Hambach and Garzweiler, Emmanuel Henninger's meticulous lead mine frescoes depict, as with a scalpel, the exploitation of the environment "down to the bone" and show how humans desert the places where they have committed crimes.
Beyond the environmentalist theme, Emmanuel's journey is also a formidable human adventure. He has let himself drift along with the encounters, staying at the homes of people he has met by chance while couch surfing. Like many Alsatians, he knows the German language without being bilingual and this immersion in Germany allowed him to discover German life and culture in a different way.
This bilingual meeting (a lot in French and a little in German) will also give to see drawings and photos made by Emmanuel Henninger during his trip. Perhaps it will make other Mulhouse men and women want to go on an adventure in Germanic lands…
The Grenz-Up association will take advantage of this opportunity to give young people – and the not so young – who so wish advice and "good plans" to live for a few weeks or months at a lower cost in this part of Europe.
Thank you for coming with your mask! Admission is free, but due to sanitary measures, the number of places is limited to 50 people. Please make a reservation at contact@grenz-up.eu
It will also be possible to follow the meeting live on the internet thanks to a Facebook Live on: https://www.facebook.com/grenzup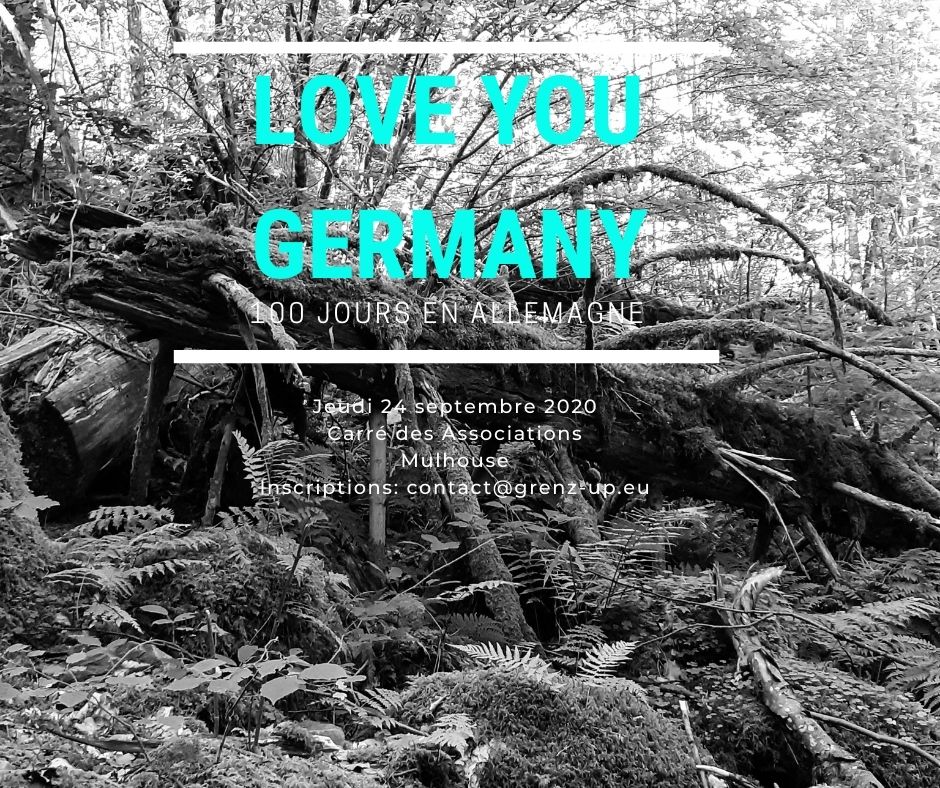 ---
OPEN DOORS AT MOTOCO
Saturday 19 September from 2pm to 7pm
Sunday 20 September from 11am to 7pm
The open workshops will take place in compliance with health regulations.
ATTENTION: closing of the doors at 6 pm on Saturday AND Sunday.
11, rue des Brodeuses – MULHOUSE
Motoco is a place of artistic production, which brings together more than 100 artists in residence, mainly in the visual arts. The building of nearly 9000 m2 in the heart of the DMC district in Mulhouse, also hosts numerous events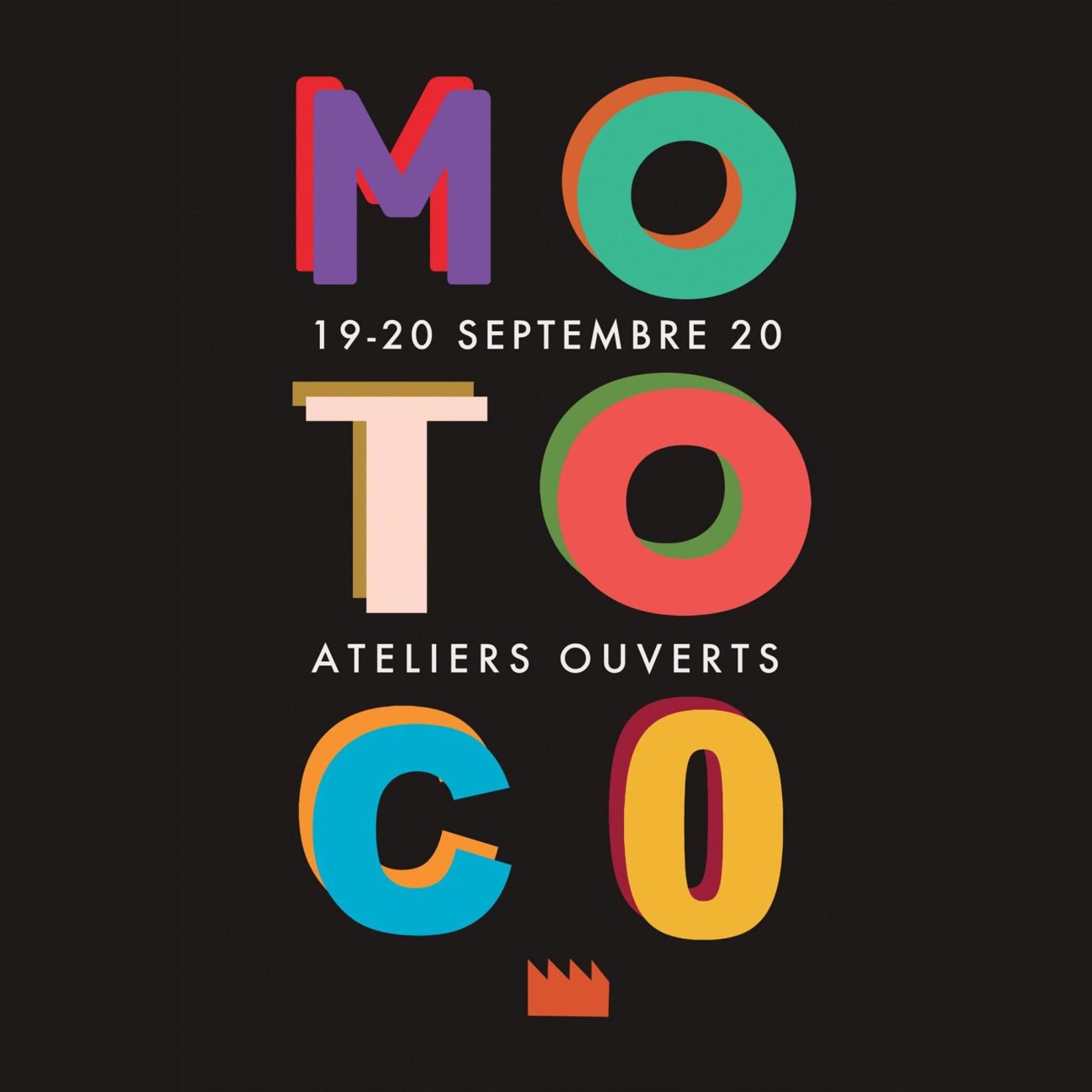 ---
BOTANICA 2020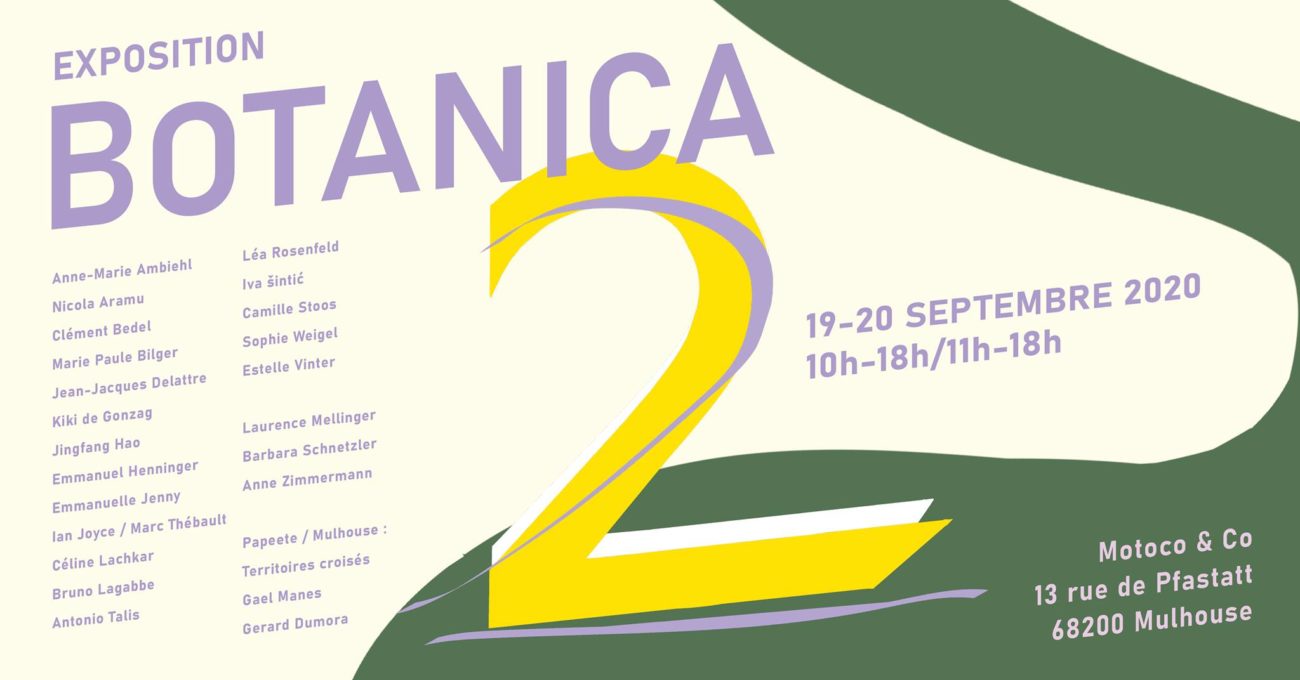 ---
Mulhouse artistic productions are online
This period of confinement in Mulhouse allowed many artists to explore new artistic proposals.
Find part of my work of confinement on the temporary cultural portal of Mulhouse, as well as that of many cultural actors.
During lockdown…
A small series around the Garzweiler open-cast lignite mine is under way…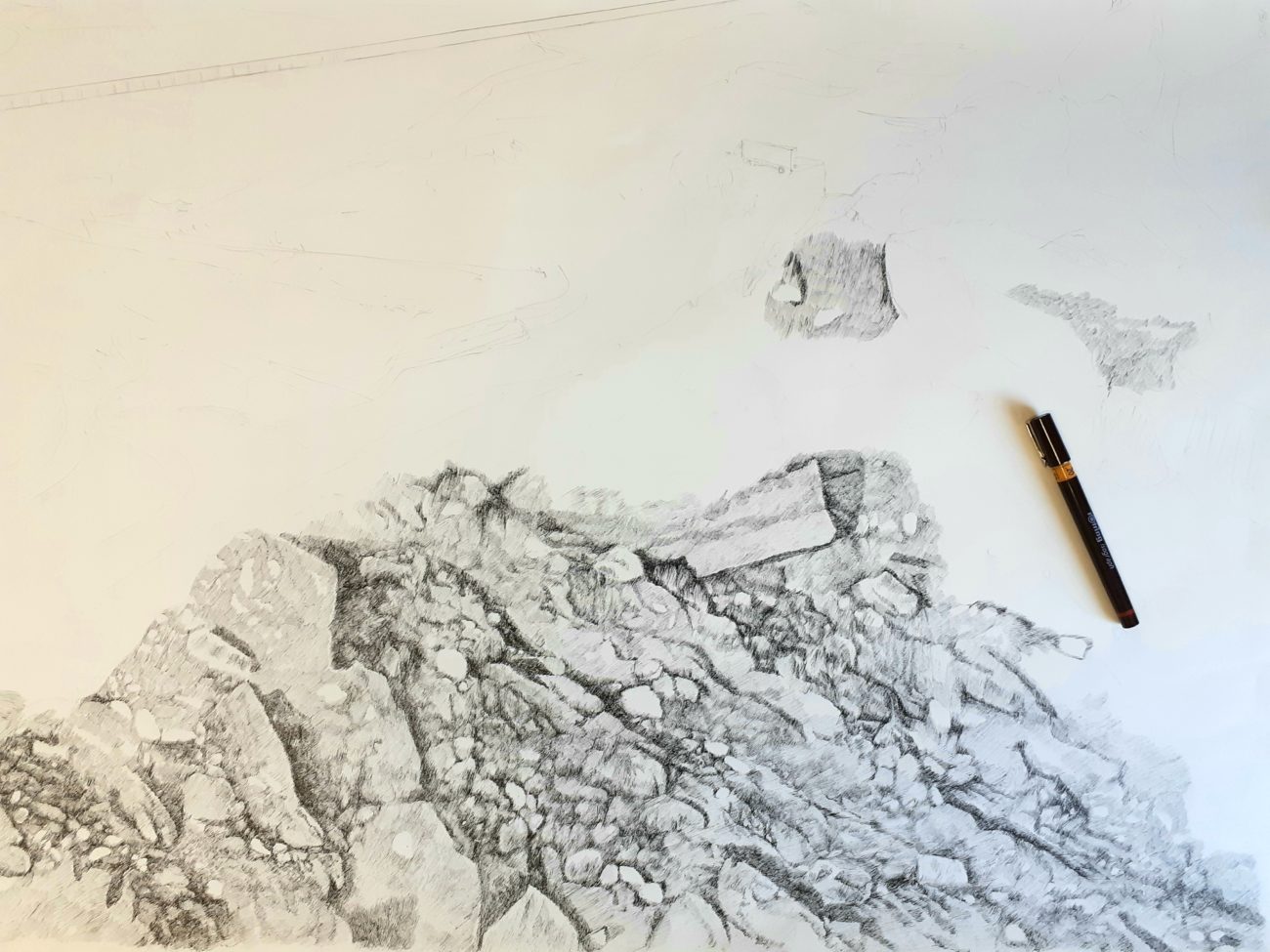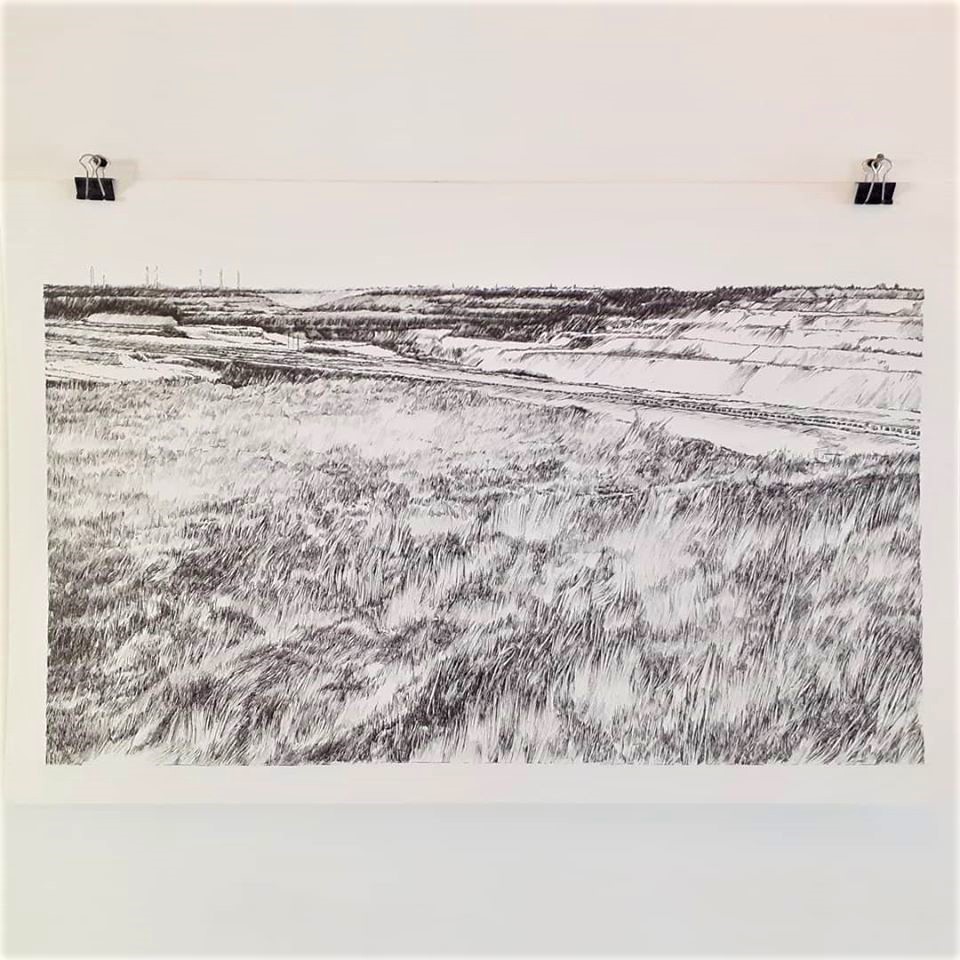 From 16 March: Confinement in France (Covid19) to ?
The travel through the German Länder is unfortunately interrupted in Leipzig. It will resume as soon as the borders are opened again. In the meantime, let's live intensely !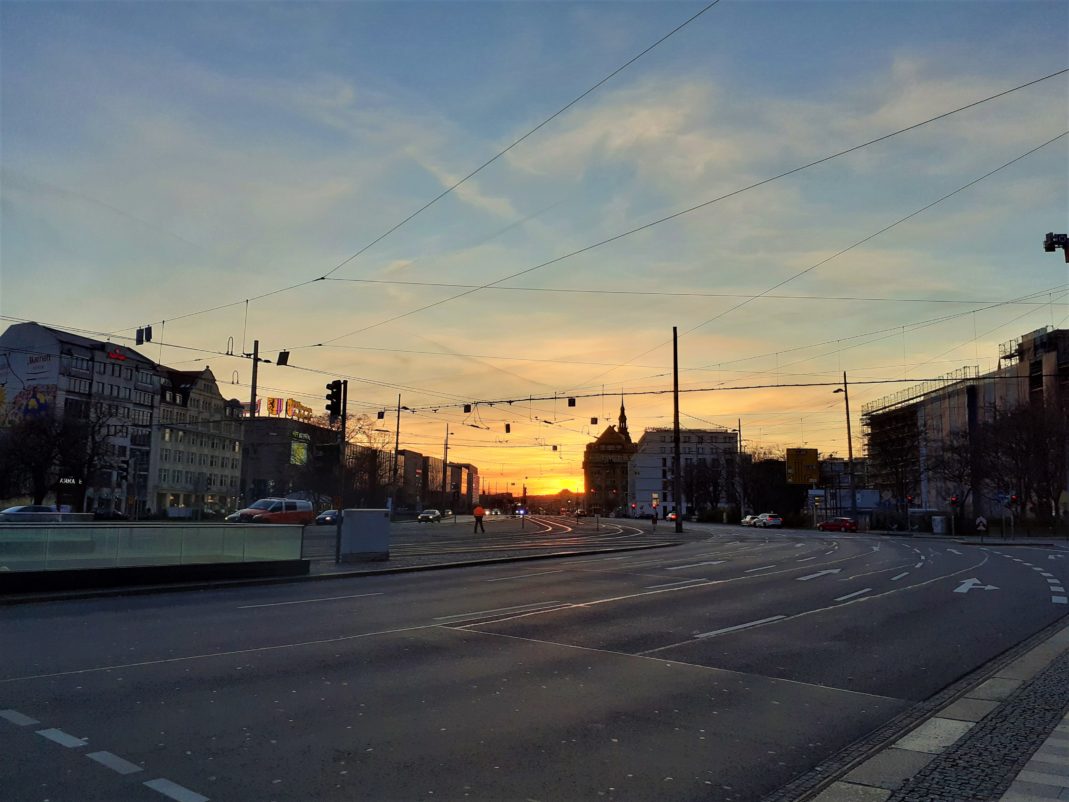 March 07-11, 2020
Visit the slag heap in Heringen in Hesse (GE).
It is a 200-meter high slag heap, one of the largest neoformed landscapes in Europe. It consists of rock salt residues from which potash has been separated. It is therefore piled up in the vicinity of large mines, such as here in Heringen-Werra, where 22,000 tonnes of salt are added every day to the 188 million tonnes already mined.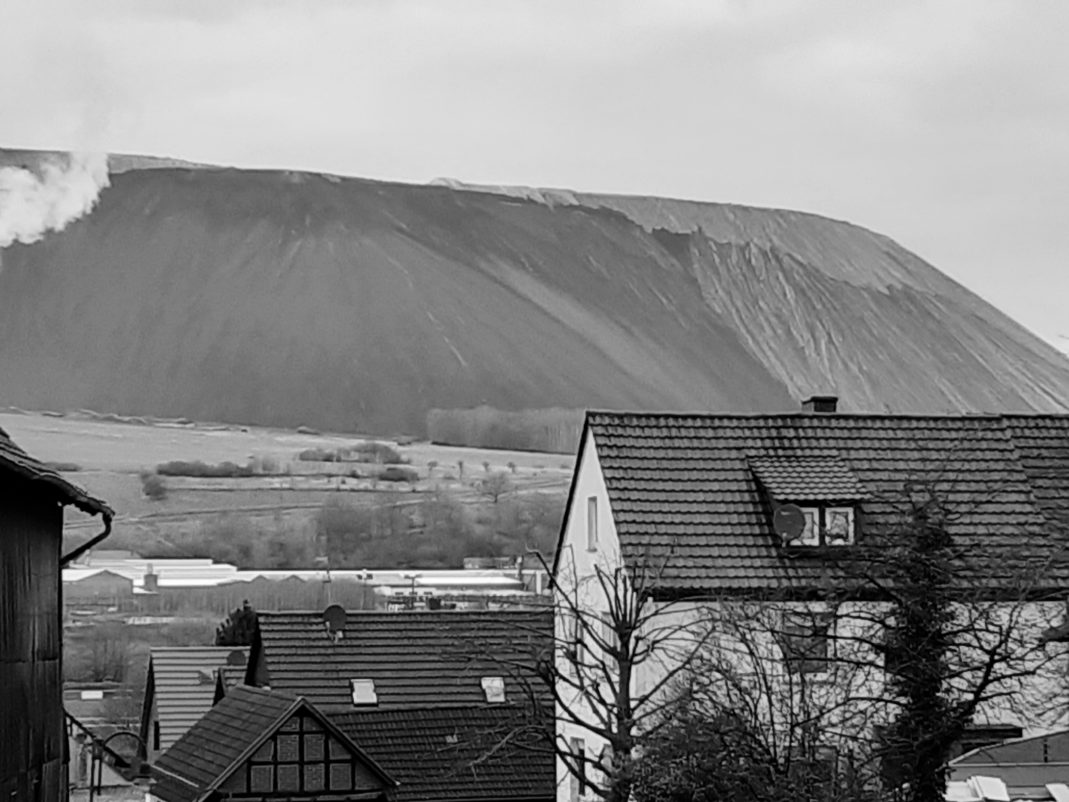 March 02-05, 2020
Visit of the Garzweiler Mine which is located between Cologne and Aachen in North Rhine-Westphalia in the west of Germany.
In this rural area wedged between the Ruhr conurbation and the Netherlands, Immerath and the surrounding municipalities will be wiped off the map to allow energy giant RWE to expand the huge Garzweiler open-cast mine.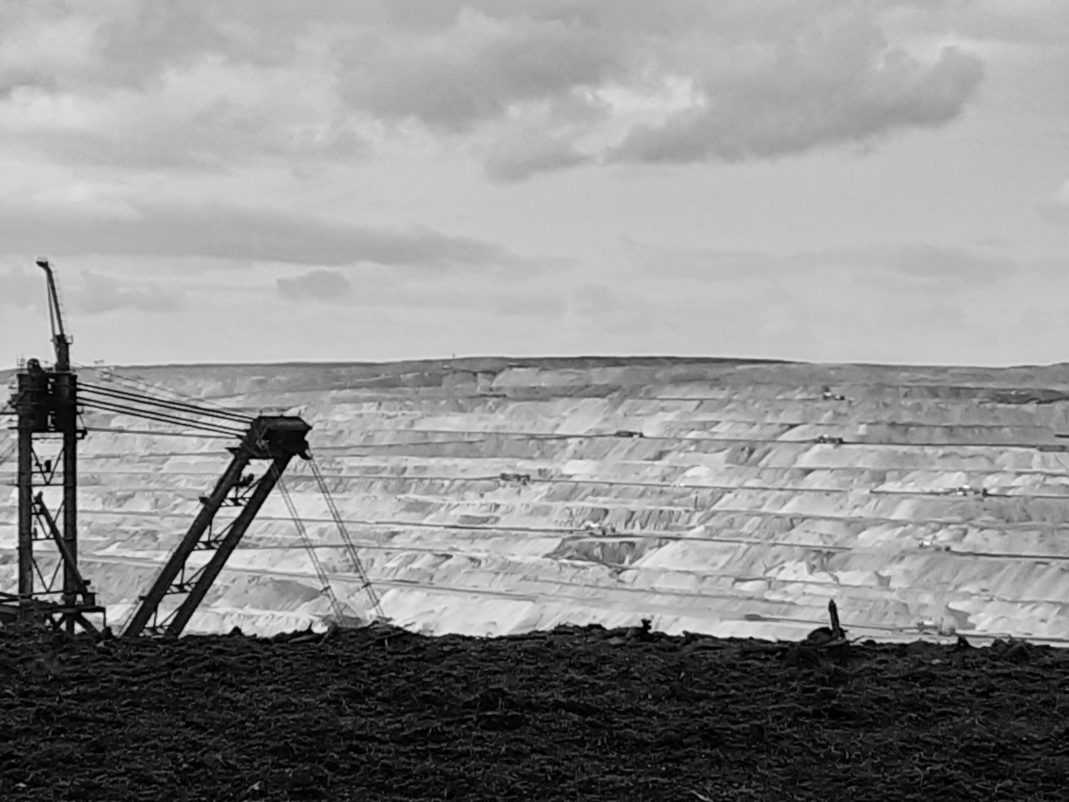 From May 2020
Very happy to integrate the artist residency Motoco (More to Come) in Mulhouse!