ATTERRIR !
Exhibition curator : Mickaël ROY (art critic, curator)
From October 21 to November 4, 2018
An artistic exhibition in the natural environment proposed by the association Daedalus network to reflect on the development of our relational subjectivities, individual and collective, as to the land that welcomes us.
With works and contributions by Brigitte Bourdon, Robert Cahen, Marie Freudenreich, Emmanuel Henninger, Quentin Lacroix, Bernard Latuner, Porte Renaud, Mickaël Roy, Siam Angie
And with the participation of Claire Audhuy, Christoph de Barry (Hans Lucas), Baptiste Cogitore, Eric Domenicone, Abdesslam Mirdass, Yseult Welschinger
by Serge Lipszyc.
This exhibition brings together a collection of works of art, poetic gestures and citizen contributions whose common denominator is to direct the attention of our contemporaries to forms, images and actions that have a close relationship with artists. notions of nature and landscape or more immediately with the natural environment: either they represent it, they settle in it or go through it, or they hear the defender and preserve it.
This exhibition proposes to co-exist artefacts, visual constructions and human attitudes that can participate in the composition of our inner worlds – of our subjectivities, individual and collective -, put in contact with the plurality of the external worlds concerned or traversed by states of nature, most often anthropised, or promised to this future, at the time of the Anthropocene. This is the case on this occasion of the presence and the emergence of certain works of art in the garden of CINE – Le Moulin which will come to discuss with benevolence or relative nuisance with the surrounding natural context, while other works exposed within the place will act as arrests on the points of view that we occupy at a distance and / or in empathy with what man defines as "nature". This co-existence of natural forms and cultural forms suggests that actions in favor of the environment and nature are first of all an awareness, and that this state of consciousness is nourished by representations, factual, documentaries or contributing to the construction of an imaginary, which can be transformed into acts. This is how the exhibition "LAND" gives an appointment to think what binds us to "the earth", through images brought back and direct actions whose horizon is to invite to reflect on the relations "Ecosophical" that we have with the "living".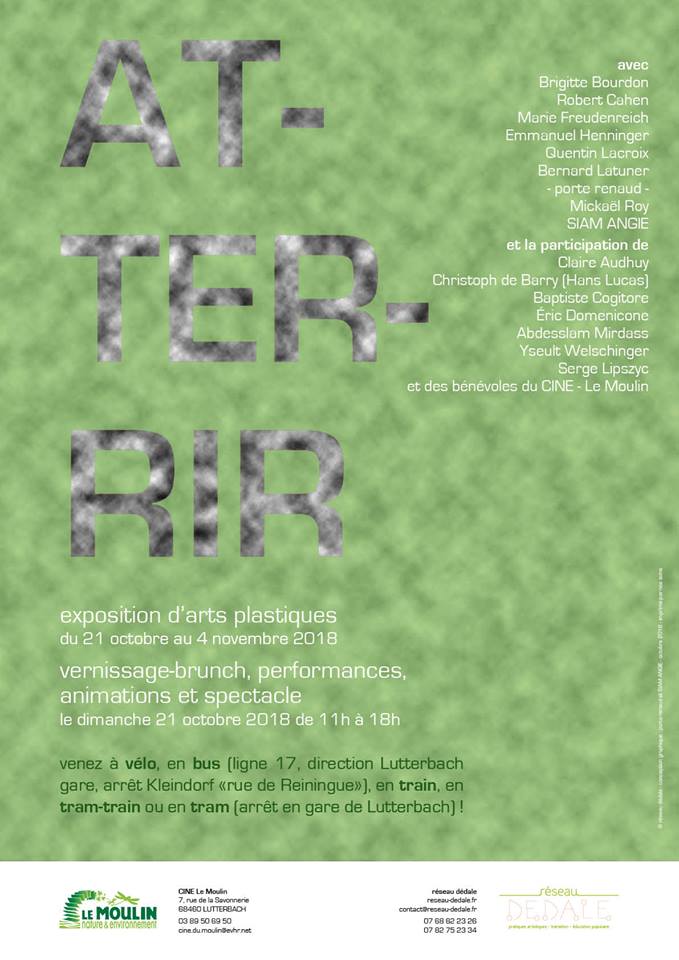 Centre d'Initiation à la Nature et à l'Environnement – Le Moulin à Lutterbach (Mulhouse Alsace Agglomération, 68)